The 4th annual Oakton Pop-Up Film Festival opens its doors to the community for free on Tuesday, November 28 through Friday, December 1 at Oakton Community College, Footlik Theatre, 1600 E. Golf Road in Des Plaines. 3 full-length feature films and 3 short films will be screened as a part of this festival, funded by the College Education Foundation. All of the films' directors and several actors will be on-hand to participate in the question and answer sessions following the films.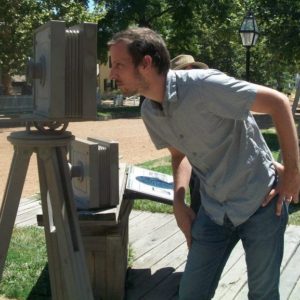 The festival's founder, Michael Glover Smith, an accomplished author, film critic, filmmaker, and professor of film at Oakton Community College, created this event in order to give not just students but the entire community access to seeing independent films on the big screen. The films chosen are found by attending festivals and contacting respected local filmmakers. Smith shared that there are no specific guidelines used in choosing films for the fest, but as he said, "The only common denominators are that I want the movies to be exciting, challenging and fun….and that will leave the audience buzzing."
This year, the program includes Jennifer Reeder's film "Signature Move" opening the festival on Tuesday, Nov. 28 at 2 pm. This rom-com tackles gender identification and relationships while digging deeply into family dynamics and pressures. On Wednesday, Nov. 29 at 12:30 pm, viewers will see Gabe Klinger's "poetic and haunting 'puzzle film,'" "Porto" starring Anton Yelchin in one of his final films before his untimely death.  Larry Knapp, "…a great film scholar and author" will be moderating a discussion with Klinger which, as Smith said, "…should make for a provocative Q&A."
On Thursday, Nov. 30 at 2 pm, the third and final feature film, award-winning "Mercury In Retrograde" written and directed by Smith, will will be screened. This insightful and pensively beautiful drama has only been publicly shown once before, garnering praises of festival audiences and critics.  Smith is excited that five of the actors, Najarra Townsend, Alana Arenas, Jack C. Newell, Shane Simmons, and Kevin Wehby, will all be reunited to talk about the making of this "character-driven" film.  He hopes that viewers will be able to relate to the topic matter "…even if we go to some emotional places that might be dark and intense."
And finally, on December 1 at 12:30 pm the shorts program entitled "Women in Danger" will be shown. When questioned about the title and the shorts, Smith said, "I noticed that some of the films seemed to address some of the same themes—that they seemed to be almost speaking to each other in a way." Clare Cooney's "Runner" which Matt Fagerholm from Indie-Outlook calls "…one of the best short films I've seen, not to mention a timely one" is about a woman who witnesses a violent incident while jogging in Chicago. Smith described Sadie Rogers' "Chip V2"  as being "…about two sisters trying to survive in a post-alien attack wasteland, and "An Atramentous Mind" by Lonnie Edwards and Layne Marie Williams deals with police brutality and racism…" While they are all very different styles of films, Smith felt that they all had a common denominator of young women "…trying to navigate public spaces while fearing for their safety." In addition, all of these films are either directed or co-directed by women.
Smith has seen the cinematic environment change over the years while embracing and highlighting the merits of independent films and filmmaking. The Oakton Pop-Up Film Festival is one such way to encourage others see the beauty and quality of independent films.  He said, "I'd like to see a real shift in the culture where the idea of young people going to see a microbudget indie on the big screen…will seem reasonable." Check out the films and support independent filmmaking by attending the FREE Oakton Pop-Up Film Festival November 28- December 1. For more information, go to www.whitecitycinema.com