We see the familiar words scroll up the screen, stars in the background and notes of a recognizable tune blast indicating that the saga of The Empire versus The Rebellion  is about to begin. The prologue of "Star Wars: The Last Jedi" aka Episode VIII,catches you up a bit, but not enough, to recall where we are in the story and as soon as we see the new characters we have quickly grown to love and the old ones we hold dear, appear on the screen, we are immediately pulled back into that galaxy far, far away. If only the trip wasn't so long!
We pick right up where "The Force Awakens" left off …Rey (Daisy Ridley) finds Luke Skywalker (Mark Hamill) on a remote island, asking him to come back with her as he is the Rebellion's only hope. Meanwhile, back on the Rebellion's planet, an attack is becoming evident from the 1st order, lead by General Hux (Domhnall Gleason), under Supreme Leader Snoke's (Andy Serkis) direction and Kylo Ren's (Adam Driver) lurking approval. The onslaught of explosions, zipping Tie Fighters and X Wing air crafts dodging blasts, and heroes meeting their fate begins in full force. Fin (John Boyega), our newest hero, is awakened and Poe (Oscar Isaac), the blast-happy fly boy who ignores Princess Leia's (Carrie Fisher) orders, recklessly attempts to be the solar system cowboy and save everyone.
For fair weather fans of the original film and all of its many, many sequels and prequels as well as prequel's prequels, it would be beneficial to rewatch "The Force Awakens," or at least read a synopsis of the film as the "who's who" and who's related to whom can easily be confused. That being said, the premise of this sequel is to save the Rebellion from certain destruction by the Imperial Forces and rebuild. Rey, Fin, and Poe along with his trusty side-kick BB8, are the team to give it their best shot fighting the evil, dark forces of Kylo Ren, Snoke, and Hux.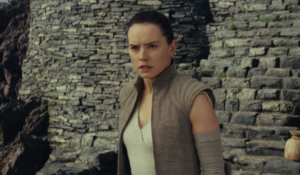 The haunting needs of Rey to find her parents while also becoming a Jedi awakens The Force within her as she seeks guidance from Skywalker. He resists teaching her the ways of a Jedi as his last attempt turned out to be a bit of a failure aka Kylo Ren. The connection between Ren and Rey builds as we see the strong, yet blurred lines of good and evil. We also find our own connections to all the old, familiar characters such as R2D2, C3PO, Yoda and more.
The story builds on new characters  who add a bit of zip and spice to the film as we meet and get to know Rose Tico (Kelly Marie Tran), DJ (Benecio Del Toro) and Vice Admiral Amilyn Holdo (Laura Dern). Like "The Force Awakens," an effort was made to have a plot line that had strong female leads and this sequel continues to bring women to the forefront. Fisher steps up to the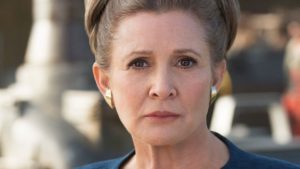 commanding leader's position, but her real life tragedy seems to cast a constant shadow on her performance. Ridley remains just as strong, smart, and brave in this version, but it is Tran's character that shines with personality. She's exudes humor and timing that engage the viewer as we anticipate seeing her in another scene. Dern, of course, has a strength and wisdom about her character that radiates confidence, allowing us to trust in her character.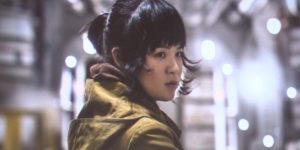 Driver as Kylo Ren, has stepped up his game and has a standout performance. His portrayal of the betrayed son of Han and Leia is evident in every interaction as we see his conflicted thoughts surface to his impulsive outbursts. Hamill finds his inner-Luke and gives us exactly what we need and expect from him. Gleason's talent is immeasurable as he can fluidly transform himself from portraying the "Winnie the Pooh" author, A. A. Milne in "Goodbye Christopher Robin," to an evil and frustrated understudy to Ren. He can almost elicit sympathy for his situation as he just can't seem to get ahead in the bad guy game. And then we have Isaac and Boyega who pull their weight, but don't have the personality we saw in "The Force Awakens."
While this sequel keeps the saga alive, and I give great credit for the strong female and minority leads, the story is just way too familiar and repetitive. Initially, humor was interjected, making me laugh out loud, but that concept must have been sucked up into a black hole as the laughs quickly disappeared. And with up to 4 different sub-story lines taking place at the same time, you were constantly being shifted from excitement to dramatic conversations. And at a running time of 152 minutes, familiarity and non-stop blasting explosions paired with jarring storyline transitions creates disinterest.
Where the film truly shines is in the CGI and make-up departments; both absolutely stunning and mesmerizing. Serkis, once again, is completely unrecognizable as "Snoke." His off-set eyes, creviced forehead, pocketed cheeks showing bones, tendons, and muscles are all wonderfully distracting. Of course, the film has a "party" scene, as it always does, to showcase bizarre creatures and this time it's in a casino. And let's not forget the Puffin-like bird creature that will be showing up on every toy shelf just in time for Christmas. Yes, it's adorable and it's Chewbacca's sidekick. Need I say more?
So here's the skinny on this 2 hour and 32 minute Star Wars sequel, "The Last Jedi." If you're a fan, you're going to appreciate the story continuing (on and on). If you're into make up and CGI, you'll appreciate every minute of it. If you haven't loved the sequels recently, avoid those comfy recliner seats for obvious reasons.