Mike White ("Enlightened," "Beatriz at Dinner" and "School of Rock") writes and directs one of the most poignant relationship films in decades. Starring Ben Stiller and Austin Abrams as father and son, the two take a trek from California to Massachusetts to tour prestigious universities. Filled with daydreams of what could have or would have
 been, this exceptionally powerful and entertaining film is a raw and honest look into what we all think but would never admit.
Brad (Stiller) and his wife Melanie (Jenna Fischer) lead a comfortable life with their teenage son, Troy (Abrams) in California.  It's not lavish, it's comfortable and as Brad and
Jenna lie in bed, discussing finances, it's immediately obvious that Brad is not only questioning where he currently stands in life, but if he has made any correct decisions along the way.  In other words, he's going through a mid-life crisis, but much of it is taking place deep within his mind and we, as viewers, are privy to his every thought and his imagination.
The film takes us on an external and internal journey of life as Brad and Troy fly from California to the East Coast to tour Brad's alma mater, Tufts, and the other, the prestigious Harvard.  Each and every step along the way, Brad drifts into his imagination, comparing himself to his very successful college buddies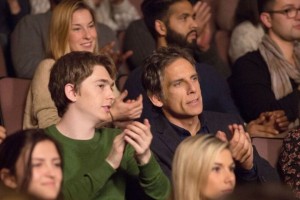 who have made all the "right" decisions in life.  Keeping up with the Joneses, according to Brad's imagination, has never been so difficult.  During this father-son trip, Brad does a little growing up, reconnecting with his younger hopes and dreams, and reflecting thoughtfully on his accomplishments.  At times, it appears that Troy is more grown up than his father, but then, as we all know, Troy hasn't had time to develop doubts!
The process of growing up in "Brad's Status" isn't without growing pains.  In fact, these pains are awkwardly uncomfortable with cringe-worthy decisions, but wonderfully humorous.  The creative edge that this film has is reminiscent of Stiller's other film "The Secret Life of Walter Mitty" as he plunges deeply into the waters of his make-believe life for himself and for others.  He imagines life without Melanie, life with two gorgeous college girls, running along the beach in Hawaii, much like he imagines his friend Billy (Jermaine Clement) to do on a daily basis.  The situations are endless creating a myriad number of comedic scenarios, but always touching upon the reality of what we all do in the privacy of our heads.  We truly get know Brad as he narrates his thoughts and dreams.
"Brad's Status" expertly portrays what we are all thinking and feeling at this particular stage in our lives.  It's honest.  It states the harsh, ugly, comparative thoughts none of us would dare to own up to.  His insecurities and jealousies undermine his own successes, but at the heart of this film is the beautiful relationship between Brad and Troy and discovering what's really important in life.
Stiller is exceptional in bringing White's eloquent words to life.  While he's known more for his over-the-top comedic roles such as "White Goodman" in "Dodgeball," he shows us the extraordinary depth and talent to give us one of the most powerful portrayals of an everyday guy.  Abrams equals Stiller's skills and the two could easily be father and son on an emotional level.  Abrams performance is perfection as he comfortably demonstrates his frustration with and love of his father.  The balance is unparalleled.  The cast is full of great cameos including Martin Sheen, Jeanine Clement and Luke Wilson, portraying characters in Brad's life and his imaginary one as well.
"Brad's Status" is a sincere exploration into how we perceive one another and the pressures we place on ourselves for "success" as we age, losing our youth and perhaps opportunities.  It's a creative and honest film that reminds us all what's truly important in life making Brad's Status is one of the best and well-balanced films of the year!