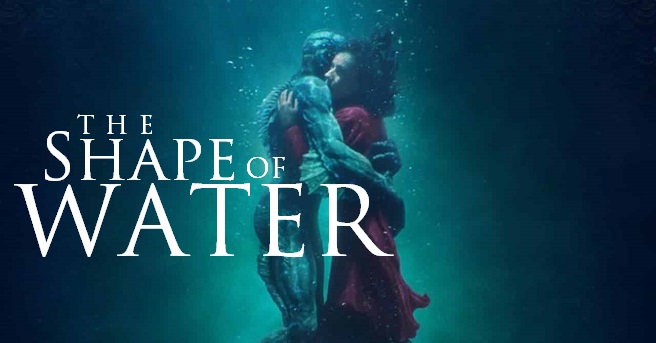 December 8th, 2017
Posted by pamela
Review
0 thoughts on ""The Shape of Water" A cinematically beautiful love story"
"The Shape of Water" is one of those movies that moves you from within as it stimulates every sensory system, blending the beauty of fantasy with the aversions of humanity and history.  Guillermo del Toro and Vanessa Taylor write this deeply moving film that delves into what it means to love, accept and be compassionate, no matter the consequences.
Sally Hawkins portrays Elisa Esposito, a mute cleaning woman at an experimental government facility with co-worker Zelda (Octavia Spencer) who stumbles upon a creature which is undergoing brutal exploration by a team of researchers lead by Dr. Robert Hofstettler (Michael Stuhlbarg) and supervised by the demented and cruel Richard Strickland (Michael Shannon).  As Elisa connects with this creature, communicating with him and eventually falling in love, she must somehow save him from certain death.
This is a fantastical film taking place in the era of the Cold War, and the opening scene sets the tone, giving us many clues as we hear Elisa's quirky and caring neighbor, Giles (Richard Jenkins), narrate the beginning.  The viewer is exploring an underwater home as Giles tells the viewer he is unsure of how to tell this story about the princess without a voice and a "monster that tried to destroy it all."  While it may seem possible at this point, that this is a horror story, and there are horrific events that take place, it is truly a story about love and loss, as Giles says.
The serene feeling of the opening scene is transferred to the reality of Elisa's apartment where her daily routine begins.  Nothing seems out of the ordinary as she readies for her job, but the brush of a hand over the scars on her neck indicate there's an unknown previous tragedy.  On her way out the door, she walks down the hall, checking in on Giles.  Their sweet bond is immediately evident as they chat and fondly recall beautiful musicals on television.  When Elisa gets to work, we meet the characters that will forever change her life and in turn, she will change theirs.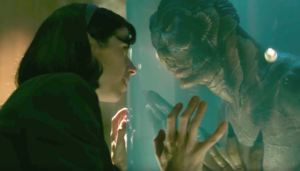 The balance in this story is immediately evident when we meet Strickland.  He's inhumane, self-righteous, and controlling.  He is the polar opposite of Elisa who embodies humility, compassion, and love.  Elisa's inadvertent discovery of the creature is simply beautiful while Strickland's interactions with him is unsettling and in many cases simply disturbing.  With Dr. Hofstettler obeying orders against his will and better judgment, we learn that he has a story of his own to tell.  And eventually, his story and Elisa's intertwine.
While the story itself is remarkable, memorable, and meaningful, it is the way in which it is told visually that makes it stand out even more.  There film even pays homage to old, classic films and musicals.   The set design and careful use of a single color palate not only brings you back into the 1950's, it also creates a certain mood and accentuates the sea.  There's a certain comfort in the surroundings of Elisa's apartment, reassuring you that there can be a happy ending.  But again, like the characters, the settings are in polar opposition as well.  The government lab is cold, harsh, and unsettling, reminding you that there are evils in this world that we may not overcome.
With such attention to detail, del Toro continued this with the music, sometime whimsical, sometimes daunting, but always coordinating with what we are experiencing.  del Toro's expert direction of this characters is equally perfect.    Shannon seems to naturally embody that chilling effect and Stuhlbarg can perform any role.  As Dr. Hofstettler, his meek and mild manner draws us to him, and as his character is revealed, we are on his side no matter what.  And Spencer has played this type of role a thousand times, but it never gets old…she's the best friend, the smart and bold friend who is loyal to the end.
It is Hawkins and Jenkins that truly shine in this film, pushing their skills as an actor to the next level.  As an actress who utters not a single word, Hawkins give an extraordinarily profound performance.  She creates an essence of beauty, from the inside out, as we understand her longing to be loved.  She's strong and capable and oftentimes misunderstood, but her moral grounds are always high.  The compassion she shows for not only Giles, but the creature is breathtakingly beautiful.  We feel her connection to the creature grow and we become her for a moment, taking in the feeling of true love.
del Toro brilliantly creates rich and layered characters while addressing issues that still are in the headlines today.  Acceptance, tolerance, and understanding of those who may look different is one such topic.  Communication is yet another as Elisa shows us the importance of this.  And Giles, very similar in many ways to Elisa, has his own issues  to cope with and we see his regret and wish for a different time…a more open and accepting time.
"The Shape of Water" is an amalgam of a thriller, espionage, horror, and love story in the context of fantasy and reality.  The ending will begin a conversation and upon a second (or even third) viewing, you will pick up on subtleties that will make this film an even more powerful one.  It's a film that has a lasting impression, full of beautiful images, hope, love, and most importantly compassion and understanding.
4/4 Stars