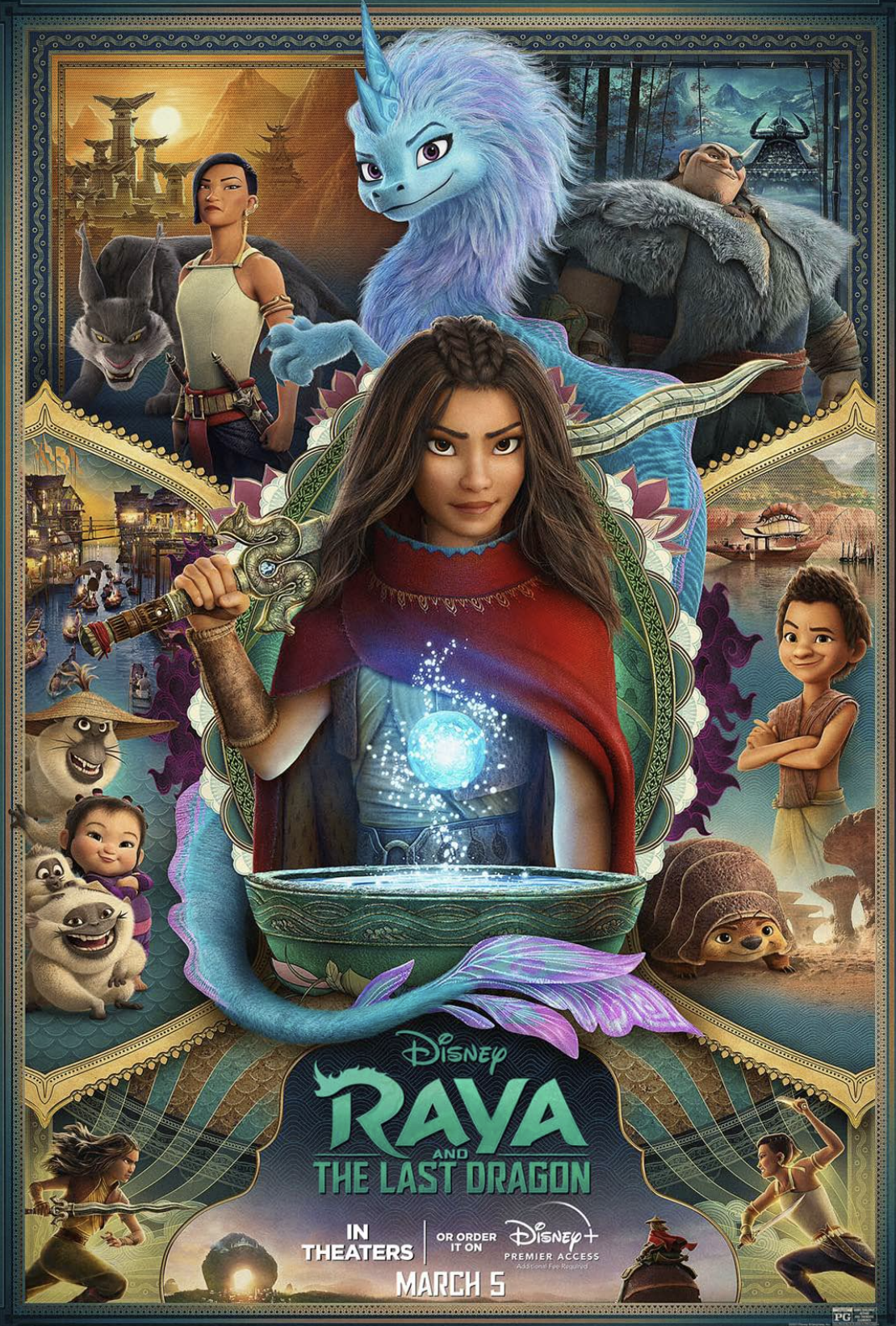 March 4th, 2021
Posted by pamela
Review, women reviews
0 thoughts on ""Raya and the Last Dragon" A familiar message from a unique messenger"
Disney's "Raya and the Last Dragon" finds relevancy in today's world as it branches out into others. Princess Warrior Raya (Kelly Marie Tran-voice) lives in Kumandra, a "re-imagined Earth" inhabited by 5 civilizations once bound together by the protective guidance of magical dragons. One unfortunate day, as her father (Daniel Day Kim-voice), the king, attempts to reunite the warring groups, the final relic of Sisu (Awkwafina-voice) the Dragon is shattered. With only shards of the powerful glowing gems, it may not be enough to ward off the evil Druun that lurk around every corner, promising to turn them all to stone.
Raya gives us a Kumandra history lesson to get us all up to speed as she explains how the beautiful motherland became such a dystopian abyss. As a young girl, Raya watched her father turn to stone and now the future of the world lies quite literally in her hands. With one last ditch incantation, Sisu returns but she isn't exactly the all-powerful dragon Raya had imagined. Together they must find the other gems to right the wrongs of society's past and blow away the minerals that bind all their loved ones for eternity.
Raya is everything any little girl dreams of being—strong, smart, kind, and wise beyond her years. But the trauma and burden placed upon her shoulders has weighed heavily upon her for a decade as she grows into a young woman. Her strength and intelligence intensifies and with Sisu's hidden attributes, Raya discovers who she truly is. This is a story of love, forgiveness, trust, and most importantly, acceptance of others.
While the story of "Raya" is a collaborative effort, the screenplay is written by Qui Nguyen and Adele Lim as the stitch together familiar themes. Cherry picking from other adventure stories such as "Indiana Jones," "How to Train Your Dragon," and even "Mad Max," "Raya" becomes its own in true Disney style, as it focuses upon the overt messages of good prevailing over evil. However, even though the story arc presents nothing new, the messages within are delivered in unique ways by faces we don't frequently see. This is well-worth noting and these messages never get old.
Every Disney animated film finds a way to bring incredible humanity and personality to their characters thanks to artistry and casting. "Raya" is no exception to this rule as Tran gives us a well-rounded Raya who must grow up, find the strength to lead, and then the confidence to trust herself. Of course, there's humor in this film, and while some situations come from Raya as she does silly things like trusting a baby con-artist, most of the laughs come from the comedic overtones of Awkwafina's Sisu. She allows this dragon an off-kilter personality who exudes love as she stumbles through this adventure transformed as a human version of the dragon. And together with Tran, Awkwafina finds just the right balance to keep us entertained with a bit of slapstick comedy and engaged with a female-centric story.
At the heart of "Raya" is the relevancy to our divided world today. Touching upon the distrust of others because they don't look like you, or because they have more or less than you, as well as respecting Mother Nature and the balance she provides is pivotal. Seeing this in our own lives, politically and environmentally, effects us as we live. Drawing those parallel lines in this story accentuates the need for forgiveness and understanding so that we may move forward in a more positive way to allow for healing and ultimately growth. And Disney gives us a young woman of Asian decent to lead us in that direction which, in the entertainment industry, is still very much needed.
While "Raya" may not be the most innovative in storytelling, it is an important one and will entertain viewers of all ages. Gorgeously animated characters with whom we connect, "Raya" will be an inspiration to young girls everywhere. It's also a great conversation starter for parents to talk with children about taking care of our Earth and being open to those who may look different from us.
3 Stars