Michal Aviad's newest film, "Working Woman," has its international premiere at the Toronto International Film Festival (TIFF) on Tuesday, Sept. 11. The film depicts the story of Orna (Liron Ben Shlush), a happily married woman who is financially struggling to make ends meet as she attempts to balance motherhood and career. With an opportunity to support the family and her husband's opening of a new restaurant, Orna becomes a sales sensation for the real estate mogul Benny (Menashe Noy). The price she pays is higher than anticipated, combatting the advances of her boss while attempting to keep her job. This riveting and realistic portrayal of women in the work place is as disturbing and eye-opening as it is empowering. With extraordinary performances and an intuitively thought-provoking script co-written by Aviad, Sharon Azulay Eyal, and Michal Vinik, Aviad directs her cast to bring to light a subject matter that is timely and relevant while allowing others to more accurately understand a woman's perspective and challenges in life.
I had a chance to talk with Aviad about her inspiration in developing such an intricately real story as well as her own empowering actions in life. Her strength both behind the camera and in the film industry elicits a sense of camaraderie and motivation to make a difference in our own communities right now.
WARNING: SPOILER ALERT AHEAD!
Pamela Powell (PP): You've been in this industry long enough to see the tides begin to turn.  Looking back on your career, was any of this story inspired by your own life or observations?
Michal Aviad (MA):I worked ten years as a waitress, and since the late 1980's as a filmmaker and film teacher. I've experienced many things at work and in life – from humiliating sexual comments to sexual abuse. Struggling to work as a woman filmmaker was and still often is accompanied by degrading behavior towards me as a woman. On the other hand, luckily, as an Independent Film Director, I don't have bosses. In addition, I have been working with feminist colleagues for many years to bring issues of female equality into the national consciousness. For example, in our industry, two years ago, with The Israeli Forum of Women in Cinema & TV, I took part in writing a treaty which calls everyone to report sexual harassment at work and detail the actions that will be taken against harassers.
PP: Studying both literature and philosophy, how do these combine to help in creating such articulate and deep characters like Orna and her husband?
MA: The education I received in the Humanities helps me to understand the world. It also opened me to reading feminist philosophy and theory, as well as film theory. All those have shaped my values and outlook on society and cinema. In addition, for many years I've been making documentaries, which brought me to communities and women who belong to different classes and ethnicities than my own. Meeting people through work gave me the opportunity to deepen my thoughts and feelings about the ways gender issues manifest themselves.
In WORKING WOMAN, I wanted to understand how and why working relations between men and women, so often go wrong. I know women like Orna: talented and ambitious young mothers, who have to work full time to survive, but also strive for success at their jobs. I knew I wanted to tell a story about such a woman. Also, while writing I wanted to shape Orna and her husband as a loving couple, since I wanted my heroine to reject her boss's advances because she is simply in love with another man, her husband. I wanted to make Ofer, Orna's husband, lovable and sexy, and what is sexier for women (I wish men realized this) than a caring father? We were writing a story in which I wanted to find out how sexual harassment at work affects not only the victim's soul, but also her relations with her entire environment. I wanted to find out why Orna and many women do not tell even loved ones about the struggle they go through.
PP: This film's story will most certainly, and unfortunately, resonate with a majority of women in the workplace.  With such an empowering end, what do you hope others will take away from it?
MA: I am glad you see the end as empowering, since Orna, like most women and unlike the #MeToo heroines, does not go public. According to an Israeli law against sexual harassment created in 1998, Orna doesn't stand a chance of proving her case at court. In reality, women who go through sexual harassment at work, more often than not, lose everything: their job, promised money, their hopes to advance and the ability to find a similar job. But Orna is not just a helpless victim, she goes out to fight for what she can get.
I wanted to put a magnifying glass on the much convoluted issue of sexual harassment at the work place. I wish viewers, women and men, will come out of the film with an understanding how and why it happens and how complicated it can be at times. I hope that audiences identify with Orna and what she is going through, and hope they see the blind spots the protagonists and we all have. By understanding how common and deeply engrained sexual abuse is in our culture, we can fundamentally change women-men relationships and build a society in which, rather than power, treating the other as equal humans, guides our lives together.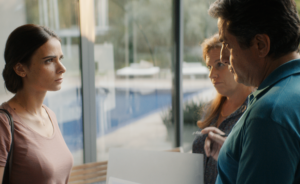 PP: Tell me how you worked with Liron (Orna) whose performance was subtle yet complex and exuded intelligence and strength. (Photo courtesy Matt Johnstone Publicity)
MA: First of all, Liron is an extremely intelligent and talented actress.
During auditions, most of the young actresses who auditioned for the part knew about sexual harassment from personal experience. But when Liron auditioned, I felt that she knew Orna. Liron was 20 weeks pregnant at the time, but I felt she was my heroine, so we waited for her to give birth and recover. While filming, Liron was breast-feeding, which was an additional feminist angle to the set. In the months prior to filming, Liron and I researched Orna together. We met with women who sell real estate, we toured the neighborhood where I wanted Orna and Ofer to live, and we talked for days. We slowly shaped every step of Orna's journey. We knew her strengths and flaws. In each scene we knew how she acts and reacts. During production, Liron, who appears in each shot in the film, knew Orna as well as me, and sometimes better. She became my main partner on the set.
PP: The hotel scene literally stopped me from breathing as I hesitantly watched the details unfold. Can you tell me about the research about sexual harassment and assault that you did to portray such realistic responses? 
MA: My previous narrative feature film, INVISIBLE (2011), is about the trauma of two women who were raped many years earlier by the same serial rapist. My personal experience and years of reading testimonies on the subject, helped me grasp the complex reactions of victims of sexual abuse. Shaping the assault scene at the hotel, stems also from watching films, the majority of which were made by men. I was trying to veer away from creating a scene that can sexually stimulate viewers. Rape and harassment scenes in cinema are traditionally directed to combine the greatest ticket sales formula: sex and violence on the screen. I do not want to be part in that tradition. I wanted to show a horrific scene that didn't involve nudity and blood.
PP: Benny's character is slowly unveiled allowing the viewer to understand Orna's response to stay in her job.  Tell me about collaborating with Menashe (Benny) to get such a strong and realistic portrayal of this character.
MA: … Menashe and I have worked for many years within the film and TV community in Israel and both of us personally know men who were accused and charged with sexual abuse. We agreed that Benny cannot be an evil caricature. We shaped a character that has lots of charm and generosity, a boss that appreciates Orna, his employee, and seeks to advance her, but is blind to his power and to the will of the woman he likes so much.
PP: To say that this is a timely tale is an understatement.  What are your thoughts about the timing and issues that apparently are not only happening in the U.S., but around the world?
MA: When #MeToo happened I was in the middle of shooting. The news was for me a breath of a new hope. Finally we are moving from the frustrated margins to the mainstream of the struggle against sexual abuse. But from the 200 hundred years history of the feminist movement, I know that achievements often meet powerful waves of oppression. In Israel, the variety of reactions to each new story about sexual abuse always include men who lament the death of flirting, warn against a plague of false accusations and protest against a return to puritan times. Fear and fantasy get mixed up. On the other hand, so far the women that came out in the #MeToo moment are famous, wealthy celebrities who make news. I would love nurses, chambermaids and secretaries to come out with their stories without paying a terrible price. I wish for WORKING WOMAN and for society that men as well as many women realize that we have to re-think the old values we grew up on and re-shape the society we live in. I feel optimistic, but the road is still long.
PP: You also capture the difficulties in balancing children, work, and home along with financial pressures associated with all of this.  
MA: Women struggle to prove that we can work as hard and as many hours as men do. In most Western societies, this is the only way women can obtain a career and sufficient income. But we, women, are also brought up to take primal responsibility for the home and children. Orna, in comparison with most women, is lucky to have a husband who takes some of the domestic workload off her shoulders. I hope that with the wake-up call to eradicate sexual abuse, we will change many other cultural "arrangements" between the sexes. I wish for a society where all adults work shorter days, and men join women in the joy and responsibility of caring for and raising children.
PP: In making this film, what was the most difficult aspect for you in bringing this to life?
MA: The very banal but still true answer is: funding. For four years we searched for funding. The competition for funding in Israel is fierce, but in addition, we received responses from funders in Israel and in Europe which ranged from: The script is not an interesting enough subject for a film, to not believing that Orna does not want sex with Benny, to suggesting to make the sexual abuse more brutal to create "real drama".
It is with sincere gratitude that Aviad received the funding necessary to complete this timely story as its importance cannot be understated.
Be sure to see "Working Woman" at TIFF and walk in the shoes of a working woman, wife, and mother. For more information about this film, go to TIFF.net