February isn't exactly known for being a month of Oscar-worthy films, although "Get Out," released last year at this time is the exception to the rule.  "Game Night," starring Jason Bateman, Rachel McAdams and Jesse Plemons, fits right into the expected level of film for the month.  That's not to say it's not worth seeing.  On the contrary. It's pure escapisim from the doldrums of winter weather and February; especially if you live in Illinois!  "Game Night" poses a ridiculous situation revolving around a traditional past time filled with crazy antics that will have you suspending any sort of belief and making you laugh continuously…just what the doctor ordered for February. 
WATCH THE TRAILER HERE:
Max (Bateman) and Annie (McAdams) are the adoringly cute couple living in a cookie cutter cul-de-sac in sunny California.  Hosting a weekly game night and excluding Gary (Plemmons) the next door neighbor who is a creepy cop as well as an ex-husband of a former game night participant, the couple finds it difficult to host wtihout being spotted by ever-watching eyes.  Enter Brooks (Kyle Chandler), the enviable, successful, and decidedly more handsome older brother who shows up for the weekly competition…now, let the real games begin.  With long-seeded sibling rivalry between Max and Brooks, a criminal past that will soon catch up with them, and a game gone awry, the crazy situations and quest to win the game interwine for slap-stick comedy and over-the-top silliness.
We meet Annie and Max the night they fall in love.  Their chemistry and common love of competition and all things games draws them to one another.  We fast forward through their romance days and then their wedding, finding ourselves in the current day's situation—dealing with Gary and sneaking friends in for game night.  The friends are unique characters, bringing their own personality and craziness to the night, but the story takes a detour and this is where the fun begins.  As anyone with a sibling can attest to, there's always an element of jealousy and competition.  Max and Brooks' rivalry is so extreme that as an outsider, you find it funny, but there's also an element of reality or relatability to it.  Annie and Max have their issues as well, and Ryan's infatuation with the 20-something flavor of the month is as dispicable as it is funny.  The film hits as many notes as possible to reel the viewer in and keep you on the line until the credits roll.  (Stay for those as the end's end is worth it.)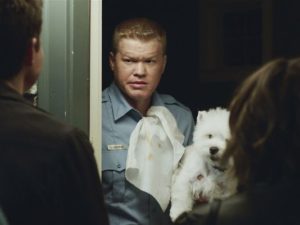 The jokes all hit home, from Trump-isms to gender stereotypical comments set straight, this film takes you on a comedic ride with a few laughs you might be embarrassed to say you found funny.  The stand out in this film, however, is Plemons, as the awkwardly odd and somehow creepy cop next door.  His measured reactions combined with that sad little puppy dog demeanor is somehow just the right combination to make us feel sorry for him yet still not totally trust him.  Plemmons steals each and every scene as we try to figure out whether or not we should love him or be frightened of him.  And here's the other scary thing…we've all had a friend or acquaintence who we have left out…it'll make you think back and maybe even think twice about that "friend" you skipped over.
Surprisingly, the story does have a few unexpected twists and turns in the road coupled with a few exaggeratedly gruesome scenes that make you laugh more than cringe.  The pace remains high throughout the film as Bateman uses his oh-so-familiar comedic cadence to get a few chuckles.  McAdams seems quite at ease playing off of Bateman's antics, but it is Sharon Horgan's "Sarah" that female viewers will find reassuring as she expresses what we all think of men like "Ryan" (Billy Magnussen).
"Game Night" is a fun-filled adventure movie with crazy stunts, antics, and situations that will have you laughing even when you probably shouldn't.  The tried and true friendly game night with friends just upped the ante and viewers can go all in for a couple hours of total escapism.  It's not "Get Out," but it is fun.