They say that truth is stranger than fiction and this is certainly the case in "I, Tonya," the story of Tonya Harding and her alleged attack on fellow figure skating competitor Nancy Kerrigan.  For those of you who are too young to remember "the incident" or only recall the other event of that era (O.J. Simpson), let me refresh your memory.  Harding, a rough-around-the-edges and talented figure skater was the only woman in the world to successfully complete a triple axel in competition yet she was never consistently winning.  Apparently, she just didn't fall into the classification of the "girl next door," the image the U.S. judges wanted as a representative for the Olympics.  Now this is where things get a little dicey.  On January 6, 1994, Harding's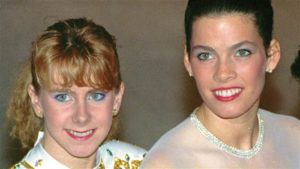 biggest competitor, Nancy Kerrigan, was attacked and injured after practice.   Harding, along with her body guard, Shawn Eckhardt, and ex-husband, Jeff Gillooly, were blamed for the attack.  "I, Tonya," written by Steven Rogers and directed by Craig Gillespie, take this bizarre story and create a captivating and hilarious movie using the truth and the real characters' own words as a template.  As the opening scene states, "Based on irony free, wildly contradictory, totally true interviews with Tonya Hardy and Jeff Gillooly."  There is no way anyone could make this stuff up!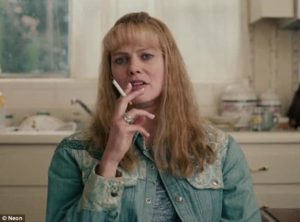 Harding (Margot Robbie) talks with us, the audience, in the current day.  Overweight, unkempt, and sitting in her kitchen, she begins to tell us the story of her life, from her perspective.  She takes us back to her upbringing, introducing us to her mother, LaVona Golden (Allison Janney) who makes Joan Crawford in "Mommie Dearest" look like an absolute sweetheart as we see Harding go through the school of hard knocks.    We are transported back to Harding's childhood at the age of 3, or as LaVona calls it, "a soft 4."  LaVona is physically, verbally, and emotionally abusive all the while justifying and rationalizing her behavior.  We see the cruelty her mother invokes in every situation—there's no edit mode and no thought that hitting your daughter repeatedly with a hair brush is wrong.  The verbal abuse and demeaning behavior is used to motivate Tonya to skate better and the depths to which LaVona sinks are unthinkable.  It's shocking and quite disturbing yet explains Harding's choices in life.
During this trip down memory lane, we also get to hear from the other characters in the current day and their viewpoint of history, all being very different and punctuating the fact that truth is truly stranger than fiction.  These interviews paired and edited perfectly with flashbacks is a masterful feat in creativity to give us the whole story.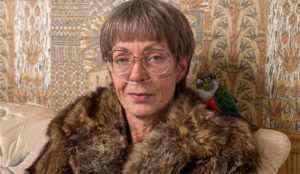 Fast-forwarding to Harding at 16…she meets and falls in love with Jeff Gillooly (Sebastian Stan) who rescues her from her mother only to find out that she has gone from the fire to the frying pan.  It's an ugly cycle that unfolds before our eyes as we watch incredulously.  Figure skating competitions become more important as Harding gets older and the involvement of "body guard" Shawn Eckhardt (Paul Walter Hauser) pushes the story into the realm of craziness.  Hard Copy Journalist (Bobby Canavale) interjects his two cents into the matter, providing a balance of rationale as to what is completely outrageous.  His quotes are shockingly memorable throughout the film such as "We had no idea that something like this could be done by two of the biggest boobs in a story populated solely by boobs," as well as poking fun at the outlet's reputation being equivalent to today's "respected" publications.
For those of us who recall "the incident," it is simply shocking how each cast member is the embodiment of the actual person.  Robbie is remarkable as Harding from her  awkward late teen period to the younger 20-something woman.  How the make-up and wardrobe people were able to transform this stunningly beautiful woman into Harding is beyond comprehension, but much of it has to do with the subtleties of language that Robbie integrated into her performance.  Her body language lacked refinement and etiquette and her language usage matched that.  Robbie is Harding.  She does much of her own skating in the film, but did need a little help from the computer graphics department to help with that triple axel.  The transformations don't stop with Robbie.  Janney, with a parrot perched on her shoulder, becomes LaVona.  Janney, a tall, beautiful, refined woman in real life, sheds her skin to become a crass and cruel woman, portraying LaVona with expert skill.  She, like Robbie, utilizes every aspect of acting to become her character.  Sebastian Stan's performance as Jeff Gillooly  is spot-on with his looks and affect and Paul Walter Hauser could have been Eckhardt's twin.  I would be remiss if I didn't point out the talented young actress Mckenna Grace as the young Harding.  Pulling off this character, giving viewers insight to how Harding was hardened, is no easy task for any actress, but to accomplish this at such a young age is extraordinary.  Grace deftly creates a heartbreaking portrayal of youth stripped away of all worth and shows us how her defense mechanism creates violence for survival's sake.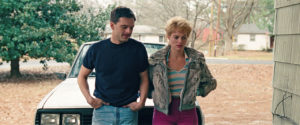 "I, Tonya" is a masterpiece in recounting the life and times of Tonya Harding.  Superb casting, excellence in direction, writing, and acting make this one of the top films of the year.  While it's really a rather sad tale as we see the effects of abuse and how the cycle continues, Rogers' script and the editing process make this biopic surprisingly hilarious, yet it does not demean the brutality and cyclical effects of abuse.
4/4 Stars