"Kate Can't Swim" premiered at the 2017 Slamdance Film Festival and will be available on VOD on January 23, 2018.  The film is co-written by Josh Helman and Jennifer Allcott.  Helman also directs and stars alongside Allcott, Celeste Arias, and Grayson DeJesus.  This first-time director and writing pair gives us a striking, complex and provocative film that typifies relationships and sexuality issues with unapologetic clarity.
Kate (Arias) and Pete (DeJesus) seem the happy, young couple, living a predictable life in NYC.  Em (Allcott) returns from living abroad with her new boyfriend, Nick (Helman).  The two couples travel to a remote area of New York to enjoy a weekend in the country in an effort to get to know Em's new lifestyle and her new beau.  This peaceful backdrop promises to be anything but idyllic as the two couples plunge into the most terrifying place possible—their minds and emotions—putting into question their own morals, choices, and boundaries.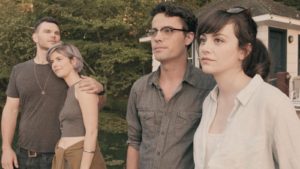 The two couples seem perfectly happy with one another, but it is these close quarters that bring out the true feelings including resentment, jealousy, and an unexpected love.  The film captures each of these characters' true selves as they discover their own reflection.  Kate struggles with what she sees and how she feels, not quite understanding it herself.  The pressures of expectations Kate feels along with the complexities of sexuality and attraction are peeled away, allowing the viewer to see things from a new perspective.  As Pete, Em, and Nick see her true self, confronting her, it becomes more than she can handle.  Her response leaves the viewer breathless.
"Kate Can't Swim" is a visually striking film that cinematically captures the atmosphere even when the story and the environment are in complete opposition.  Cinematographer Tommy Agriodimas brings you into the cabin, making you the 5th guest.    Helman and Allcott's  script is powerful and succinct with tight dialogue and pacing that runs parallel to the emotion of the scene.
The story tackles the concept of love, sexuality, fear of the future, relationships of many types, and expectations within our society as well as within ourselves which sounds like a lot, but it is never overwhelming.  With the story-line focused upon Kate, the supporting cast adds their own stories, augmenting the main focus beautifully.
The cast is stellar with a natural chemistry between not only the two couples, but between Arias and Allcott.  Their gestures and unforced laughter creates a feeling of truly having grown up together.  Arias has a standout performance, skillfully portraying a very complicated character.  While we may not always agree with her decisions, we understand them and feel her pain and internal conflict. Her character development,  a testament not only to the writing and directing, but to Arias' skills, unfolds beautifully.  Helman also finds a way to express such subtle nuances in his performance transforming himself with absolute ease from an intimidatingly intelligent man to a thoughtful, caring, and insightful one the next moment.  That unpredictability captures your attention and creates an undeniable tension, pulling you deeper into the muddied waters of relationships and truth.
"Kate Can't Swim" is a standout film this year.  With skillful direction, creatively honed writing, beautiful cinematography, and an amazing cast, the film is one not to be missed.
For more information about the film, go to www.katecantswim.com
Check out the interview I had with Josh and Jennifer RIGHT HERE