First-time feature filmmaker Wayne Roberts executes an extraordinary story about a young woman's quest to have a better life while dealing with the continual harsh realities of her circumstances.  With an all-star cast including Olivia Cooke, Jim Belushi, Mary Steenburgen, Chris Abbott, Chris Lowell, and Mireille Enos, the story delves deeply into the human psyche, relationships, and hope.
Katie (Cooke) is a waitress and part-time prostitute in a desolate desert town, living in a trailer park, and supporting her mother and little sister, but she has dreams of one day escaping this less than desirable life.  Her circumstances, to most, would seem overwhelming, but Katie never loses her positive spirit and goal of leaving…until she meets and falls in love with Bruno (Abbott), a newcomer to town.  Establishing a relationship in a small community filled with gossip and cruelty is more difficult than she could have imagined.  The consequences and challenges she must face begin to smother her and Katie's emotional survival is at risk.
"People need to appreciate things more…life is so amazing," says Katie even as we see her worthless mother take complete advantage of her and men doing the same.  Your heart breaks as you see this young woman not only survive, but attempt to break free of the chains that hold her here.  The spark of positivity is always shining…her goal of leaving always the focal point.
Relationships are complex and the story brings us deep within all that Katie experiences.   She supports her mother who is more than physically capable of doing so, but relies on Katie.  We see the disappointment in her face as she puts on the facade that everything is ok.  Maybelle (Steenburgen) is wise, acting more like a mother than Katie will ever have, but again, Katie protects others from experiencing her atrocities.  Surprisingly, although Katie's father is missing in action, she prays each night to him, wanting him to be proud and perhaps this imaginative father is the consistent, positive "person" in her life to give her that unstoppable resiliency.  The most unlikely man in her life, Bear (Belushi) is a "regular," and quite surprisingly, also a sweet father-figure to Katie, giving her guidance in life.  This character opposition is unusual, but in its own strange way, very loving.
The relationships that are most disturbing are with other males in town, from the teacher who "visits" to the young men who are brutal and harsh beyond words.  There are scenes that will leave you speechless and take your breath away while tears stream down your face.
The ensemble cast expertly creates deep and realistic characters, some of whom you truly despise.  Cooke's performance is simply sensational.  She develops a complex character, understanding her reactions, her disappointments, and her actions.  Even though we don't approve of her choices. She is at once frustrating as she is engaging and Cooke creates this character with whom we truly care for.  
Belushi is one of the few actors that could portray "Bear."  He creates the kindness in a male character that the story needs for balance.  The goodness he exudes, even though he is using Katie for sex, melts your heart.  Enos portrays  the epitome of a bad mom, but she, too, has depth and reasons for her situation.  Enos conveys this expertly, allowing us to dislike her, yet understand her at the same time.
Lowell shines just as brightly as someone we immediately hate.  We get a sense from him that he's bad to the bone.  His look, his body language, and his tone all create a truly despicable character as "Dirk."  Together, the entire cast tells this beautifully  intimate story of life and desperation, but most importantly hope.
Roberts first attempt at screenwriting and directing expertly demonstrates the skills needed to tell this heart-wrenching story. The characters he creates are extraordinarily real and his style of directing and communication, according to the cast during an interview, is unusual and allows the actors to give their best performances. While the dialogue is powerful, it is his direction with scenes requiring no speaking that are most evocative exuding desperation, heartbreak, and even love.
"Katie Says Goodbye" takes us on a remarkable emotional journey of life, filled with hope and countered by reality.  It's a powerfully evocative story with outstanding performances, beautiful dialogue, and most importantly, a lasting effect of optimism.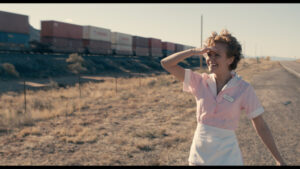 3 1/2 out of 4 Stars

Tags: