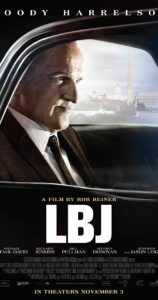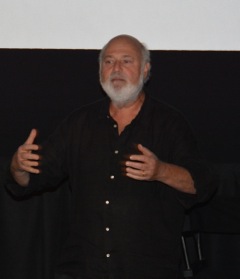 Rob Reiner is sitting comfortably back in the director's chair for the historical depiction of LBJ starring an almost unrecognizable Woody Harrelson as the lead role.  The film takes place from 1959 through 1963, just beyond that fateful day in Dallas, Texas when JFK was assassinated. 
We get to know the powerful man who was the Senate Majority Leader after losing his party's nomination for presidency.   Reluctantly he becomes the Vice President under JFK and it is during these crucial years, watching him manipulate the good ol' boys club and delicately deal with big business and the racial tensions, that we see who LBJ truly is.  He's  strong and unyielding on the outside, but as the story shows,  he so desperately wants to be loved.  The story unfolds to reveal LBJ's realization of the importance of a positive legacy.  We watch him change before our eyes as he understands the burden of the future quite literally in his hands.  His views on civil rights initially are self-serving, but ultimately, he is a champion of this new proposed law.  We are truly connected to LBJ, the person, understanding who he was as President of the United States.
Unlike many historical films, it is emotion that is the underlying current of "LBJ."  The facts are laid out for us, but the interpretation of pivotal situations and LBJ's perception that is readily written on his face, his eyes indicating feelings of sorrow, fear, frustration, and even lack of confidence.  Keying into his tumultuous relationship with the younger Kennedy brother, Bobby (Michael Stahl-David), gives us yet another dimension of difficulty in the White House with LBJ.  It feels much like the old regime versus the new, young vs. old, neither really respecting the other.  In the political arena, LBJ was a formidable man as we witness what happens behind closed doors.  But it's the final chapter of the film, the changing of the guard, that is most intriguing.  We are witnessing this on a personal note, not from a protected and filtered distance.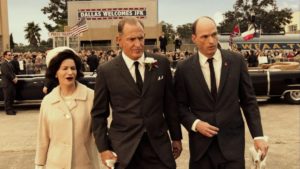 "LBJ" is one of Harrelson's most subtle performances giving life to this rather scorned and perhaps misunderstood president.  He simply shines in this role that just might grant him an Oscar nod come January, 2018.  The makeup that transforms Harrelson into LBJ is a bit distracting, but not enough to take you out of the situation. 
Jennifer Jason Leigh portrays "Lady Bird" with reserved eloquence and heart, showing her strength, influence, and support of her husband…exactly what we would expect.  Unfortunately, Jeffrey Donovan's wooden characterization of JFK, one of the most charismatic presidents in history, slows the pace of the film, pulling you out of an engaging scene.  While he resembles JFK, Donovan needed more energy and understanding of his role.  Richard Jenkins gives an exceptional performance as the Southern Senator Russell who we love to hate and Bill Pullman's character of Ralph Yarborough is believable as the upstanding Senator in an ordinarily corrupt system.
Stylistically, "LBJ's" non-linear story-telling style allows us to see their future, the day of the assassination and then transports us back in time to gain a better understanding of their thoughts and reasons behind decisions.  With succinct writing from Joey Hartstone, archival television footage, and facts from the times, Reiner uses his skills to give viewers not only a beautiful historical film, but an entertaining and enlightening one as well.
3 Stars