Three young couples, all at different stages of their relationships venture out of the confines of the Windy City to vacation in the deep woods of Michigan in Michael Glover Smith's sophomore feature film "Mercury in Retrograde."  The secrets that are buried deep within each of these characters are slowly uncovered as they reach for a branch to save themselves from revealing their true humanity.  It's a brilliantly nuanced film that seeps into your very soul, staying with you long after the credits roll.
All but Peggy (Najarra Townsend) have known one another for a long time.  Her relationship with Wyatt (Shane Simmons) is new and fresh while Golda (Alana Arenas) and Jack (Jack C. Newell) have been married for 10 years.  It is quickly evident that Isabelle (Roxane Mequida) and Richard (Kevin Wehby) are in a troubled 5-year relationship.  As the couples sit around getting to know one another while Peggy reads everyone's horoscope, the camera, always moving, allows us to see the reactions of each recipient of their horoscope, bringing us into the circle to be a part of this intimate group.
Each and every character is uniquely different and as we get to know them, we understand their personalities and reactions.  Jack's lightheartedness with Golda's gentle and caring nature is juxtaposed against Isabelle and Richard selfishness.  Wyatt is struggling to find himself, leaning on his guy friends for advice and guidance, but it is  Peggy who reveals pieces of her emotional puzzle in seemingly benign ways that leaves you wanting to know what truly lies beneath the surface.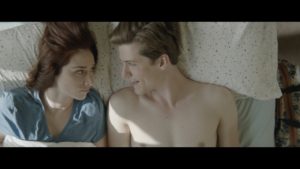 The film dissects human communication and the insecurities that we all have, especially when we are in a relationship.  The individual characters all have secrets which get in the way of connecting and progressing, particularly with the women.  Cutting remarks spewed out with hurtful honesty masqueraded by humor reveal Isabelle's true character as well as Golda's resilience.  But much of what we see is from Peggy's perspective as her narration allows us inside her thoughts, creating beautiful imagery and an understanding of her emotional state.
Interestingly, during many conversations, we are not seeing who is talking, but we are witnessing the group member's reactions to what they hear.  This camera technique gives the viewer not only a different perspective, but a better understanding of who these characters are.  Pairing all of this with stylistic editing gives "Mercury in Retrograde" such deep insight,  bringing you, the viewer into the group to experience every thought, emotion, and reaction.
To gain this perspective, Smith utilizes his intuitive ability to create diverse and realistic conversations.  He eloquently weaves difficult subject matter into each scene, but the topic never feels overpowering.  It's a delicate balance as discussions dig more deeply into who these people truly are.  Their individual histories add to their baggage, weighing more heavily as the weekend progresses.  This gorgeous portrayal of humanity at a young stage in life couldn't be more sincere.
Finding the right cast to give such genuine performances could not have been an easy task, but Smith does exactly that.  Townsend creates Peggy with such precision as she peels away the layers of her personality, background, and eventually her truth.  We are immediately connected to her as she wants to fit into this new group of friends and get to know her new boyfriend.  But it is her final scene that leaves you breathless, completely understanding what she  subtly eluded to in previous scenes.
Equally powerful in her performance is Arenas.  There's such beauty and honesty in her portrayal of Golda,  understatedly captivating in every scene and naturally balancing herself with Jack who portrays her husband.  Newell gives Jack the bit of levity needed as he almost appears as a guiding force, more mature than his buddies, but respectful of their situations.  The eventual inebriated interaction among the men while discussing the book 'The Glass Key' by Dahiell Hammet, allows us to see the inner workings of all of them.
What begins as a casual, fun weekend in a cabin in the woods, turns out to be revelatory for all of the characters.  Smith's brilliant ability to create meaningful dialogue and use of foreshadowing as well as the casts' skillful depiction of their characters makes "Mercury in Retrograde" a gorgeous, relatable, and realistic study about love, life, and understanding.