Get ready for Disney-Pixar's greatest adventure yet! "Coco" hits theaters just in time for Thanksgiving vacation, reminding us about the importance of family. This vibrant, touching, and meaningful film takes place in a small town in Mexico during the celebration of The Day of the Dead. Young Miguel wants nothing more than to be a musician, but due to a dark family history, music has been banned from being played or heard. Miguel follows his dreams, leading him to cross "the bridge" into the land of the dead, learning important life lessons and reconnecting with those that love him. (Bring your tissues!)
It's hard to imagine that Pixar could out-do itself after giving us "Inside Out," but they have. We meet Miguel as he introduces us to his family members, some living, some gone, as the family prepares the mantle with photos of all who have passed away. We learn about Great Grandma Coco as a little girl whose father abandoned her and her mother, leaving them alone. Their father, known only to upcoming generations by a headless photo, was a musician. The hatred of music coursed through the veins of all the generations to come…until Miguel. His passion is unstoppable as he wants to participate in the town's talent show. Stealing a special guitar from a museum magically allows him to cross over to the other side and he meets all those who came before him.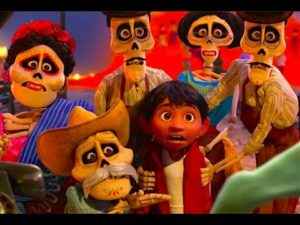 "Coco" is special on so many levels. The story is a multi-layered one that will entertain both children and adults. Our love and connection to family is at the heart of the film, but it is Grandma Coco's small role that is remarkably powerful. As aging is a difficult process for anyone and any family to deal with, the topic of dementia is beautifully portrayed, particularly in the final scene. Of course, there's the typical storyline of good guys and bad guys, and a race against time. While there are the typical aspects to the film, the writing is so deep and meaningful, the film is elevated to a higher dimension.
The story also integrates a tradition many of us don't know much about, El Dia de los Muertos, the Day of the Dead. "Coco" gives us the beauty, history, and meaning behind this cultural celebration as we consider our own ancestors, particularly those nameless faces in our own photo albums or shoe boxes filled with black and white or tin type photos. Embracing another's culture and understanding its origins brings us that much closer to one another.
The animators at Pixar are equally astonishing in that they can bring an animated film to life. Yes, the story is key, but the animators connect us with the characters as we feel their emotions. How I was able to have empathy for a skeleton-faced musician and an old woman in a rocking chair with whiskers protruding from her chin is beyond me, but I did. Even as I write this review, I am fighting back the tears and getting choked up. The animators also made sure that younger ones, even given the longer run time of close to 2 hours, would be continually engaged. Using remarkably vibrant colors and fast-paced animation, sometimes bordering on frenetic, this film is visually stimulating as well. Combining these elements with beautiful music interspersed at just the right moments, "Coco" becomes perfectly orchestrated.
As I don't want to give any plot twists away, I won't go into great detail about the personalities behind the characters and who voices them. Suffice it to say that Gael Garcia Bernal (Hector), Benjamin Bratt (Ernesto de la Cruz), Anthony Gonzalez (Miguel) and the rest of the cast fit perfectly with their corresponding characters.
"Coco" is rated PG due to the topic matter, but it is a film for everyone to see as it reminds us of the importance of family, history, and traditions. With a superb story, a stellar cast, great music and extraordinary animation, "Coco" is a film that will have a long life ahead. See this remarkable film.
5 Stars out of 4!