Ridley Scott, renowned director, has done the impossible in his newest film "All the Money in the World." He took a film destined to drive audiences away and created a masterpiece that will surely elevate his status in the filmmaking world to levels previously thought unheard of. The film, originally cast with Kevin Spacey as one of the leads, J. Paul Getty, was slated to open December 22. Just weeks before the film's opening, Spacey was accused of sexual misconduct, creating turmoil for the film and the cast. Scott decided to reshoot much of the film with a newly recast Christopher Plummer as J. Paul Getty. Scott not only did the impossible, he did it to such a level of perfection that it may just win him and his actors a few awards this season.
The story is based on the real-life story of the kidnapping of Paul Getty, J. Paul Getty's grandson in the 1970's. Transporting the audience back in time, we meet young Paul, his siblings, and his parents, Gail (Michelle Williams) and John Paul II (Andrew Buchan) who are struggling financially. Quickly, we learn how the richest man in the world could have a son who is unemployed and broke. Reaching out to re-establish a connection—and get a job in his father's oil company—John Paul Getty II and his family move across the globe and start a new life. Years go by and a special bond is formed between the old miser and his grandson, but Paul's parents find themselves in opposite corners. John Paul II is a drug addict and Gail divorces him…taking no money. Raising three children on her own, Paul, now a teen, has been kidnapped by one of the most dangerous gangs in Italy. What they don't realize is that Gail is penniless and J. Paul Getty is one of the most cold-hearted cheapskates in the world.  It's a harrowing tale of greed, family, and love.

This is Williams' chance to shine in a film as the strong, independent, intelligent, and loving mother who attempts to find her son and pay for his release. She creates a multi-layered character filled with emotions most of us will thankfully never experience, yet we have such a connection with her and her situation. She drives the film without ever overwhelming any scene. Meeting with Mark Wahlberg's character, Fletcher Chase, who is her father-in-law's right hand man, the two must work together to find the truth behind the kidnapping. While this story-line in and of itself is remarkably intriguing, it is Plummer's portrayal of the coincidentally Scrooge-like character that is simply chilling. He's a business man with ice-cold gold coursing through his veins, seemingly devoid of the ability to love and have compassion. He's shrewd and cunning with an edge to his voice that would make any person cower in his presence. His eyes seem almost soul-less as he worships the almighty dollar.
Charlie Plummer's role of John Paul Getty III is just as captivating as he reels us in with his boyish yet cocky charm and then breaks our hearts as he finds himself struggling to survive and escape his captors. He's still a boy at heart being used as a pawn for money.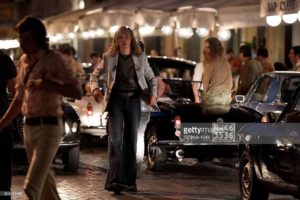 Williams and Charlie Plummer have the on-screen ability to adeptly show that strong bond between a mother and her son. The captors, on the other hand, show us how sickeningly disturbing people can be when driven to such lowly depths. With one kidnapper, Cinquanta (Roman Duris) blurring the lines of loyalty and heart, we see the struggle of humanity and life from a different view point.  His character is one of the most complex as he does possess a moral compass and the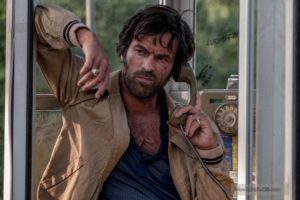 ability to have compassion, but there is more to his life that directly conflicts with these attributes.
"All the Money in the World" is a chillingly brutal and spellbinding story about an iconic man and his family in our recent history. Williams and Christopher Plummer have Oscar-worthy performances and not surprisingly, the supporting cast is equally brilliant. Initially, one can't help but watch the film, trying to find where the cuts have been made and how Christopher Plummer has been placed into this film, but quickly, you are transfixed by the story, forgetting about the reshooting and recasting of Plummer for Spacey. I can't even imagine anyone but Plummer playing this part.  This could very well be, in this critic's opinion, the best film Scott has ever directed. It is certainly the bravest and most daring film in his decision to recast Plummer and it might be his smartest one as well…the nominations are just starting to be named. 4 STARS