(From the May, 2018 issue of Fete Lifestyle Magazine)
Summertime and the living is easy.  I can hear the rich voice of Ella Fitzgerald in my head now, but what's not easy is finding great films to see this summer.  Big blockbusters take over the screens, edging out the independent little guys which, in my mind, are more worth your hard-earned dollar.  Traveling to film festival across the country, I'm able to easily find and share with you the films that will make your summer movie going experience sizzle. (All films featured open after May 18)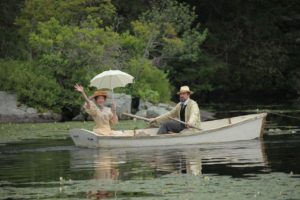 MAY:
Spotlight:  
"The Seagull" is based on Chekov's play of the same name, but don't let that scare you away.  Annette Bening stars in this film about an aging actress, unrequited love, love triangles, and family.  This elegant, fast-paced comedy draws you back in time, witnessing the stages of life and love.  It's an all-star cast with stellar performances from Saoirse Ronan, Elizabeth Moss, Brian Dennehy, Corey Stoll, Billy Howle, and Mare Winningham.
Also playing:
"On Chesil Beach" stars Saoirse Ronan and Billy Howle as a newlywed couple in 1962 England, struggling with an awkward wedding night.
"First Reformed" gives Ethan Hawke a dramatic role like no other as a struggling pastor wrestling with a death of his son and an environmental activist.
"Terminal" stars Margot Robbie, Mike Myers, and Simon Pegg in this sinister, twisted, and murderous tale motivated by revenge.
"Book Club" gives 50 Shades of Grey a new look through the lens of four life-long friends during their book club discussion.  Diane Keaton, Jane Fonda, Mary Steenburgen and Candice Bergen star. 
"The Gospel According to Andre" documents the life of fashion designer Andre Leon Talle.
To read the article in its entirety, go to FETE LIFESTYLE MAGAZINE