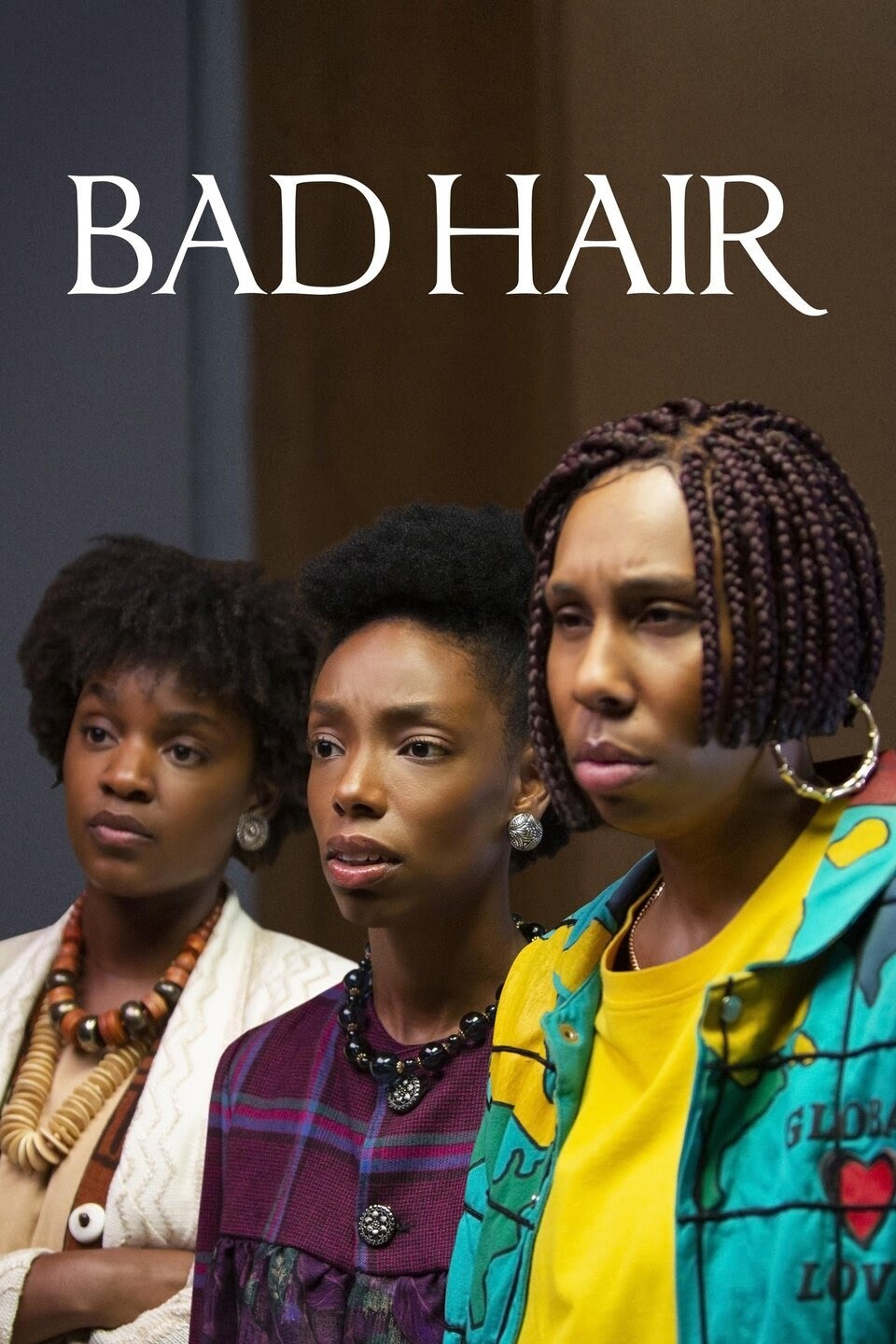 October 23rd, 2020
Posted by pamela
Review
0 thoughts on ""Bad Hair" never looked so good"
If you think you're having a bad hair day, wait till you see Justin Simien's newest film "Bad Hair," starring Elle Lorraine and Vanessa Williams. This film gives the term a whole new meaning! As Anna (Elle Lorraine), a young Black woman in the late 1980's struggles for recognition as a television host for cutting edge music, she finds that looks matter more than talent in this industry. With a corporate shake up lead by Zora (Williams), Anna (Lorraine) is encouraged to do something with her hair if she wants to succeed. Succumbing to the pressure, Anna pleads with a hip salon to put in a weave to make her hair luxuriously beautiful. The results are unexpectedly horrific and oftentimes jaw-droopingly comedic as she climbs that corporate ladder.
We meet Anna (Zaria Kelley) as a youngster, adopted into a loving yet high-pressured family. Her sister Linda (Corinne Massiah) is busy helping to relax Anna's hair using the chemical process of the day. This becomes a traumatic event which will impact her and the story well into her adult life. Dad (Blair Underwood), an accomplished historian shares with his girls a story of their African ancestors. Anna, ever the rebellious one, questions these folklores which sets her adoptive parents into a tizzy. Fast forward about twenty years later and Anna's working in one of the most prestigious L.A. music television stations, surrounded (and taken advantage of) by high profile talent and industry leaders. But Anna isn't getting anywhere in this company no matter how many great ideas she has–she's always overlooked. Lacking confidence, she's like a quiet mouse but when Zora shows up, there's a connection and admiration which inspires her to change.
The groundwork is slowly, perhaps a bit too slowly, and methodically set up for the first half of the film, but as soon as Anna sits in that salon chair to have that hair weave brutally installed (yes, installed), the tone shifts dramatically and we have a horror story unraveling before our eyes. Anna's hair is straight, long, and luxurious. She's turning heads everywhere she goes. Her confidence rises but still plagued by financial issues and imminent eviction from her dilapidated apartment by her slimy landlord, the hair begins to have a mind of its own and the blood begins to spill.
To give you any more information would ruin the fun of this film, but suffice it to say, the landlord isn't the only victim of Anna's bad hair. This film artfully combines gruesome over-the-top horror with an underlying story of how Black women were/are perceived. And the lengths they go to in order to change their appearance and be accepted in a white world is astounding. Acknowledging the inequities and pressure to assimilate, the film blends lore and superstition into a world of reality to give us a unique horror story that sticks with you.
Simien brings us back to L.A. in the '80's complete with shoulder pads, crazy colors, and the music of the day. The cast of characters embrace their roles and this era to bring it to life, never missing an opportunity to make us laugh as we witness some of the horrors. Lorraine's reactions are priceless as her character discovers a new part of herself. She invites us into her mind as she struggles with what's happening and the conundrum of succeeding because of it. Balancing Lorraine's depiction of the innocent Anna is Williams' evil persona of Zora, but there's more to her than meets the eye. Williams holds nothing back which is perfect and she's having fun in this role. In fact, no one holds anything back which speaks to the fine direction of Simien resulting in a thrill ride of a film.
"Bad Hair" is a unique horror film which makes you laugh, gasp, cringe, and understand more about perception and struggle for equality in the work place not just as a woman but a Black woman. While it's quite gruesome, it may not be for everyone, but there are plenty of comedic and dramatic elements to counterbalance that horror.
**Streaming now on Hulu**
3 1/2 Stars