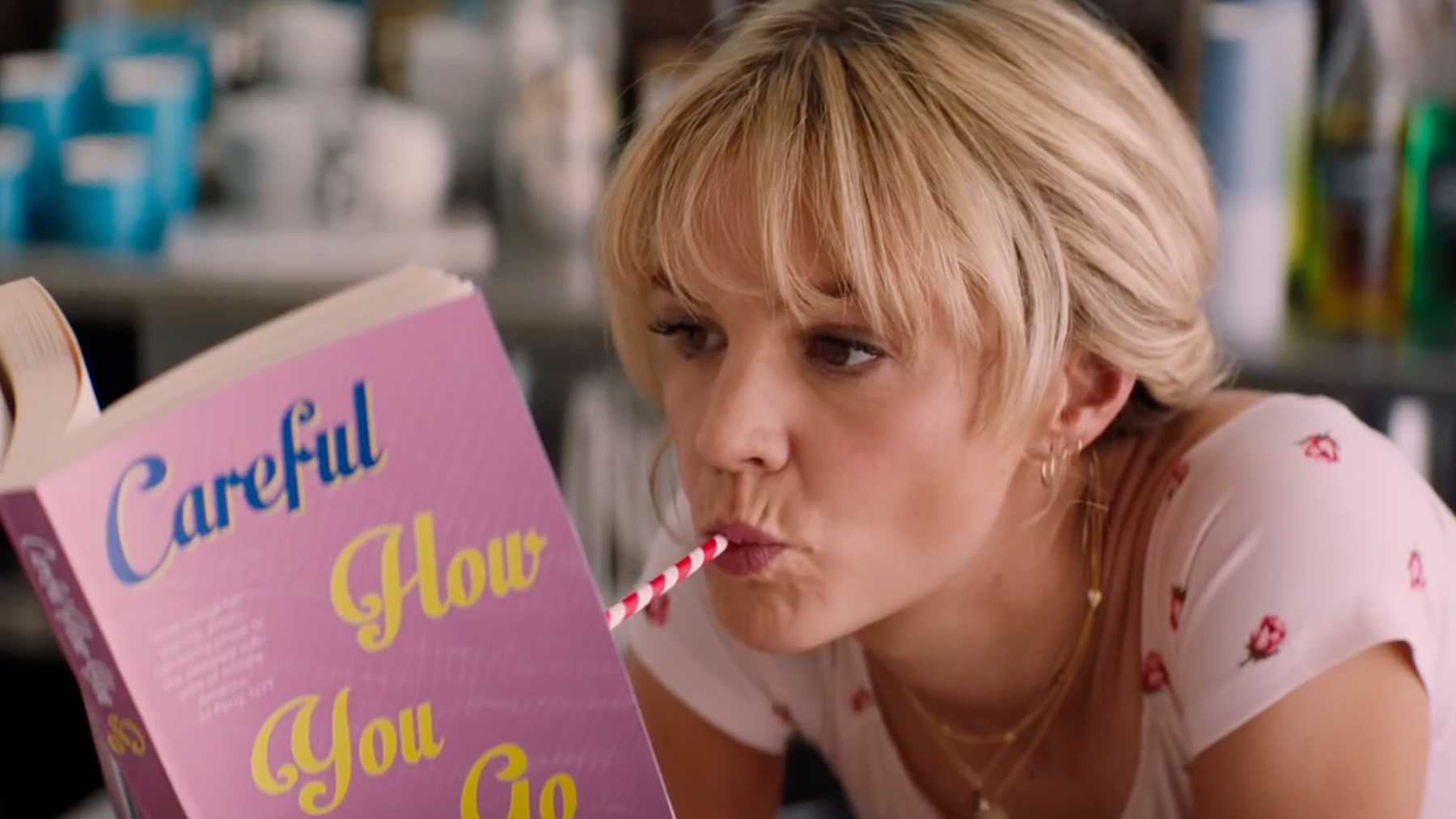 December 14th, 2020
Posted by pamela
Review, women reviews
0 thoughts on ""Promising Young Woman" promises to entertain, shock, and educate"
A vengeful woman is a dangerous woman and Emerald Fennell's debut feature film "Promising Young Woman" accentuates this to an extreme. We meet Cassandra (Carey Mulligan) in a drunken stupor alone in a club, late at night, as three young men across the room have a revolting conversation about her situation. One, seemingly the morally best of the three, offers to drive her home as her friends have abandoned her and she's lost her phone. Cassandra unwittingly finds herself in this man's apartment and in a situation in which she's not giving consent. And with the words, "Hey! What are you doing?" repeated twice, the tone and actions are set for the remainder of the film.
Cassandra works in a coffee shop and seems to have lost her way. Living at home, pushing 30, and in an entry-level job, this young woman was once a promising medical student, shining brighter than her colleagues, according to Ryan (Bo Burnham), a now successful pediatric surgeon who stops in coincidentally for a cup of coffee. The two begin to date, reluctantly-so on Cassandra's part, but there's a sweetness with a refreshing humor that perfectly counterbalances the previously gruesome hook-ups we've been witnessing.
There's a vengeful hatred that emanates from Cassandra's soul, and while we get a glimpse into why she is setting men up to fail and teaching them a lesson about consent, we don't get the full picture until midway through the film. And then there's a visceral and shocking twist that knocks you off your feet as you emotionally attempt to process what has happened. It is at this point that we plunge into an even deeper abyss filled with pain and an inability to change or heal.
This is a horror film but not in the traditional sense. Yes, there's some occasional cringeworthy gore, but the true horror comes from the reality of the situations in which Cassandra is placed. Writer/director Fennell delicately yet boldly travels down several paths: the emotional trauma of rape; the complicit behavior of others; and the stereotypical responses of the he said-she said scenario. But all of these paths have different nuances to them to make you see things from a novel perspective. A perfect example is when Dean Walker (Connie Britton) is confronted with her decisions from years ago. As she, a woman, is rationalizing and justifying herself, you better understand the reasons for the need for the #MeToo movement.
The writing of "Promising Young Woman" is incredibly smart, intuitive, and well-balanced as we quickly begin to not only understand Cassandra, but root for her whether she's seeking vengeance or attempting to move on in her life as she finds happiness. Fennell artfully balances drama, tension, and humor into this screenplay but it is the humor that is surprising. The various types of comedy she taps into are brilliant—irony, sweet, charming, and malevolent—all finding just the right place in the script and are executed by each actor perfectly. And this all-star cast comprised of Mulligan, Burnham ("Eighth Grade"),Laverne Cox, Alison Brie, Molly Shannon, and Jennifer Coolidge, contribute their own style and personality to their characters to give a resounding reality to this film.
Each character is obviously aptly cast, but of course, the weight of the film rests on Mulligan's shoulders who carries it with ease while we see in her eyes, the importance of never forgetting the underlying theme. Her cool, measured, and razor sharp words and physical reactions make her formidable, emphasizing her character's drive and motivation. And whether or not we agree with her character's actions, Mulligan's powerfully nuanced performance establishes a connection with the viewer. We feel her anger, initially, and then understand her pain as she struggles internally with her emotional well-being. Mulligan is transformative in this character as she brings a familiar story to light and hopefully, into future conversations.
With the realistic attributes of the film, the ending, although quite surprising isn't without a few flaws, but not enough to take you out of the moment. In an era that has raised awareness of consent, sexual harassment, and rape, "Promising Young Woman" goes one step further past awareness to start a conversation of understanding, acknowledgment, and perhaps even change.
3 1/2 Stars
Opening in theaters Dec. 25, 2020
"If you or someone you know has been affected by sexual violence, you are not alone. You can contact the National Sexual Assault Hotline at 800.656.HOPE or online.rainn.org. It's free, confidential, and available 24/7 in English and Spanish."