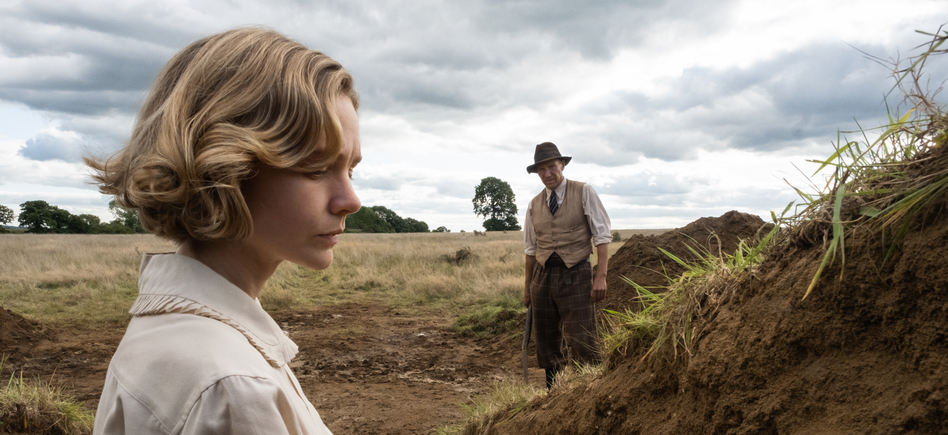 January 27th, 2021
Posted by pamela
Review
0 thoughts on ""The Dig" A Masterful Work of Art"
Don't let the title, "The Dig," scare you away. It's a riveting artistic period piece that will surprise and enthrall you as you discover a well-buried treasure which is exactly what this film is about. Carey Mulligan stars as Edith Pretty, a young mother to Robert (Archie Barnes) and a widow, a result of WWII, who feels beckoned by her land's century's old mounds of earth to dig deeply. Edith hires a knowledgeable man, Basil Brown (Ralph Fiennes), who may not have a formal degree in archaeology but knows the area's land better than anyone. Together, this odd pair forge not only a deep friendship, but unearth the secrets from the past.
Based on a true story and the novel by John Preston, Moira Buffini's screenplay brilliantly imbues her characters with a richness that comfortably seeps onto the screen and into your soul. We meet Edith, a stoic woman who's youth defies her persona as she raises her son alone. Hiring Brown for a pittance, but to his delight, Edith directs him to several mounds on her land. Keeping one another at an arm's distance, Robert finds a new father figure in Brown and we get to learn much more about the background of this learned but stifled man thanks to his station in life.
In true British style, the emotional elements of the film and of the characters are buried as deeply as the 7th century bones yet to be discovered, but like these artifacts, the layers are pulled away every so carefully to reveal complexly beautiful characters. Of course, in any entertaining story there is a villain and this story is no exception, but remember, this is based on true events. The villains in this case come in the form of leading museum directors who covet what's been discovered. This becomes a territorial fight as Edith, who refuses to be steamrolled by the patriarchal society in which she lives, must make the right decisions for herself, her son, and the educational realm.
The story becomes even richer as it interjects a love story between the married assistant Peggy (Lily James) and Edith's nephew and photographer Rory (Johnny Flynn), carefully touching upon a forbidden love of that time period. Additionally, the tender and connected moments between Brown and Robert make this story even more satisfying and powerfully authentic.
This is Edith and Brown's story to tell and thanks to not only their talents but the skillful direction of Simon Stone, we find that the subtleties and moments where not a word is spoken, there is so much actually conveyed. Mulligan and Fiennes shine in these refined yet evocative roles. As their friendship and connection slowly grow, spilling over to give you a sense of warmth and satisfaction, you enter their world and become a part of their every emotion, no matter how small, feeling the utmost importance. Both actors have an incredible range, particularly if you've seen Mulligan recently in "Promising Young Woman" and Fiennes transforms himself into a shy man who lives for the land just like his father and his ancestors before him. Lacking confidence, his mannerisms and body language shout louder than any voice as his character is subjugated by the upper class. And with all of this, we remain connected with Brown and Edith—indelible emotions and characters.
"The Dig" is a work of art, both visually and emotionally thanks to a beautifully complex script, masterful direction, and, of course, a talented cast lead by incomparable lead actors. This heartbreakingly endearing story is one not to be missed and is streaming on Netflix Friday, Jan. 29, 2021.
4 Stars