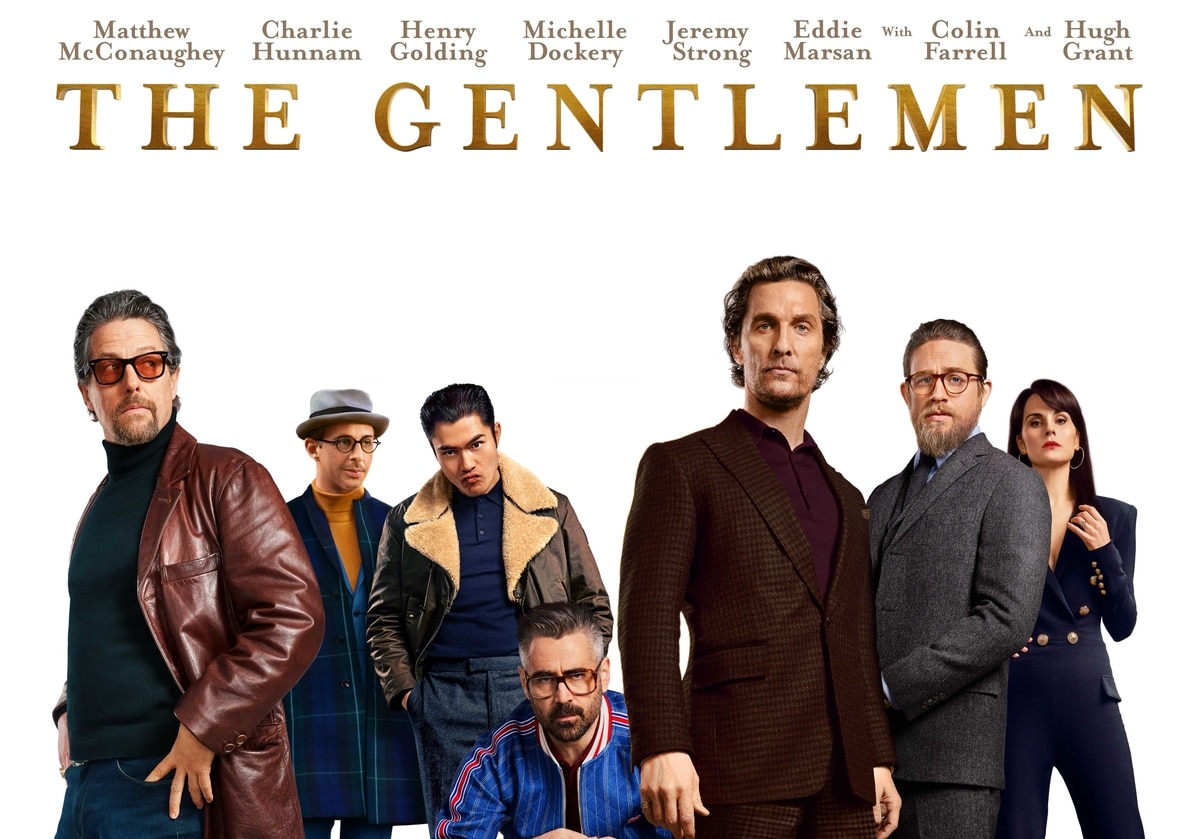 January 30th, 2020
Posted by pamela
Review
0 thoughts on ""The Gentlemen" is pure fun"
We start this tall tale, "The Gentlemen," with a "pint and a pickled egg" and the strange word combinations, analogies and euphemisms continue throughout this sly action crime thriller written and directed by Guy Ritchie. With his signature style splashed lovingly throughout the film, like the blood that splatters across a table after a hit, Ritchie creates a complicated, sometimes convoluted but necessarily so, storyline that keeps you on your toes and even if you think you've guessed the ending, you'll be blown away by how you got there.
Michael Pearson aka Mickey (Matthew McConaughey) is a street smart, high-volume and high class weed grower and dealer. His entrepreneurial skills, honed at a young age across the pond, allowed him to climb the social and financial ladder, but not without enemies who are always trying to knock this king off his throne. We meet Mickey at what appears to be close to the end of the film, but then thanks to Fletcher's (Hugh Grant) storytelling to Mickey's right hand man, Ray (Charlie Hunnam), we begin to meet the vast number of characters as he recounts the events of the last several weeks. And with the precision of a scalpel, Ritchie neatly intertwines every character's story.
Fletcher is a part of the lower class attempting to rise and we see this with his different English accent and his less than fashionable attire. He's slimy, but maybe, just maybe, he's one up on the elite thugs. He seems to be everywhere and to know everything as he attempts to extort Ray for millions of British pounds, threatening to reveal all these luscious details he has painstakingly gathered. As Fletcher reveals his knowledge of the events over several expensive glasses of Glenfiddich, told in proper writing style as he points out our main protagonist and how stories should be told—old school—we find that Mickey may not have covered all his bases and the cast of characters may not survive the finale.
"The Gentlemen" is a good old-fashioned story told with more style than Tom Ford. The pace is fast which not just encourages you to pay close attention, it demands it. The layers of this complex story are peeled away, layer by layer, revealing only what Ritchie wants you to see, making sure he is at least one step ahead of you. The cuts or as the character "Fletcher" refers to them as "smash cuts" thrust you into the next scene and we begin to piece the puzzle together until the core is revealed. This is pure fun.
McConaughey's Mickey is our main character, but the entire narrative is driven by Grant's performance as Fletcher. Changing his accent to fit the bill and finding the subtleties required to become this sleezy character, Grant shines as the host of the story, finding all the right beats to create an engagingly repulsive character. McConaughey's performance doesn't push the envelope although it is a believable one as the charming, whip-smart king of the proverbial forest. Henry Golding gives us an intimidating tough guy persona that ultimately allows you to despise him and that's a tough feat. Hunnam's performance as the calm, cool, and collected "Ray" is the glue that binds it all together, but it is the initially unrecognizable Colin Farrell as "Coach" that will shock and make you laugh aloud as you support his tenacity and integrity even amidst some unfathomable acts.
"The Gentlemen" isn't for the faint of heart. It is a crime and action flick so there's a bit of violence and blood, but it is all a part of the story, driving the plot forward. And Ritchie doesn't give us one character who's above board, but that's ok because we find the best of the worst and connect with them. With quick dialogue and narration which is a stylistically perfect choice paired with Ritchie's quick editing and unique visual interjections we laugh aloud at the preposterous situations. Ritchie even finds a way to squeeze in gun and drug law issues, too.
There's also great attention to detail in this film from set design to costuming which punctuates the class and type of characters in the story. Standing out in this is Coach and his cohorts, the choreographed hip hop dancers/fighters all dressed in plaid who bring an element of humor to what would have been just a group of thugs. It's these little surprises throughout the overall feel of the film and that's fun.
Guy Ritchie doesn't disappoint in "The Gentlemen." Great action, smart dialogue and story development give way to a suspenseful, oftentimes humorous, old-fashioned thriller that will keep you engaged and entertained.
3 1/2 Stars