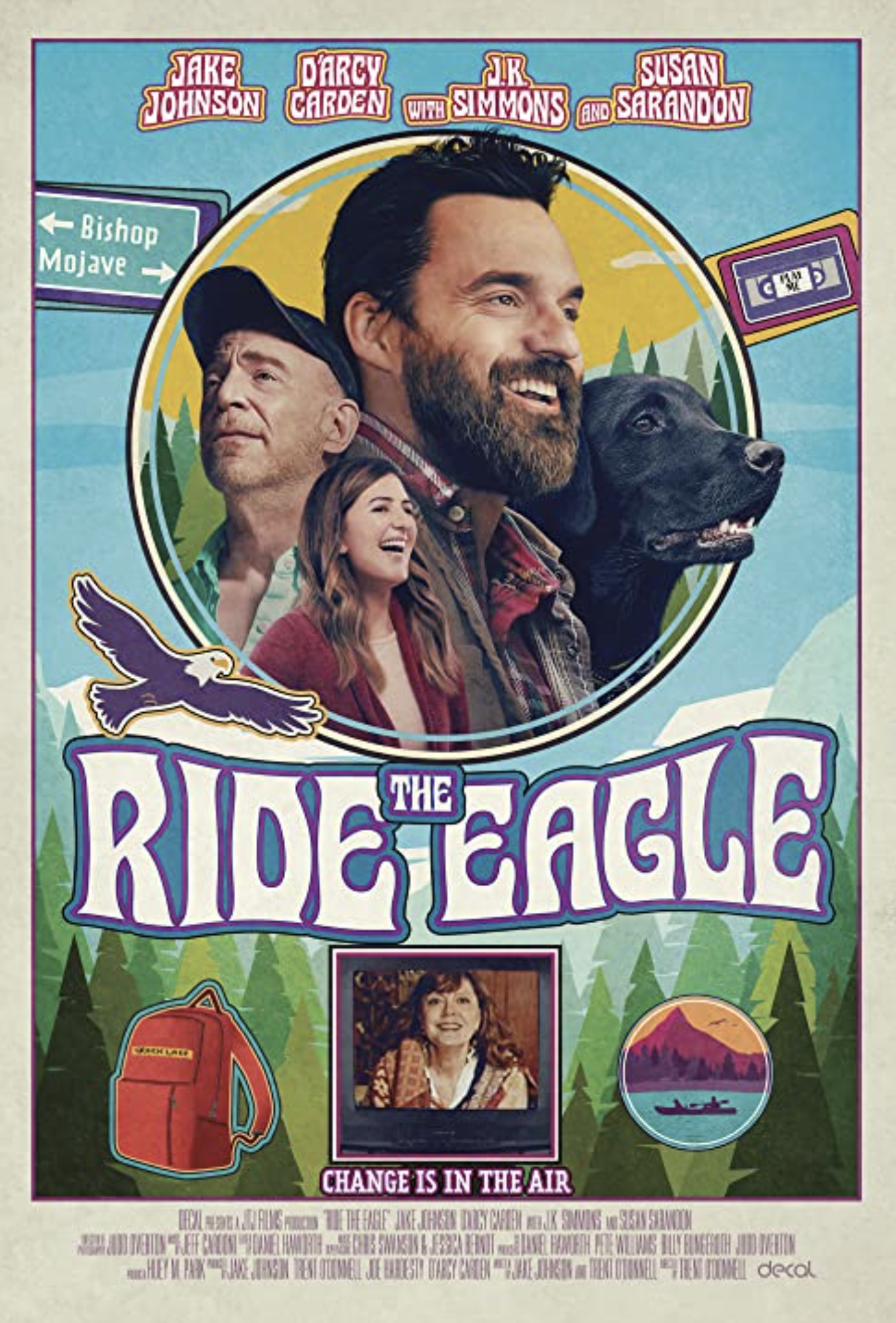 July 28th, 2021
Posted by pamela
Review
0 thoughts on ""Ride the Eagle" is an absolute pleasure"
Jake Johnson is one of those guys you feel like you already know. You grew up with or went to college with someone like him. He's a buddy, a friend, a character with whom you're already familiar before he even gets into his role. In this film, "Ride the Eagle," he's Leif, a disarming young man with no direction and a rocky past who, living off the grid, is visited by his mother's long-time friend Missy (Cleo King) to share the news that dear old mom, also known as Honey (Susan Sarandon), has passed away. Estranged from her, the news comes as a surprise, but Honey's going to be a part of her son's life even after death as Missy shares the caveats of Leif's "conditional inheritance." He must reside in the palatial cabin near Yosemite and complete a list of tasks.
Following his mother's orders, he pops in the video cassette and listens begrudgingly to his her directions. The chill in the air is palpable as Lief holds a grudge against his mother for abandoning him so many years ago. But he really wants his inheritance, so he's going to complete the list even if he hates every moment of it. Ultimately, Honey has a lot of regrets and she hopes that she can reach and teach her son what's important in life even if she isn't physically able to be a part of it.
The film plays out like a treasure hunt; each direction leading to a new adventure and a pot of gold waiting at the end. Of course there are bumps in the road, one of which is Carl (J.K. Simmons) who hunts Leif like he's prey. Their interaction and discovery is as awkward as it is humorous, particularly with Simmons' signature style and of course, his voice. And yes, there's a love story in the film as well. Audrey (D'Arcy Carden) enters the picture midway through the film to deliver her unique sense of humor as the two characters reconnect over the phone. We chuckle as they relive their past and guardedly share their current states and possible hopes for the future. It's as genuine a conversation as you could imagine, much of it feeling improvised, but polished to push that plot forward.
"Ride the Eagle" is sheer fun and escapism. The plot is simple yet our main character is more complicated as he struggles from his past and barricades himself from his future. There are plenty of laughs along the way from the preposterously silly situations, yet the emotional authenticity prevails. Johnson is having fun. He's giving us seemingly off-the-cuff commentary, talking with his dog Nora, as he works through his character's life's decisions which have placed him in his current state of turmoil. The ensemble cast of characters adds levity to the story as we watch Leif grow up and find a new direction in life.
Trent O'Donnell directs this gem of a feature co-written by he and Johnson and while the narrative arc may be a predictable one, it's truly a pleasure to watch. Set in the majesty of Yosemite, the intimate and relatable story is one that will make you laugh and maybe even reminisce about your own family and relationships.
3 Stars