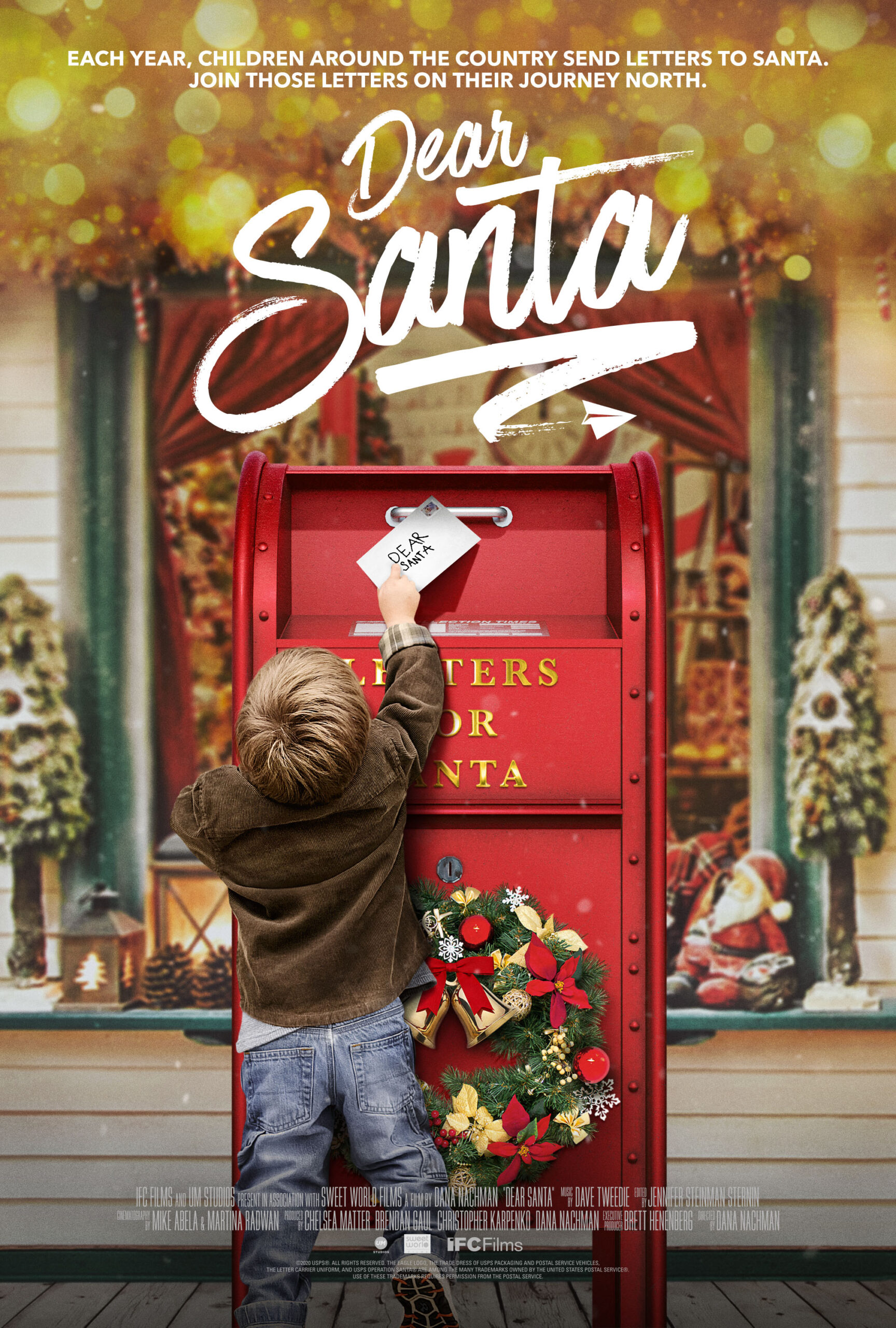 December 2nd, 2020
Posted by pamela
Review
0 thoughts on ""Dear Santa" renews our spirit for the holidays"
I believe. And you will too after seeing Dana Nachman's newest uplifting documentary "Dear Santa." Nachman, known for finding stories that renew our faith in mankind like "Batkid Begins" and "Pick of the Litter," shares the backstory of "Operation Santa," an annual program from the United States Post Office that helps Santa recruit elves and make dreams come true on Christmas morning.
Nachman pulls on our heartstrings from the moment the cameras start rolling as we hear from the mouths of babes defining who that jolly old elf is, and writing their own special letters to him. Eliciting our own childhood memories and those of our own children, you can't help but smile as they dream of puppy dogs, race cars, Barbies and Legos. These kids know the story of how it all happens, but what they don't know is what comes after they send their letters and before Santa squeezes quietly down the chimney to deliver the goodies. That's where "Operation Santa" comes in and Nachman shares the many special stories of one Christmas season.
Nachman travels Post Offices across the country, enlightening us about the more than 100 year-old program. Santa, needing a little help, has recruited many postal worker elves who invite people to adopt letters. These helpers then shop and deliver the toys to good little girls and boys. Traveling to Chicago, Arizona, California, and NY, Nachman introduces us to the postal elves like Janice who found her true calling as an elf and Jamie who was born to be one of Santa's helpers. We see what it takes for these elves to organize and find others to help during the holidays to make Christmas morning one filled with joy and not sorrow.
The individual stories from across the country include Christopher who wants 10 Dutch bunnies because "they fill my heart up with joy." And Lorelai and Victoria whose homes were destroyed in the Paradise, CA fires wanting simple things they no longer have, grateful for anything Mr. Claus decides to bring. Some of these stories will bring a tear to your eye and break your heart and others will make you laugh aloud. But Santa doesn't discriminate between kids and adults. He also gets letters from adults who are struggling and asking for needed items that most of us take for granted.
"Dear Santa" is a whirlwind journey during one of the busiest times of the year, particularly for the U.S. Postal Service and Nachman captures this energy and the logistical complications of this endeavor from the inside. But it's the end of the journey, Christmas Day, that will warm your heart as Nachman captures the deliveries. These are scenes that would make even the grumpiest of Scrooges smile and shed a tear of happiness. And it's all from the kindness of others, supporting "Operation Santa."
To learn more about "Operation Santa," go to https://about.usps.com/holidaynews/operation-santa.htm. And to find out more about the making of this film, check out the interview I had with Nachman, at www.reeltalkwithchuckandpam.com
You can see "Dear Santa" on demand on most major digital platforms including Amazon and iTunes as well as in select theaters.
3 1/2 Stars