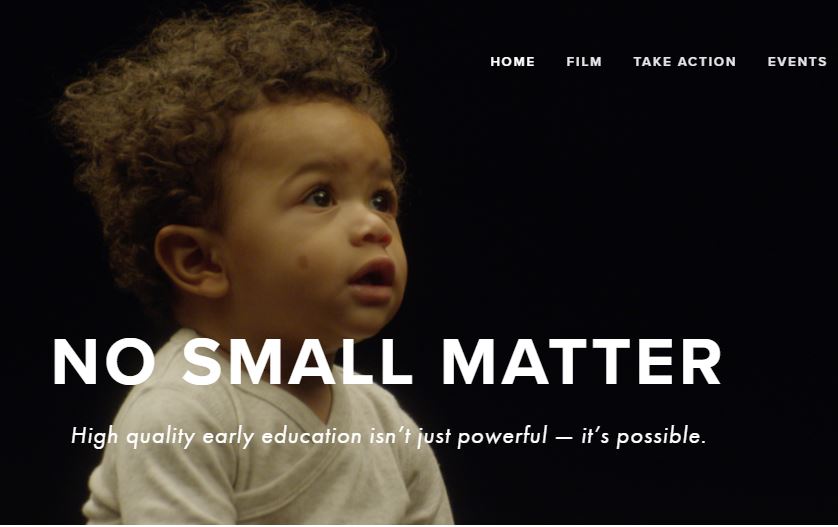 July 1st, 2020
Posted by pamela
Review
0 thoughts on ""No Small Matter" – Beginnings can be make it or break it in child development"
Writer and co-director Greg Jacobs shines a bright light on what everyone can agree upon—we all want the best for our children. But what happens when parents can't afford "the best" and can't provide opportunities for their babies and children? The answer is astounding as it lays the foundation for incredible disparity between success and failure.
WATCH THE TRAILER HERE
As a former speech-language pathologist who focused upon the 0-3 year old population or as it's also referred to as "early intervention," it comes as no surprise that babies who have a stimulating environment from the beginning typically thrive later in life. Playing catch up is not an easy task, but what prevents some children from attaining their potential? "No Small Matter" dissects that question with the utmost care as Alfre Woodard's voice guides along, providing numerous examples and scientific research in neurological development to give us the answers.
Times have changed and Jacobs demonstrates this as he takes us back in time to when educators, parents, and doctors didn't realize what babies comprehended. Today, thanks to interventions and techniques readily available, we now know so much more about how babies and children learn and what's happening with their neurological systems. It's simply fascinating as doctors, researchers, and developmental specialists share information that any parent, teacher, or grandparent needs to know. But what happens when the parent needs help and education. This is also explored in Jacobs' documentary as parents learn to rise to their potential as well.
The filmmakers take us into the early education system and introduce us to Deborah Giannini and her class. It's one of the most thriving and lovingly stimulating preschools that any parent would want for his or her child. We delve into an intimate look at just what goes on with our little ones as the teachers "sit and play." And play is so much more than meets the eye. It's an integral part in helping children develop key skills for later social, academic, and life success. With honest and forthright interviews with these teachers, it's no wonder the U.S. educational system isn't as competitive as it once was as we see these teachers needing to get a second job just to pay the bills.
Providing and finding day care and educational options for typical two-income families is a struggle, to say the least. We meet parents who are in the midst of this dilemma and feel the anxiety it produces. Day care is inordinately expensive and the demand is even higher than it was several decades ago. We see the detrimental and domino effects upon our society and why there's a vast disparity among children whose parents have the resources to provide and those who do not.
What stands out most in this documentary besides a myriad number of adorable smiling babies' faces, is the fact that the failure of equitable beginnings actually is a failure that impacts all of us, whether or not our own children or we have succeeded. Children who are in substandard day care centers and preschools are at higher risk for poor academics and have a greater chance of being a part of the criminal justice system later in life. Additionally, children in stressful and non-nurturing environments have a greater risk of developing medical and mental illnesses. The list of negatives is astounding and with that comes a high financial cost, but the cost of leveling the playing field and allowing every child to flourish is ridiculously cost-effective.
Jacobs methodically explains and explores the importance of great beginnings for every baby and child. While early education isn't going to solve all of society's woes, Jacobs makes a valid case for a potentially positive impact. Aren't our children and future worth taking a chance on a better start in life?
Check out this film on VOD, Google Play, and Amazon now.
4 Stars—it's a must see for any parent, physician, and educator!