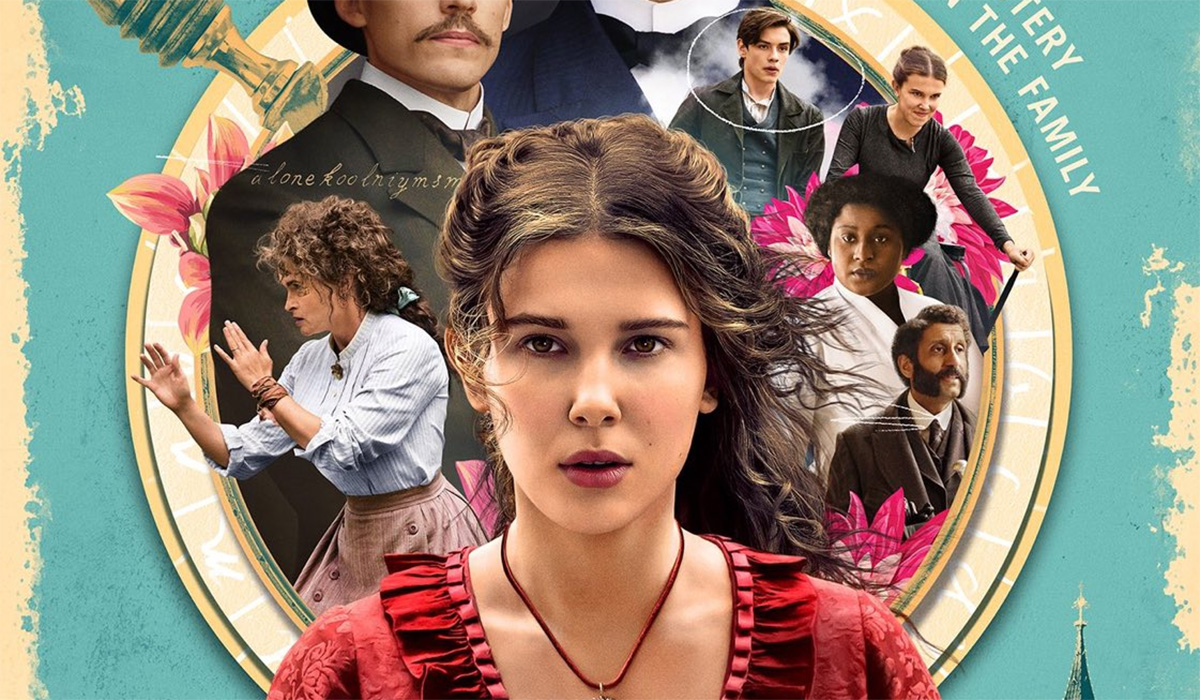 September 8th, 2020
Posted by pamela
Review
0 thoughts on ""Enola Holmes" A smart, vibrant, and fun adaptation of the YA novel"
Brava! Netflix keeps the content coming with this incredibly fun young adult adaptation of Nancy Springer's novel "Enola Holmes." Who knew that Sherlock Holmes (Henry Cavill) not only had an older brother, but also a baby sister named Enola (Millie Bobby Brown)? This is her story and her fight for independence while she solves riddles to find her missing mother. The apple, as they say, doesn't fall far from the tree and Enola's power of deduction might just be a match for her big brother.
Enola introduces herself to us, breaking that fourth wall to connect directly to the viewers, as she's riding her bicycle through the countryside. Out of breath, she narrates the beginning of her life, the meaning behind her name, and how she came to this point. Her energy is contagious and her smile infectious as we find out that her upbringing wasn't an easy or a typical one. Her father passed away when she was an infant and her brothers left soon after. Enola and her mother (Helena Bonham Carter) have a unique but extraordinary relationship, and with her non-traditional upbringing which eschewed the era's expectations for women, Enola soon finds that her education in martial arts, chemistry, and anagram solving will benefit her greatly.
Of course, as Enola is only 16, her estranged and famous brothers are summoned to come to her rescue, but Enola finds their "help" to be quite the opposite. Venturing out into the world alone, she attempts to put together the pieces of the puzzle and find Mother.
The story is Enola's to tell and Brown gives her character a vivacious and vibrant personality filled with youthful exuberance and intelligence. Her presence on the screen calls us to attention, hanging on her every word as she unabashedly and eloquently speaks to the audience so that we can keep up. This is a character any young girl could admire and any adult could cherish.
Cavill expertly portrays the brilliant Sherlock Holmes and Sam Claflin gives Mycroft, the uptight and unapologetically controlling older brother the edge and counterpart to Sherlock that's needed. Bonham Carter is suited perfectly as Enola's progressive mother who thinks outside of society's current restrictions and together, this cast supports one another and allows Enola's character to shine.
The rest of the story incorporates puzzle solving and deductive reasoning skills amidst a deadly cat-and-mouse chase with a new-found "friend," Lord Tewksbury (Louis Partridge) who is also on the run. Their paths cross in ways neither of them could have predicted which adds an element of mystery and of course, a charming love story. Murder, motive, and mayhem are woven together with the precision of an Orb spider creating her new lair. And within all of this, writer Jack Thorne educates us of the time period when women in the U.K. were still fighting for the right to vote. To incorporate the thrill of a mystery lead by a teenage girl who can outwit and out fight any male while remembering the tone of truth during an oppressive era is sheer brilliance.
Equally masterful is the pace of this story. There's never a dull moment, but that doesn't mean the action is non-stop. There is a perfect balance to the story as we get to know our main characters and the relevance of each of the supporting roles while also getting a rush of adrenaline as the ubiquitous train car jumping and hand-to-hand combat scenes are interspersed. With precision editing and choreography, our hearts race as we watch Enola use her head and her mastery of martial arts to defeat her foes. Of course, in any period film, costuming and set design are a must and the team not only brings this period back to life, but draws your attention to the mindset of things like corsets and complicated undergarments. While we chuckle at such absurdities of the era, there's the undertone that "we've come a long way," but we aren't there yet. With deft writing lending itself to a suburb screenplay, it's no wonder the cast is comprised of so many seasoned actors.
"Enola Holmes" is a smart and fun film which keeps us on the edge of our seats as we watch Enola solve puzzles, crimes, become smitten, outsmart her brothers and the proverbial "bad guys" as she challenges the world to see women differently. It's a sure-fire win for both teens and adults!
Streaming on Netflix beginning Sept. 23, 2020
4 Stars
4 Stars