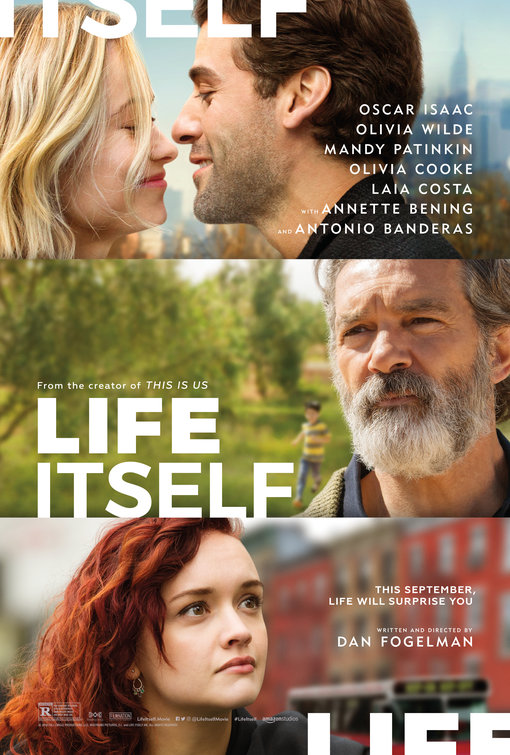 September 21st, 2018
Posted by pamela
Review
0 thoughts on "Fogelman's "Life Itself" can't save itself from meandering and meaningless storylines"
Dan Fogelman, known for his series "This Is Us," creates a series of vignettes, all inter-related in the much-anticipated film "Life Itself" which premiered at TIFF. The film's title should not under any circumstances be confused with the brilliant documentary of the same name about the legendary Roger Ebert. That being said, Fogelman's film starts off strong with a tragic story line as Will (Oscar Isaac) is in a pitiful state, full of self-loathing and completely miserable. His wife, Abby (Olivia Wilde) is gone and during his flashbacks that he creatively visits by way of his therapist, Dr. Morris (Annette Bening), we learn of how his fairytale love story became a living nightmare, resulting in the events that unfold in the next 4 "chapters" of the film.
Will and Abby's lives are recounted from birth through college where they met, as Will reminds Dr. Morris that his memories are influenced by his very biased perception. These profound thoughts are hammered into the script the way a sledgehammer would be used for a picture hook. We find that the day that changed Will's world and many others sets up the subsequent story lines, all connected by the previous story. That one day in Will and Abby's life, a simple utterance and a small action inadvertently sets into motion dramatic and traumatic consequences for families for generations. The narrator of the film advises us not to get too attached to each segment's hero because tragedy awaits. And tragic it is.
As the ripple-effect of Will and Abby's lives continues across the world to Spain, we are introduced to Mr. Saccione (Antonio Banderas), a wealthy owner of an olive farm who invites a worker into his home where he tells him a very, very long story about himself. The strangeness of how this aspect of the film concludes eludes words to describe, but perhaps "unbelievable" would do it justice. Dylan (Olivia Cooke) is also a pivotal character who we see change from an infant to a 6 year old to a rebellious 21 year-old being raised by her grandfather. And POOF! We are on to the next chapter. Within each "chapter," there is a dizzying array of characters all attempting to be the focus of the story; an impossible endeavor.
The dark cloud constantly hangs over all of these lives, but there are a few moments of humor thanks to our narrator and the introduction of an obnoxiously stereotypical college girl, Shari (Isabel Durant) who somehow got into NYU. Unfortunately, there isn't enough happiness or levity to counterbalance the seemingly constant heart-breaking misery. You feel that the next shoe is about to drop…but how many pairs of shoes are up there?
While there are aspects of this film that feel like a Hallmark movie on steroids, the acting is much better. Isaac and Wilde, in their short time on screen, somehow create characters that are at once engaging and interesting. It is a standout cast, but unfortunately, the content just isn't there to allow them to shine. An exception to that is the young Dylan played by Kya Kruse who knocks it out of the park as she expresses her feelings of loss as death which appears to follow her.
The concept of "Life Itself" had great potential as we all like to think that our actions do have an impact on this world, but the film dishes out too much misery and attempts to give too much prolific life advice. With an ever-changing focus of the film taking us along a seemingly never-ending timeline, we just don't feel connected to anyone but our first characters, Will and Abby. The film actually feels much better suited to a television series which would have allowed it time to delve more deeply into the subsequent lives and characters. This superficial grazing makes it feel more like a soap opera sped up.
While it all does come full circle, quite predictably, the film tried to cover too much and never really covered enough. It's exhausting and depressing, leaving you with a feeling of remorse for spending two hours in a movie theater. Perhaps a double feature of depression would work; see this and then Fahrenheit 11/9. That's sure to leave you in a fetal position in the corner for a few hours.
2 stars