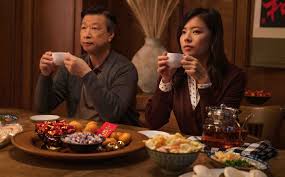 April 10th, 2020
Posted by pamela
Review
0 thoughts on ""Tigertail" – Soulful tale of life's choices and regrets"
Alan Yang writes and directs the story of Grover (Tzi Ma), a middle-aged Taiwanese immigrant who left his life in China for a better one in America as a young adult. Now, filled with regrets, Grover takes us back in time to his childhood to better understand himself and perhaps change his own future.
The film takes a non-linear story-telling style and we meet Grover as a young boy, left by his parents in a chaotic and dreadful time with his Grandmother who hid him from the government. This small glimpse back in time sets the tone for Grover's life as we then meet him as a teen. He's filled with energy and falls in love with Yuan (Yohsing Fang) only to dramatically leave her behind when his arranged marriage to Zhen Zhen (Kunjue Li) occurs and he escapes to a better life in the United States. Finding that the grass isn't always greener on the other side, both Grover and Zhen Zhen struggle in their new homeland and roles as husband and wife.
The story takes us back and forth from the current day to the past as various interactions trigger a memory from Grover. Songs, thoughts, situations all bring him back in time: working in a factory with his mother; listening to music; dancing; sneaking off to meet Yuan; and sharing your hopes and dreams. The sadness in Grover's eyes as he recalls his past is palpable, but it is with each of these memories that the complicated layers of his life are peeled away to reveal what lies beneath—a man filled with life's regrets.
Grover, seemingly successful financially, is anything but that in other aspects of his life. Divorced with two adult children, he struggles immensely with his relationship with his daughter, Angela (Christine Ko). The story rocks us gently, back and forth, between the very distant past, the current day, and the recent past to pull back the curtains to better see Grover, his choices, and most importantly, the consequences of those choices.
Incredibly, a story of a man from China is one in which we can all relate. We have all made choices, taken a left instead of a right at one of life's crossroads, and then had regrets. But we all continue on the path ahead, no matter how bumpy it becomes, knowing that there's another crossroad ahead. Yang finds a way to bring an element of hope to the story as Grover learns from his pattern of choices. There's a hope in his future as he begins to reconnect with that younger version of himself and remember the importance of relationships.
Within the context of regrets, Grover is at a pivotal point in his relationship with his daughter, but with years of disconnection, it is difficult for him to find a way back. As we witness the pain Angela is experiencing in her life coupled with her inability to relate to her father, Grover takes us back in time to his own relationship with his mother. Again, this timeline transporting gives us such keen insight into how his past directly influences who he has become.
While the story is a universal one, there are additional elements that are not. These aspects give the viewer a sharper grasp as to what it means to emigrate to a foreign land. Working non-stop, having a wife who speaks little English, and then with a baby on the way, Grover is on the brink of failure. They live in a squalid apartment the size of most closets, making the best of things, but again, there are consequences. Leaving home and everything you know, from the language and customs, to the food and friends, "Tigertail" accentuates what it takes to emigrate to another country.
Ma brings a soulfully thoughtful perspective to his portrayal of Grover as we find ourselves connecting with him on so many levels. With great editing and this non-linear storytelling style, Ma shines as he gently lets us into his character's inner world filled with love and loss, but finally a exhibiting a glimmer of hope. This hope culminates in the final act in the film, one of the most poignant and emotionally loaded endings I've seen this year. Both Ma and Ko create the precise levels of subtle emotional tension and apprehension that bring a brilliant crescendo to the film, taking my breath away.
"Tigertail" is an unexpected treasure with a complexly layered story, standout performances thanks not only to the talented cast, but also to deft direction, precision editing, and back to basics story telling. This is one man's story; a study of life and regrets. It is a story we all know with its universalities, but never has it been so gorgeously displayed.
4 Stars