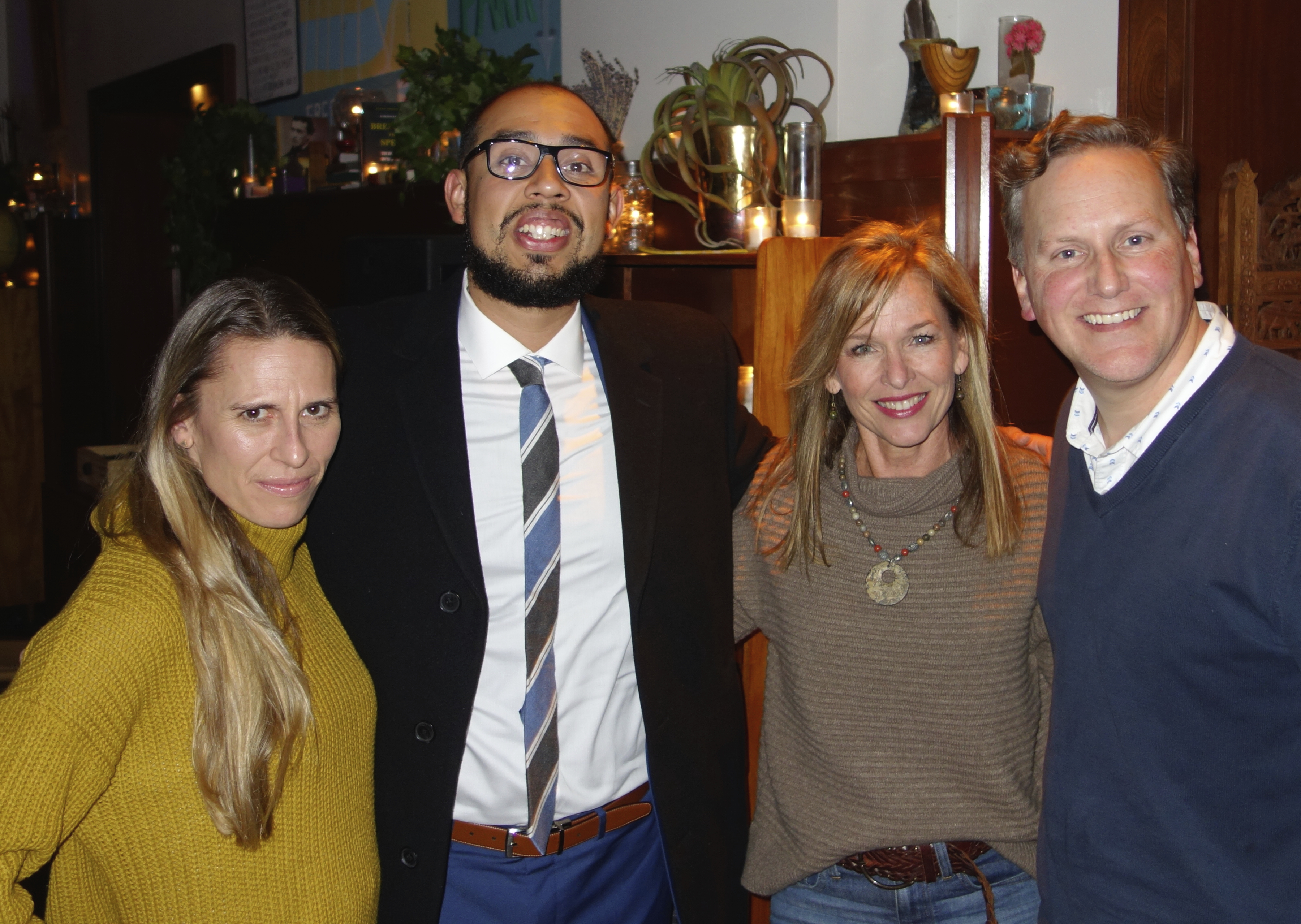 November 23rd, 2018
Posted by pamela
Film Festivals, Interviews
0 thoughts on ""Care to Laugh" An Interview"
"Care to Laugh," a documentary from AARP Studios, addresses the issues behind caregiving while making us laugh. The laughter (and tears) are thanks to the comic genius and candor of the film's subject, Jesus Trejo. The film recently screened as part of both the Chicago Comedy Film Festival and DOC NYC and while in Chicago, I had the pleasure of sitting down with Trejo, director Julie Getz, and Vice President and Executive Producer of AARP Studios Jeffrey Eagle. Their excitement about the film and the future of sharing experiences relating to aging using film as the medium was infectious. Enjoy their insights and be sure to put this film on your list to see when it's released in 2019.
Pamela Powell (PP): Jesus, what was your initial thought when you were approached about doing this documentary?
Jesus Trejo (JT): I was very flattered to know that they wanted to consider me to be the subject of a documentary film. I know they had done a project before with Don Rickles, but this was the first documentary feature length that AARP was doing. It came about because I met the awesome people at AARP, Jeffrey Eagle, Julie Getz and the crew … at an event that happened at the Hollywood Improv that AARP put on for caregivers and the headliner was Jim Breuer and I opened for that show. That's when we got to know each other and they knew about my story. And then sometime later they wanted to have a similar event in NY and they reached out and I couldn't do it. That was when I was at a fork in the road with comedy and caregiving and they found out more of the story and they thought this was a story worth telling.
PP: What was your parents' reaction to doing this?
JT: It was definitely difficult for my parents. We definitely took some days before we got back to AARP because … explain to your immigrant parents that there are going to be cameras on us for a year. Wait. What? It's hard to digest. Pretend like they're not there. And my dad was like, 'They are there. I can see them.' … It was difficult for my parents. It was difficult for me. … It was difficult but fun.
PP: Jeffrey, I had no idea that AARP was making feature films.
Jeffrey Eagle (JE): AARP has had studios in the Washington, D.C. for about 10 years … We did this event at the Hollywood Improv back in December of 2016 and AARP, as you know, is the largest non-profit organization in America- 38 million members- [and] caregiving is a focus. … It's often seen as an end of life story as opposed to just a life story… when we started digging into the research … caregivers want two things. They want time and they want to laugh. Time and laughter. So we thought why don't we have something that gives caregivers time. Well, that would be a night out. And what could we do that would make them laugh? How about a comedy show? And oh, by the way, who's telling the jokes? Wouldn't it be great if the comics were caregivers? Jim Breuer's a caregiver. Jesus is a caregiver. Caregiving has ups and downs. There's intense love of family and love of craft and hard knocks of rejection and hard knocks of health. The film is able to be in those places and dip in and dip up and take the valleys and the peaks with laughter and light. And that's what I think we've done. AARP studios, we are about making these big issues, fraud, and caregiving and health and financial matters, personal and that's what we've done with this film. … We want to do more stories like this.
PP: Julie, what was most surprising to you, as a director, in making this film?
Julie Getz (JG): Just how incredible of a human being Jesus Trejo is … Here he is juggling all these responsibilities and again, you see in the film, you can tell he's got grit. He's tenacious. He puts his foot on the accelerator and he doesn't let up. He goes full throttle. … capturing those moments that can often be hard and sad and challenging and then capturing those funny, light moments as well. I think we had that balance when we were putting all the pieces together…
PP: Jesus, what do you hope people will take away from this film?
JT: After seeing it a couple times, I'm reminded of this quote that Galileo said, "The only constant thing in life is change." And seeing that that was a picture of a moment in time, things change and we just have to accept change. Change doesn't necessarily have to be a negative or a positive thing. It's just change. … And looking back I almost think of what was happening in that moment and it's like oh man, that was heavy, but then it wasn't half as heavy as what I dealt with last month or the previous month or now. It just puts things into perspective …
PP: We Baby Boomers are aging and taking care of their parents and our children will be in the same boat in the next 20 years. I see other studios also addressing the issue of aging as Elizabeth Chomko's film did in "What They Had."
JE: … Blythe Danner and Hilary Swank are on the cover of our magazine right now. … November is National Caregiving Month. … The power of film is limitless, as you know, because this is your world as much as it is ours, but I think it's just the way people are engaging with media with stories. We're visual story tellers. We're trying to bring these issues to life [and] finding characters that feel real. … As I said, this wonderful, magical documentary came out of a simple question "What do caregivers want? Time and Laughter.
PP: Julie, what do you hope viewers gain from watching "Care to Laugh?"
JG: With any project that I do, from a filmmaker's perspective, is that I always want people to learn something, something they didn't know before…to be almost shocked. And for this film, that they walk away … they know where to go, what to do. And that's why AARP, they've got the resources, the caregiving guide, and again, the groups so people don't feel like they're alone.
PP: Jesus, any other thoughts you'd like to share?
JT: Family's first. Everything else will always be there. Family, you get one shot at it. Make sure they're taken care of. Like comedy, comedy will always be there. I did and I'm doing the right thing. I'm helping them age gracefully.
PP: How are your parents doing now?
JT: They're hanging in there. Some days are bettter than others, but over all I'm just happy to have a second chance with both of them. Things are going well.
Eagle shared statistics with me that are remarkable, reminding me that while I have had aging parents and continue to help my father-in-law as he ages, we aren't alone in this boat. According to Eagle, there are 40 million unpaid family caregivers which probably affects you or someone you know. AARP, through the medium of film, helps us all relate and understand, but even more importantly, it's a resource of information and support.
To learn more about this film, go to "Care to Laugh."