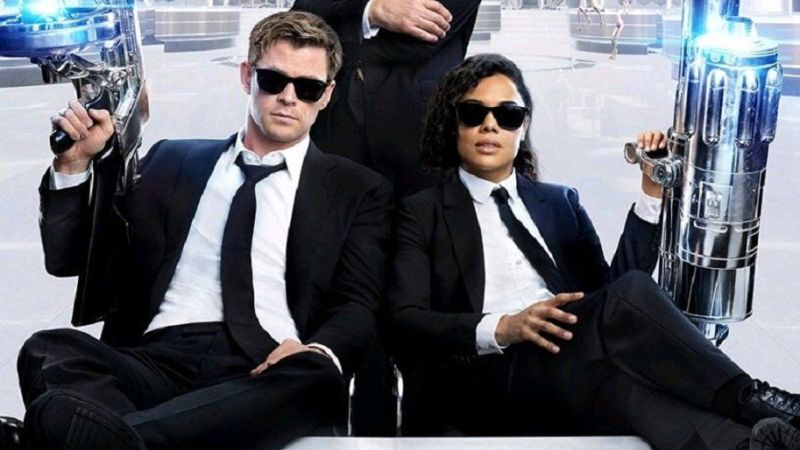 June 12th, 2019
Posted by pamela
Review
0 thoughts on ""Men in Black: International" A disappointing attempt to revive a franchise"
"Men in Black: International" aka MIB 4, attempts to re-create a fantastically fun and comedic franchise with new leads, but proves instead that sequels should just be a concept and nothing more. Starring Chris Hemsworth as Agent H and Tessa Thomspon as Agent M, the familiar storyline of an alternate world filled with aliens threatens the world as we know it and ultimately, the universe must be saved by the heroes.
The film starts out strong with an interesting concept as young Molly (Mandeiya Flory) encounters an alien. From this, her entire education and adult life (Thompson) is altered, driving her to join the Men In Black. Using her intelligence and wits, she finds a way to this world and partners with the renowned and rather cocky Agent H to earn her badge.
From this point, the film sputters to a near halt as the predictable "story" unfolds. Filled with plenty of special effects and chase scenes, this 4th installment of the franchise seems to have forgotten what made the first film so memorable: chemistry and dialogue. Thankfully, we are introduced to Pawny (Kumail Nanjiani), a CGI character who somehow is able to overshadow the handsome and charming Hemsworth character.
While it's refreshing to see a female in the lead of a film with the word men in the title and a few comments regarding that, as well as Thompson doing an adequate job in the role, the interest level lacked for her character. Her personality was one-dimensional, much like Agent H's, and together there was a feeling of forced chemistry that not even their acting skills could mimic. We craved information about who she is as a person and this lack of detail made her dull and benign.
Hemsworth is completely underutilized as an actor who has a range of skills untapped since Ron Howard's direction of him in "Rush" (2013) or even Drew Goddard's "Bad Times at the El Royale" (2018). Of course, he's known as Thor and this film makes a humorous nod to it, but when an animated character can outshine this rock star of an actor, something's missing. His valiant attempt at comedy is noted, but nothing more than that and we know he's capable given his performances in all of his "Avengers" films.
Nanjiani brings the necessary and much needed comedic tone, but unfortunately, he's not a major player in the film so we have to cherish his screen time when it's there. Nanjiani is a master of vocal timing as Pawny with his parenthetical remarks. He makes you sit up and listen so as not to miss his hilarious comments.
If you've watched the trailer, you know that Liam Neeson and Emma Thompson are also in it, however, not even their regaled skills can elevate the level of entertainment of "Men in Black: International."
Overall, the film is missing heart and consistent humor, and becomes a failed attempt to keep the franchise going. To its credit, the film has a female lead and allows Nanjiani to shine as the comedic wonder that he is, but this is just not enough to make this film worth seeing.
"Men in Black: International" is a disappointment particularly if you are a fan of that 1997 version starring Will Smith and Tommy Lee Jones. The magic, humor, and chemistry of this pair cannot be replicated by Hemsworth and Thompson creating a lackluster fourth sequel. Please note that this film is rated PG-13 and not intended for kids under this age.
To read the review in the Friday, June 14, 2019 edition of The Daily Journal, go to THE DAILY JOURNAL
1 1/2 stars