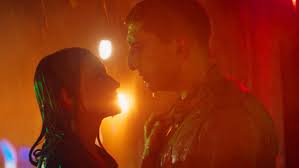 March 30th, 2020
Posted by pamela
Review
0 thoughts on ""Inside the Rain" A bipolar rom-com"
Living with bipolar disorder is deftly portrayed in Aaron Fisher's film "Inside the Rain." We are privy to a slice of Ben Glass's (Fisher) early college life which takes decidedly wrong turns every step of the way and he finds himself expelled. He must now find a way to defend himself and re-enter college.
With hovering parents, Ben pushes them away to embark upon a new stage in life. We can see immediately that Ben does not fit in. His open, honest, and frequently raw and bitter display of who he truly is just doesn't set well with his peers. While he navigates these choppy waters, he has the support of the candid and brutally honest guidance of his therapist, Dr. Holloway (Rosie Perez). It is this key relationship that allows us to not only better understand Ben and his mental disorder, but to connect with him as a very typical young college student.
Along the way, Ben finds love, but not in an expected way—naturally—he finds it at a strip club. We know from the outset that this is most certainly doomed, but Emma (Ellen Toland) has more to her than meets the eye. It is this connection that allows Ben the courage to find a way to fight the system and defend himself on his day of judgment. His artistic abilities push their way to the forefront and he creates a film to depict the fatal day that landed him in the hospital and expelled from school.
In many ways, this is a comedy of errors. Ben is predetermined to make mistakes, but what is engaging is the fact that he learns and grows from them. College is a time of extreme growth for everyone, but with someone who has internal struggles, it makes that time period even more excruciatingly difficult and perhaps even more important. Ben ultimately finds himself and his passion, exhibiting the ultimate growth and every parent wants that for their child.
Relationships are key in this film and Ben's relationships with all the women in his life are crucial. His mother, his therapist, and Emma all influence the steps he takes and the directions he turns at every crossroad. Perez' performance as Dr. Holloway is genuine and we hope that all therapists have the knowledge and the courage to tell the truth. Her depth of caring is immediately evident, but she doesn't take any BS from Ben. She's experienced and he benefits from this. It's a role that is well developed and Perez fits it like a glove.
Toland's character of Emma is a difficult one as we, the viewer, prejudge her based on what she does for a living. She's tough yet sweet, hardened yet compassionate. And her kindness may just give Ben a few mixed messages which creates yet more awkward and uncomfortable situations that ultimately connect us to this young man. There are a few surprises and her decisions actually help Ben continue on his path of self-discovery and acceptance. Toland's performance as Emma is crucial to enable Ben to grow and she does so with aplomb.
Fisher, wearing three hats—writer, director, and star—finds balance in doing so. The pacing feels off at times, but this is a direct reflection of his character's imbalance in navigating life. Perhaps we feel a bit of what Ben is feeling. Fisher has written this story as his own as he suffers from bipolar disorder and many of his own experiences are interwoven into this story. This, of course, allows us to better understand the disorder at this stage in life. In any slice of life, there's always drama, but Fisher finds a way to blend the element of comedy within it as well, generally a dark tone, but with his lovely parents played by Catherine Curtin and Paul Schulze, there's lightness as well.
"Inside the Rain" is a sweet and insightful film giving us a glimpse into the life of a college student with bipolar disorder. With so many films depicting mental disorders, this is one to see thanks to the refreshingly unexpected romantic comedy elements.
***Due to Covid-19, the film, initially scheduled to open theatrically, will be released digitally on all major platforms.
3 Stars