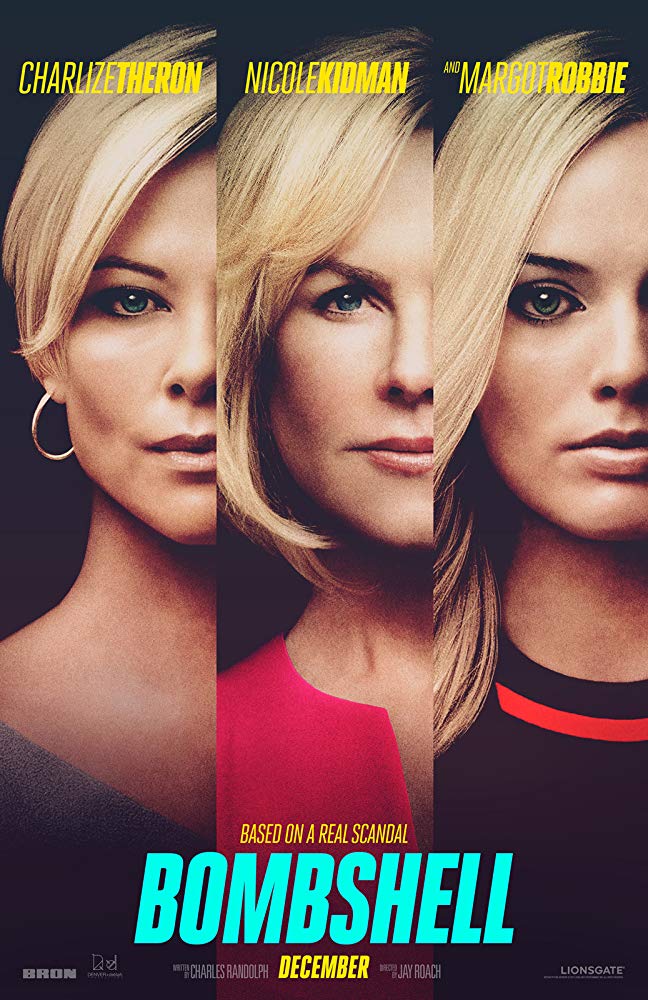 December 17th, 2019
Posted by pamela
Review
0 thoughts on ""Bombshell" blows the lid off what happened behind the closed doors at Fox News"
Fox News' Roger Ailes continues to make headlines years after his dismissal from the Fox Network in Jay Roach's ( "Austin Powers," "Meet the Parents") new film "Bombshell" with the all-star cast including Charlize Theron (Megyn Kelly), Nicole Kidman (Gretchen Carlson), Margot Robbie (Kayla), and John Lithgow (Roger Ailes). The story focuses upon three women; Kelly, Carlson, and the fictitious amalgam character Kayla, who all come forward to tell the truth about the years of lascivious behavior Ailes and the men who learned from this master.
Roach and writer Charles Randolph ("The Big Short") take a unique approach to telling this tale which begins before the 2016 election when Kelly first challenged Donald Trump during the presidential debates. The film "breaks the 4th wall," a technique not new, but certainly associated with "The Big Short," as Kelly gets us up to speed about the history and work environment at Fox. We meet the main characters whose stories are initially independent, but ultimately intertwine. Carlson is at a breaking point and has slapped Ailes with a lawsuit, and Kayla is diving into unknown waters as she climbs up the competitive anchor ladder. We watch as each of these women battle Goliath, but it is Kelly's story that is the primary focus here.
Kelly, as most of you know, was a leading powerhouse at Fox. She lets us inside her world and we are privy to the set up of women being pitted against one another and the sexual expectations and consequences of non-conformity. With the confident Kelly at the top of the heap, we get a sense that she somehow skirted around Ailes misconduct. The story unfolds at rapid-fire pace as the three women's stories become connected, not only does it anger us, it enlightens us through inventive and insightful storytelling.
While all of these women at Fox suffer from the Ailes dictatorship regarding looks, dress, and if you want to be a star, you pay the price, it's the language these women all report to have heard that is simply heartbreaking and disgusting. We see that if they don't buy in, they're out.
There are two scenes in this film that will forever haunt me; Kayla as she is asked to twirl and show her legs, higher and higher for Ailes, and Abby Huntsman's (Ashely Greene) bar scene as she lets us in on her thoughts while dancing around turning down her boss's proposition. This, in fact, is Rudi Bakhtair's true story and one of the most insightful ones of the film as we understand what she's thinking and feeling and how she tries to retain her job without offending her boss's proposition. She is fired and this promising reporter never works in news again.
All of these women's stories along with a myriad number of other reports so creatively stitched into the film eloquently tell the ultimate demise of the king of media. Taking into consideration that the women at Fox, lead by Gretchen Carlson's initial leap, all occurred before the #MeToo movement began and the Harvey Weinstein unveiling, we better understand the courage these women had to pave the path for us all.
The story can't hold water, though, unless it has credible performances and without exception, "Bombshell" certainly does. Kidman's authentic and tenacious portrayal of Carlson gives us a firm foundation of what it took to take on one of the most powerful men in the industry. Additionally, Theron and Lithgow's transformation is jaw-dropping as they become their characters. Using extraordinary make up is one key element, but more than that, these actors have thoroughly studied their characters. We see them using unique mannerisms, expressions, and even vocal quality to bring Kelly and Ailes to the screen. Lithgow's performance sends chills down your spine and this new spin on Kelly allows us to have compassion for her even if you're not a Fox News fan. Robbie's portrayal of sweet Kayla who dreams of not just being an anchor but a Fox News anchor, has her eyes opened to the dangers of being a beautiful female who is ambitious and talented. Her scene with Ailes is devastating to watch, powerlessly, as she loses her self worth.
The number of recognizable stars in this film is overwhelming, hinting at the strength of the story and the importance of its message. Kate McKinnon, Mark Duplass, Allison Janney, Malcolm McDowell, Connie Britton and many more play supporting roles and bring the film's message to light. In a recent interview with Roach, he shared that, "…women should be safe at work…" and that is the heart of the message.
"Bombshell" finds the right pacing and tone to deliver and tell the tale of women in media, the men who kept it going, and what it took to bring it all tumbling down. The key flaw, however, with this story is it feels one sided, not "fair and balanced," as many of us watched Megyn Kelly during this time period. She is made out to be a hero and while she may be in this particular situation, there are plenty of viewers that recall how she stirred the proverbial political pot, creating her own brew of disaster. Overall, the film is an exceptional insight into women in media and why things are finally changing.
3 1/2 stars