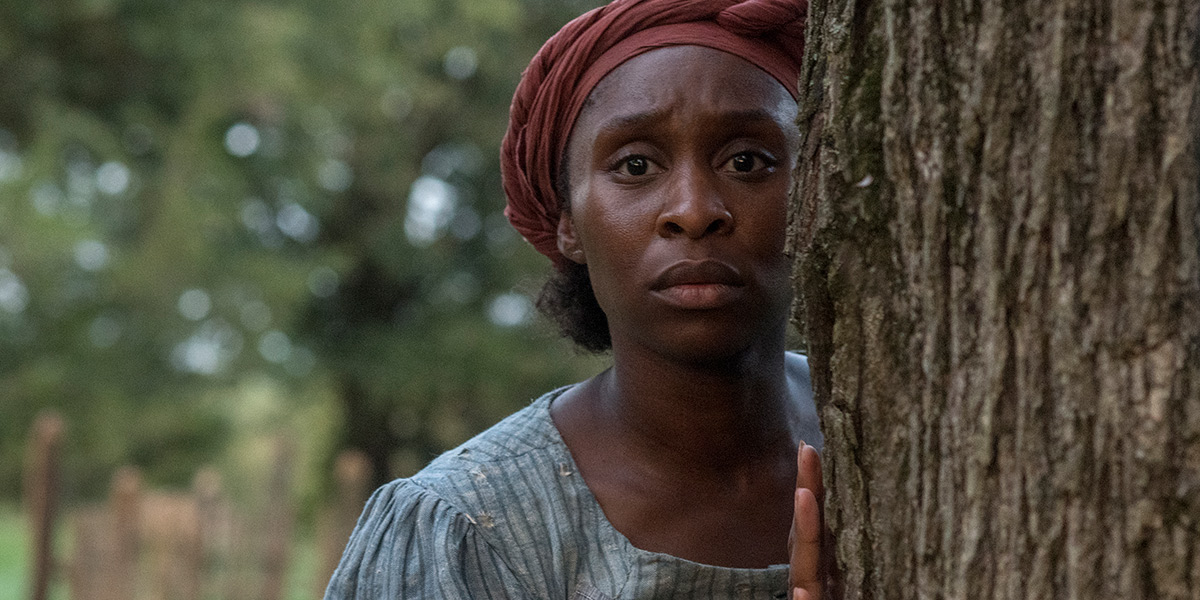 October 29th, 2019
Posted by pamela
Review
0 thoughts on ""Harriet""
My heart broke for Minty aka Harriet (Cynthia Erivo) in the very first scene as we are witnessing her memory of her family being violently pulled apart. Freedom for slaves south of the Mason Dixon Line is nothing but a dream and this first scene paints the background for the atrocities imparted upon anyone who is of a different color and held in ownership.
The film brings us back in time to Minty's situation prior to escaping to the North. Her owners treatment is despicable, but filmmaker Kasi Lemmons doesn't protect us from seeing it…we immediately sink into the same inescapable emotional abyss. But it's clear that Minty—her name before her escape—is different. She has visions and these are caused by yet another sad event in her life. The story takes us on Minty's harrowing journey to freedom, but this is not the end of the story; it's just the beginning.
While many of us know the name Harriet Tubman, a woman who was integral to the Underground Railroad which assisted slaves to escape into freedom, but "Harriet" takes us further into her story, discovering the tenacity, strength, and determination of this woman and how she came to possess these remarkable attributes. Additionally, the film imparts historical knowledge that admittedly I was unaware.
Embodying Harriet Tubman is the talented Erivo who gives a richly textured performance. It's impossible to leave the theater and not think that you now know who Harriet Tubman was as a person, not just a hero. And this is thanks to Erivo's passionately subtle portrayal which elicits immediate sympathy and an indescribable connection.
With every hero, there must be the anti-hero and in this film it comes with Joe Alwyn as Gideon Brodess the juvenile who becomes Minty's master. His lack of humanity is chilling as he delivers repulsive lines with absolute conviction. And when the two actors are on screen together, there is a sense of fear that courses through your veins, dreading when and how that proverbial shoe is going to drop.
Making this film stand out are the unlikely characters in the story, aspects of history that most never knew. Understanding how Congress passed laws which further drove Blacks north and anyone of color, free or not, fearing for their lives. These details in the film bring the subject and time into clear focus allowing us to not only understand what happened, but to feel it in our hearts.
This dramatic action film accentuates the tension-filled situations that will be more than memorable. It will leave you with a sense of awe and admiration as you find yourself questioning what you would have done under similar circumstances. There aren't many of us who could be true heroes, but Harriet Tubman certainly is.
Cinematically, the film shines, but there were issues toward the conclusion of the film that felt more forced and unnatural. Perhaps it is at this point that historical facts are given license to divert slightly. This, however, does not take away from the overall impact or importance of the film or this story. In fact, it will motivate you to learn more information about this woman, checking to see if she truly did have visions (she did) and the route she traveled to save hundreds of people who might have otherwise never lived (it's daunting).
"Harriet" is filled with memorable situations and performances, but more importantly, it gives us a more complete understanding of American history. Lemmons' direction takes what could have been a typical biopic and breathes a sense of urgency and life into it. This is a film for everyone to better understand our country, humanity, compassion, and the need to stand up for those who cannot.
3 ½ Stars