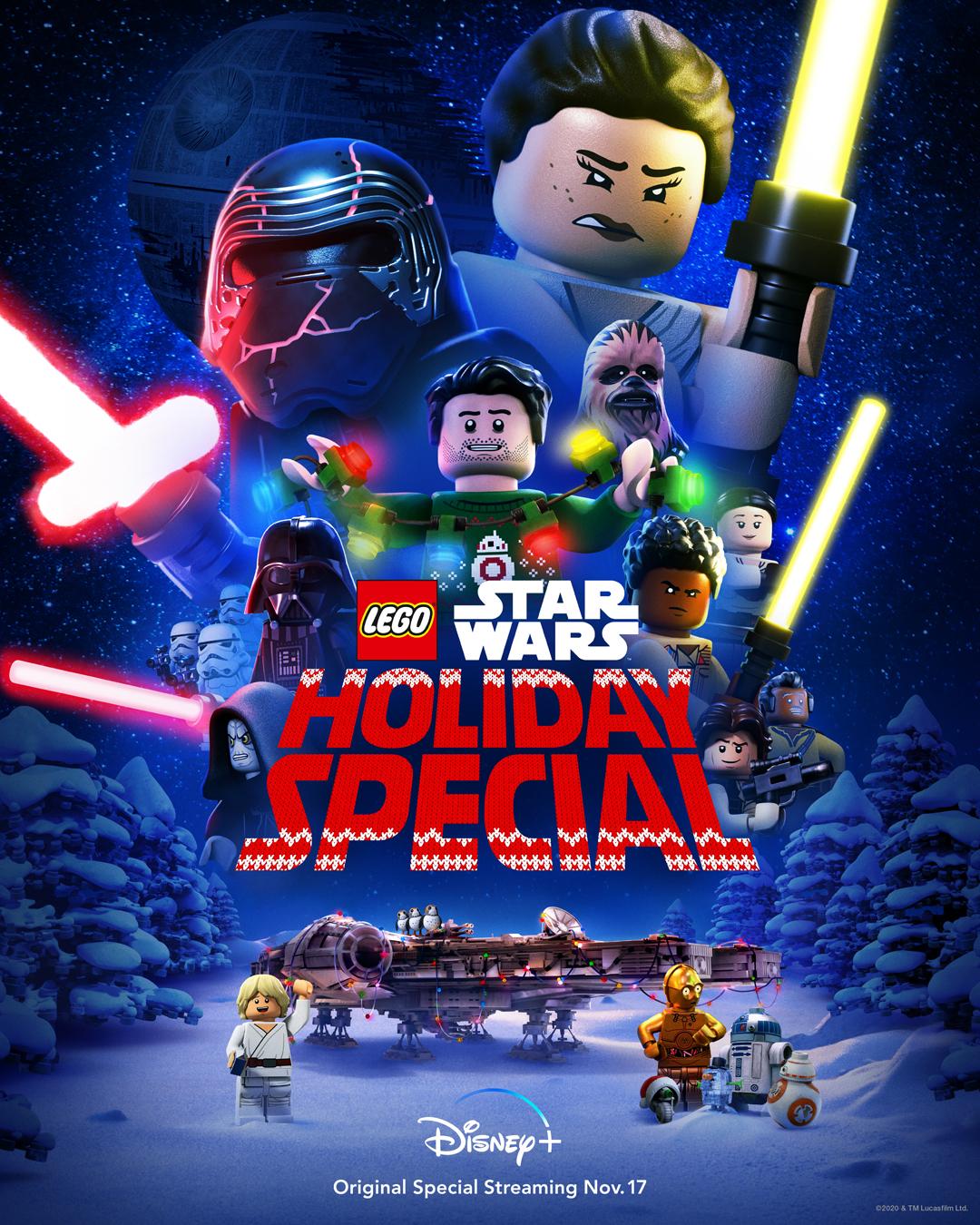 November 18th, 2020
Posted by pamela
Review
0 thoughts on ""The Lego Star Wars Holiday Special" Finds the Force"
After countless hours of watching every single "Star Wars" movie ever made, I am almost inclined to say "The Lego Star Wars Holiday Special" is the most entertaining one!  Disney's Lego artistry is of course incredible as characters embrace their swiveling hair and pincer grip hands, but it's the writing that makes it stand out. Making fun of the concept, the never-ending saga of "Star Wars," and the evil, good, or strange characters' personalities, writer David Shayne incorporates every character and confusing story line and brings it to life in this time travel saga.
We begin this holiday rendition, narrated in classic syntactic style by Yoda, with Rey struggling with her inabilities to teach Finn how to be a Jedi. Questioning her own credibility, she ventures off to find answers.  Accompanied by BB8, Rey discovers a time travel key in a mysterious temple which unlocks the doors to see and meet the greats of "Star Wars" past.  From young Anakin Skywalker and Han Solo to Darth Vader himself and even baby Yoda, Rey interacts with and learns valuable lessons along the way. But…one past version of Darth Vader sneaks back to the future with Rey and begins to wreak havoc. Now, young Rey must set things back in order and get back to the present in time to celebrate the infamous Life Day.
Writer Shayne capitalizes on the "Star Wars" soap opera-like confusing genealogy of the characters, and crazy as it sounds, he creates a bit more background from these animated plastic characters, especially the relationship between the evil Supreme Leader and Darth Vader. The conversations that ensue shed light upon the character's personalities and why they chose between the dark and the light side. In fact, many of these conversations and parenthetical comments, especially among the Supreme Leader, Darth and Kylo are laugh out loud funny. These strange little plastic figures with changeable printed garments come to life with voice overs which conjure the real life actors. They deliver dialogue that is incredibly smart and funny, particularly if you've been subjected to the myriad number of hours of "Star Wars" movie viewing.  
The action and vivid animation is there to hold younger fans' attentions, even if they don't quite understand all the "Star Wars" references, but it's those references and attention to visual detail that we adults will appreciate. And somehow, Shayne squeezes in or makes a nod to almost every relevant "Star Wars" character or convoluted story line in the short running time of 44 minutes while it creates a captivatingly entertaining story with a complete narrative arc and lesson.
Be sure to check out "Lego Star Wars Holiday Special" available on Disney+.
3 1/2 Stars