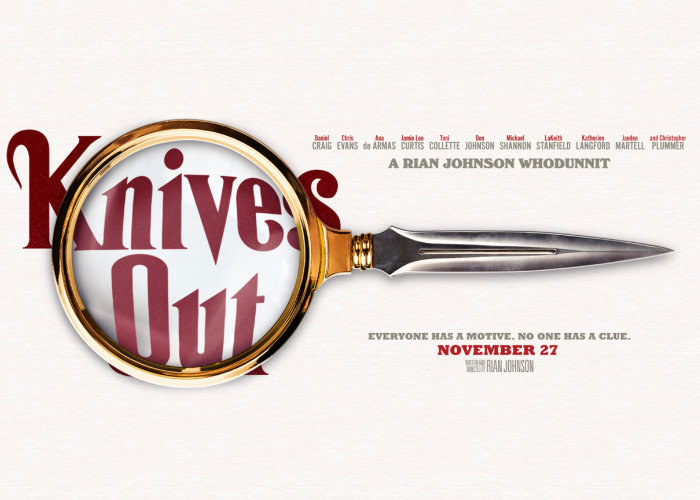 November 24th, 2019
Posted by pamela
Film Festivals, Review
0 thoughts on ""Knives Out" is an ingeniously funny and smart whodunit movie"
Writer and director Rian Johnson changes gears from "Star Wars: Episode VIII-The Last Jedi" to his newest film "Knives Out," an ingenious, whip-smart comedic thriller with an incredible all-star cast. This old-fashioned "who-dunnit" crime story takes us on a ride of mystery, intrigue, and puzzle-solving while laughing the entire time. This is a standout film of the year.
Harlan Thrombey (Christopher Plummer) is the family's patriarch having made his fortune writing murder mysteries. Coincidentally, the old man dies in his palatial mansion and his family, focused on the inheritance and not shedding a tear, are stopped short of the treasure chest as the famed Benoit Blanc (Daniel Craig) suspects foul play. This, of course, would change the cause of death from suicide to murder and now puts each and every family member under the microscope as suspects.
Oh, what a family this is! Timing the release perfectly for Thanksgiving, you'll find that your own family isn't quite so dysfunctional after watching this one. Johnson covers all his family relationship bases with an ex-wife, a trust fund, shallow grandson named Ransom (Chris Evans), a controlling daughter, Linda (Jamie Lee Curtis), and Valley Girl Joni (Toni Collette) as well as the disappointing son Walt (Michael Shannon). There are plenty of in-law issues beginning with Richard Drysdale (Don Johnson) and strange grandchildren. We even have the Keystone Cops lead by Lieutenant Elliott (LaKeith Stanfield).
It's evident from the beginning that we are in for a rip-roaring good time as the interrogation begins. Flashing between each of the suspects, a lone man slouches off in the corner at a piano, intermittently hitting a single key. Confusingly funny, the subjects make comments as to this man's presence. We see the tangled web of deceit has been spun perfectly and now the players are all accounted for. The story then takes us back in time using a non-linear storytelling technique to put the pieces of the puzzle in proper order to solve the mystery of who killed Harlan Thrombey…or was it a suicide?
"Knives Out" keeps you on your toes with its clever unveiling of clues while distracting you with these bizarre and over-the-top characters who all have a motive or two. Collette and Evans take on roles and perform like you've never seen them before adding to the unexpected twists and turns as well as the hilarity. Johnson's genius writing is always a step ahead of you, never putting all the pieces of the puzzle together until he wants you to.
The film, in all is jocularity, actually finds a way to address a common theme of movies this year: the haves versus the have-nots. Of course, with this wealthy family comes the topic of entitlement and work ethics, but these heavier subjects are all boiling well beneath the surface, fostering the hilarious situations and consequences.
While all the characters and performances are uniquely strong, the commonality among them is the actors truly seem to be having fun, elevating their performances to the highest level. Plummer just gets better and better, showing audiences that he truly can take any role and bring it to its ultimate potential. His character of "Harlan" is smart and strong with great wisdom and verve all delivered with a knowing twinkle in his eye. Each actor's character gets a moment in the spotlight, allowing us to know who they truly are and what drives them. Two surprising performances come from Craig as he stuns us with his comedic timing. It's a dry humor, the writing creating a strange interaction to make us laugh, but it it Craig's interpretation and presentation that adds just the right touch. And then there's Evans who certainly doesn't come off as Capt. America. He's a narcissistic, entitled, blue blood who is despicably condescending—but all of these attributes are presented in unexpectedly delightful ways.
Another surprise is a relatively unknown actor who has a lead in this film, Ana de Armas who portrays Marta Cabrera, the nurse and caregiver for Harlan. Her storyline stitches all the characters together while the social issue of immigration plays every so perfectly into this narrative. de Armas' performance hits all the right notes as she invites us to walk in her shoes. She's remarkably engaging, honing her ability to connect with the audience no matter her circumstances.
As you can see, there is one enjoyable and entertaining surprise after another. Its fast pace never lets you catch your breath as you happily try to see the full picture, but alas, Johnson is the driver of that car and you'll get there when he wants you to. To find such an entertaining murder mystery with the feel of a film from days gone by is an absolute treasure. This incredibly smart and funny film with standout performances from actors who are having as much fun as the viewer is sure to be tops on not just critics' lists, but yours as well.
4/4 stars