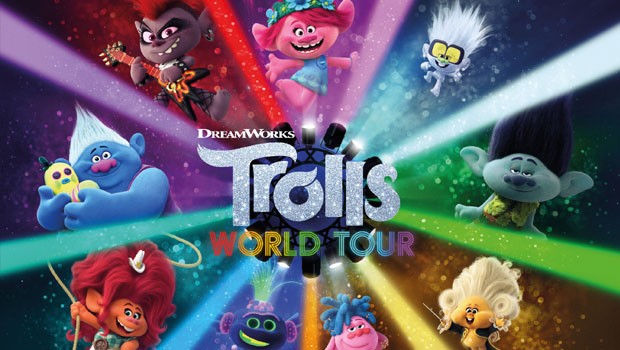 April 10th, 2020
Posted by pamela
Review
0 thoughts on ""Trolls World Tour" delivers a message amidst fun music and animation"
"Trolls World Tour," the sequel to the rocking hit kids' film "Trolls" from DreamWorks, is now available to watch on Amazon Prime Video and other digital platforms in the comfort of your home, skipping its theatrical release due to Covid-19. And parents, this is going to make your life a lot easier for a couple of hours as this newest rendition is just as vibrant and shining as its predecessor. With much-needed messages of acceptance, acknowledgment, and understanding of one another's differences, it's a story that will keep the little ones' attention and older kids alike.
Poppy (Anna Kendrick) and Branch (Justin Timberlake) pick right up where they left off. Poppy is now the queen and Branch wants to tell Poppy how he feels about her, but his plans are thwarted by the eminent arrival of Barb, the Queen of Rock 'n' Roll who wants to take over the world. Poppy, the Queen of Pop (and all thoughts positive) can't begin to understand that Barb would see music as anything other than a way to unite others, but as she travels to the other Troll countries including Techno, Country, and Classical (Symphonyville), she learns that Barb's evil ways may lead to the loss of all types of music.
The focal point of the film is pretty straight-forward and hard to miss as every scene hammers home the concept of tolerance and acceptance of those who appear different. And that's not a bad thing. From Cooper (Ron Funches) and his need to feel that he's not alone in this world to Hickory's (Sam Rockwell) Country Music heart allowing appreciation for other genres, it's a message you couldn't miss if you tried. While this certainly is a kids' movie, there are plenty of adult-only references that will make you laugh out loud. Yes, pop lyrics do "crawl into you head like an ear worm," history does seem to repeat itself and assistants typically don't get paid, they only get college credit, are just a few of the fun snippets that only those of us over the age of 25 will understand. Of course, there's plenty of classic rock and hit pop song medleys that will get your toes tapping, too, bringing back a flood of memories—for those of us who remember the '70's and '80's.
The music is the beat that drives the plot and characters, but the animation in all its vivid glory will keep the younger viewers glued to the screen. The introduction to a variety of types of music such as funk, hip-hop "Hamilton" style, disco, country, and even smooth jazz with all their stereotypes accentuated, give both kids and adults reasons to pay attention in this rather simplistic storyline.
This is Poppy's coming of age film as she wrestles with her preconceived notions and the pressure of being a good queen for her people. Unsure of what that really means, Poppy, with the help of Branch and Biggie (James Corden), opens her eyes to a new way of seeing and begins to actually listen. Poppy is naive, but that naiveté allows her to see others without prejudice. One of the most poignant lines in the film comes from King Quincy (George Clinton) who reminds Poppy that all Trolls are not the same, but that's a good thing and should be embraced. Again, messages that are not only appropriate but needed for all age groups.
With music at its core and recognizable hits like Cyndi Lauper's "Girls Just Wanna Have Fun" changing to "Trolls Just Wanna Have Fun," "Gangnam Style" by PSY as well as Kelly Clarkson's "Born to Die" (also voicing the Dolly Parton-looking character Delta Dawn) and "Barracuda" by Heart, there's also original vibrations going on as well. And when you assemble some of the most talented and varied musical artists such as Timberlake, Mary J. Blige, George Clinton, and classical violinist Gustavo Dudamel among many others, you really do have perfect harmony. As they say in the film, you can't have harmony with just one.
"Trolls World Tour" is a spirited and lively animated feature that delivers exactly what its precursor "Trolls" did—fun music that gets your toes a tapping, brilliantly rich animation, and positive life lessons. It's definitely a kids' movie, but adults can have fun with this one, too.
Be sure to check out the Home Premiere Party Pack at TrollsPartyPack or go to Youtube to learn how to draw Poppy, Branch and the newest little Troll, Tiny Diamond.
Or join the WATCH PARTY at noon today on Twitter hosted by Director Walt Dohrn & The McElroy Brothers! TROLLS WATCH PARTY
3 1/2 Stars