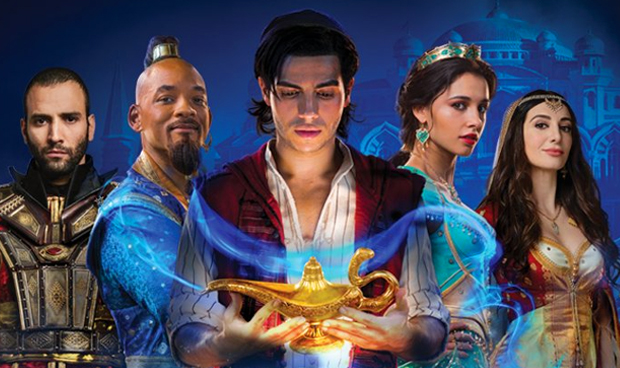 May 22nd, 2019
Posted by pamela
Review
0 thoughts on ""Aladdin" Disney updates story, message in live-action remake"
Disney continues with its live-action remakes of their classic animated tales as it releases "Aladdin," starring Will Smith as the Genie, Mena Massoud in the lead role of the beloved street thief Aladdin, and Naomi Scott as Princess Jasmine. The question before us is, can Will Smith create the role of the Genie and make it his own or will we forever long for the Robin Williams' version from 1992?
In expected Disney style, the film begins with vibrantly magical sweeping shots, creating the feeling of flying over the deep blue sea as we swoop down to meet a mariner and his children as he tells them a tall tale about a genie, a lamp, and a young man named Aladdin. We are then transported to a mystical time and place where we meet Aladdin and his monkey Abu, stealing and averting authorities and meeting a beautiful young woman. The story doesn't appear to stray too far from the original, although with a running time of 30 additional minutes, there may be some additional—and unnecessary— scenes.
The pacing is what suffers slightly in this longer-running rendition, particularly in the middle of the film, which may elicit younger viewers to get a little wiggly in their seats. However, the energy picks back up in the final third of the film which is filled with impressively choreographed dance scenes and a few familiar songs. While the film is called "Aladdin," it's more of the Genie's story and Smith uses his charm, looks, and style to bring a half CGI, half human character to life. The writers even bring us a love-interest side story for this chained yet powerful creature which is an unexpected and welcomed surprise. Smith makes this role his own and he shines in it, but if you're a fan of the frenetically paced, uproariously funny Robin Williams version, he just doesn't compare.
Massoud is extraordinary in his portrayal of a young man who knows his place in society, yet hopes that love can conquer all…with a little help from a genie. His lyrical voice captures your attention and your heart as he sings and dances his way in and out of trouble. Scott also shines in her role as the Princess with her expressively rich voice, and the writers take the time to allow her to have determination and intelligence which she easily conveys. Of course, she's gorgeous, she is a Disney princess after all, but thankfully, there's so much more to her than that.
Visually, this film is continually stunning with its jaw-droopingly gorgeous set designs and costuming. From elaborate castles to the forsaken desert, the Disney designers don't miss a detail. The Far East allows for the use of bright and striking colors and the costumes reflect this perfectly. CGI is a character as well as it brings the Magic Carpet and Aladdin's sidekick Abu to life and gives Smith's on-screen presence an other-worldly feel. As Aladdin is frequently running away from situations and authorities, the extraordinary camera work takes you along on that chase, zipping in and out of tight spaces, over and under impossible roadblocks, to create dizzyingly exciting scenes. However, what appears to be missing, to a certain extent, is the humor. It's funny, but it doesn't have the comedic element that Williams was able to bring to the entire film. His style, talent, and memory cannot be superseded.
As we've come to expect from Disney, there are some life lessons in the film. The obvious ones regarding the evils of greed and power are there as well as the importance of word choice. Words do matter. The topic of gender equality also arises as the Princess tackles centuries of a patriarchal society, where women cannot be in a position of authority, let alone a sultan and she must marry to be successful in life. It's another refreshing element to an updated Disney story.
"Aladdin" will reignite and to some extent reinvent the beloved Princess Jasmine story in live-action form. It's a fun film with extraordinary special effects and designs as well as an updated vibe, but my heart holds Robin Williams in the role of the Genie and the classic animated version.