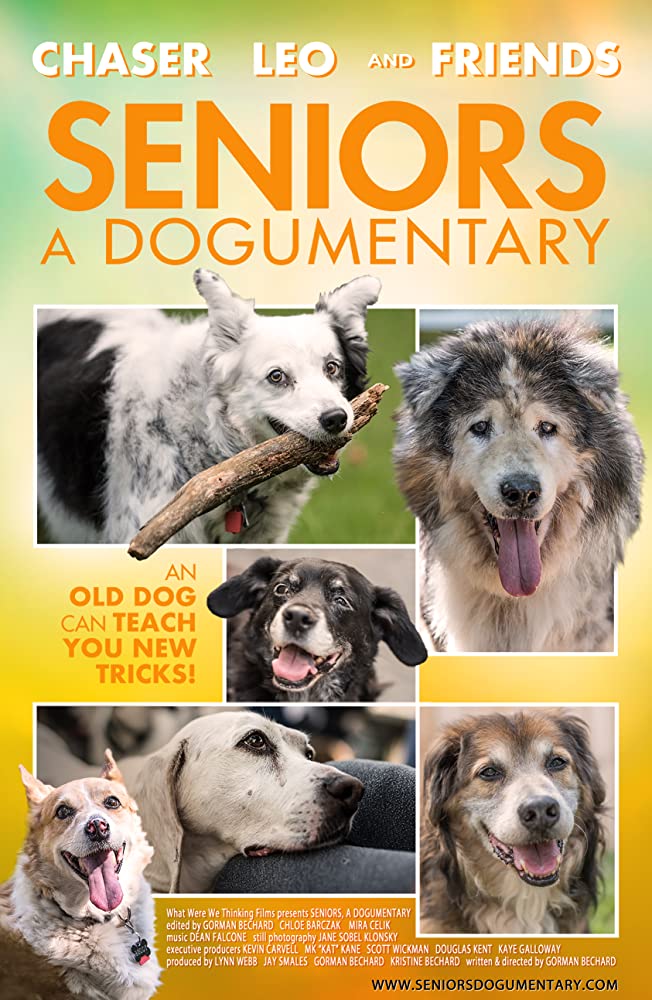 September 30th, 2020
Posted by pamela
Review
0 thoughts on ""Seniors: A Dogumentary" is pawsitively uplifting"
Puppy love. We all ooohhh and ahhh when we see a fluffy little four-legged fur ball, but the heart and soul can be seen through the eyes of an older dog as they melt our hearts and connect us to our best friends. Director Gorman Bechard takes us on a journey to explore one couple whose primary mission in life is to give these abandoned older canines a chance to live out their lives in the midst of loving families.
"Seniors: A Dogumentary" features the photography of Jane Sobel Klonski whose book "Unconditional" from National Geographic and the research from Dr. John W. Pilley, Jr., an animal psychologist as they both lovingly capture how an older dog can be taught so much more than a new trick—they can love and be loved. The focal point, however, is Zina and Michael Goodin, the founders of the organization "Old Friends Senior Dog Sanctuary," a center for abandoned older dogs, as they search for the perfect new location for their center. Given 90 days to relocate from their original center, it's a race against time while also caring for and finding "forever foster homes" for these special dogs.
If you're thinking, "This is going to be a tear jerker," you're right, but in a good way! The film is an uplifting one as Klonski showcases and narrates her photos, emphasizing the relationship between older dogs and their humans. In addition to the emotional stories, we also are privy to Pilley's canine cognitive research with his own best buddy Chaser, coined "the smartest dog in the world" as she knew more than 1000 words and could discriminate between nouns and verbs. Watching the elderly researcher lay on the floor and asking Chaser to imitate him is incredible making you question whether or not you have been underestimating your own dog's potential and comprehension.
While the stories of how these dogs ended up at the sanctuary are momentarily heartbreaking, the new lives they lead thanks to the Goodin's are heartwarming ones. We meet the face of "Old Friends Senior Dog Sanctuary" Lucy Lu who taught the Goodins that no matter what an older dog had experienced, they deserved and could give all the love in the world. We see the crazy antics of Springsteen vs. a paper towel roll and meet Izzy, a nursing home dog, and Leo who was an inspiration for a video game. Of course, meeting all these memorable older dogs gives us not only a better understanding of the depth of emotional relationships that are possible, but the important role an older dog can play in our lives. Goodin's Old Friends Senior Dog Sanctuary located in Mount Juliet, Tennesee not only touches lives locally, it has been an inspiration around the world.
Watching this film will change how you see dogs and perhaps even your own buddy thanks to Bechard's keen perspective bringing this film to life. The interviews, the canine close ups, and the fly-on-the-wall vantage point, brings us a true understanding of the reason why dogs are considered "(wo)man's best friend." And Bechard readily captures the human component to make this film a pawsitively uplifting one. As I sit here with Charlie, my mini Aussie, who is now 7 years old laying comfortably on his pillow next to me, I look into his eyes a little differently thanks to "Seniors: An Dogumentary." Yes, you'll need a tissue or two, but be prepared for many more involuntary smiles that go from ear to ear.
3 1/2 Stars
You can stream this on all major digital platforms.