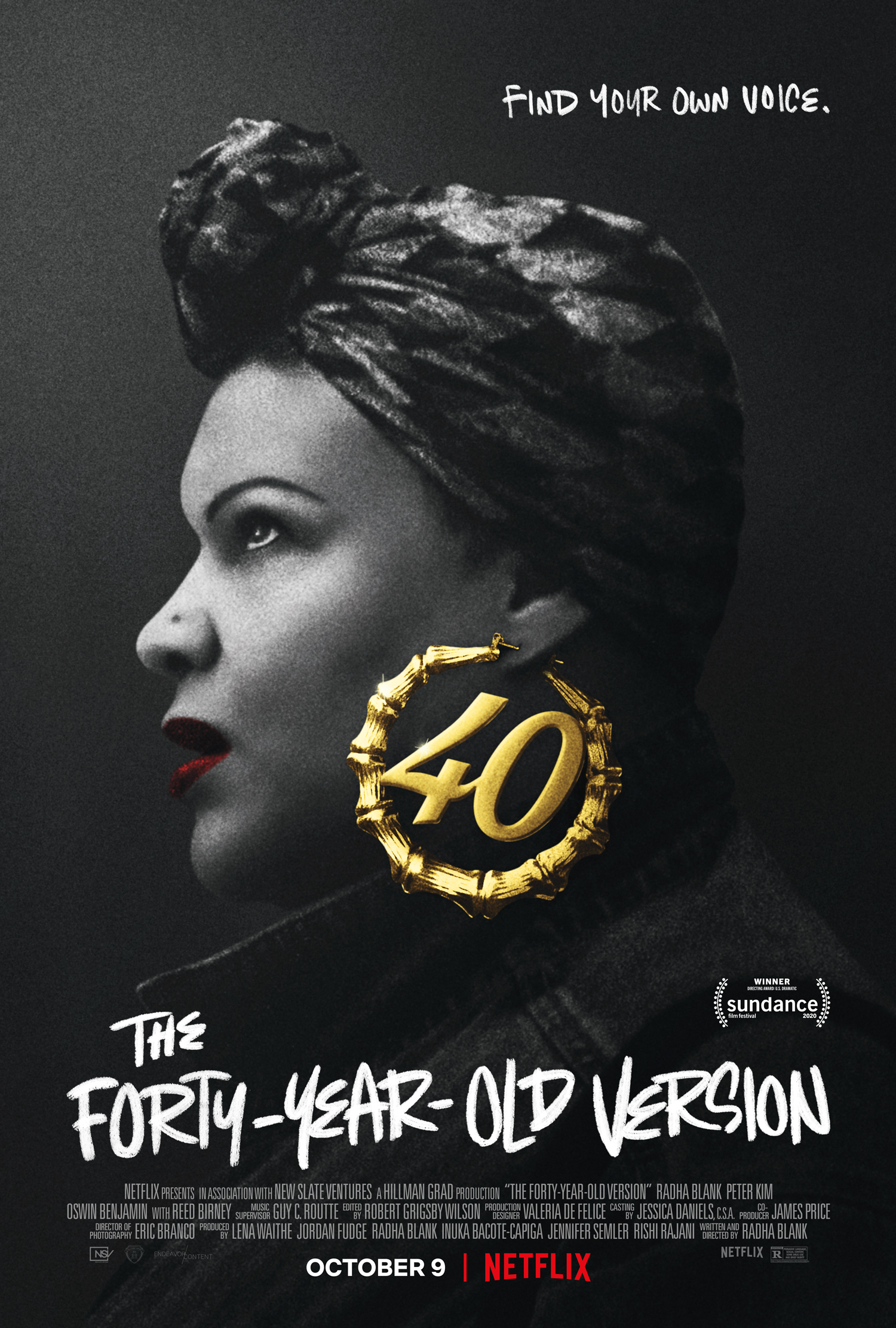 October 6th, 2020
Posted by pamela
Review
0 thoughts on ""The Forty-Year-Old Version" Brilliantly funny and poignant coming of age film"
"The Forty-Year-Old Version" is an unexpectedly universal story filled with comedy yet a brilliant poignancy that is simply delightful. Writer/Director/Star Radha Blank finds herself in a rut as she approaches her 40th birthday. Desperately wanting to be that person she thought she could be ten years ago, she attempts to reinvent herself from playwright to a rap artist. This charming and relatable film, whether you enjoy rap or not, is filled with heart, soul, and a little bit of rhythm to reawaken your own future self.
Living in New York City in an unsavory part of town and barely making her rent, Radha teaches inner city college students how to write plays. The kids are tough, frequently lashing out at Radha and calling her on the carpet to remind her of her unsuccessful and stalling career. It's brutal, but Radha handles the situation with grace. The accusations cut through her and like a bubbling volcano, she eventually erupts in the most inconvenient of places. Archie (Peter Kim), her long-time friend and now agent has gained an opportunity for Radha to meet with the king of Broadway producers, Josh Whitman (Reed Birney). His smug, condescending inability to understand a Black woman's point of view as he critiques her latest submitted play is maddening and Radha, on her last nerve, loses it. As we watch her lunge, it's shocking and surprisingly funny at the same time. And by this time in the film, we are completely connected to this woman who has lost sight of her dreams as the passing years sweep by.
The remorseful Radha who is still in a state of mourning after losing her mother, digs deep into her former self who was a rhyming master in her youth. Still having the knack for it, she pours her thoughts and troubles into her lyrics as she reaches out to D (Oswin Benjamin) an underground beat mix artist to help her develop. This adventure has its own troubles, successes, and even sparks of love as Radha battles her failures and how she can move forward as RadhaMUSPrime, an aging rapper.
Blank's exceptional use of humor throughout the film carries us through awkward and cringe-worthy scenes as well as those of Radha's personal disappointments. The deeply textured characters shine in a complex and layered script allowing us to not only know, but connect with the main character. In many ways, Blank has created a coming of age film that any woman over the age of 39 can completely relate.
Wearing three of the most important hats in a film — writer, director, and star — is a balancing act most cannot attain, but Blank deftly does so. Filmed in black and white, this accentuates the shades of grey within us all as we grow, but we also hone in on the characters more clearly. There is also an occasional gritty texture within the black and white film which punctuates the issues at the forefront. And Blank isn't afraid to tackle topics of race, poverty, and struggle, with all its inequities, but somehow she is able to do so with humor as she finds a way for everyone, no matter our race or socioeconomic class, to understand and relate. It's a brilliant combination that comes as a welcomed surprise.
As Blank portrays Radha, her performance finds an unguarded genuineness giving it a tone which creates not only a memorable character, but a lovable one. The baggage she carries as we unlock the suitcase and peer inside, is filled with common issues such as loss and regret, but there are also unique items that only a woman can carry and those which only a Black woman shoulders. And while the exterior of the baggage isn't shiny and new, the complexity of what's inside is what makes this character so beautiful.
Blank's cast supports and lifts her character and the story which allows us into Radha's world, rolling out the red carpet and welcoming us to see her point of view. Archie reminds Radha (and us) of the importance of compromise while Radha digs her heels in in an effort to not sell out. Each of Radha's relationships, from her students to friends, and those on the periphery of her circle, are key to Radha's growth, the story's narrative arc, and of course, to add incredible interest. Imani Lewis (Elaine) and Haskiri Velazquez (Rosa) stand out as students who are angry and trying to sort out why and Oswin Benjamin helps us to see beyond our expected stereotypes of rappers. Blank even finds a way for all of the supporting characters to travel along their own story arc without taking away from the focal point of Radha's character.
"The Forty-Year-Old Version" finds and implements the right rhythm and pace to tell a familiar and relatable story of a woman trying to find her own voice as she recalls her youthful goals. With a powerful ending filled with awe and even a touch of humor, Blank reminds us of the importance for all of us to "find your own voice." #FYOV
3 1/2 Stars