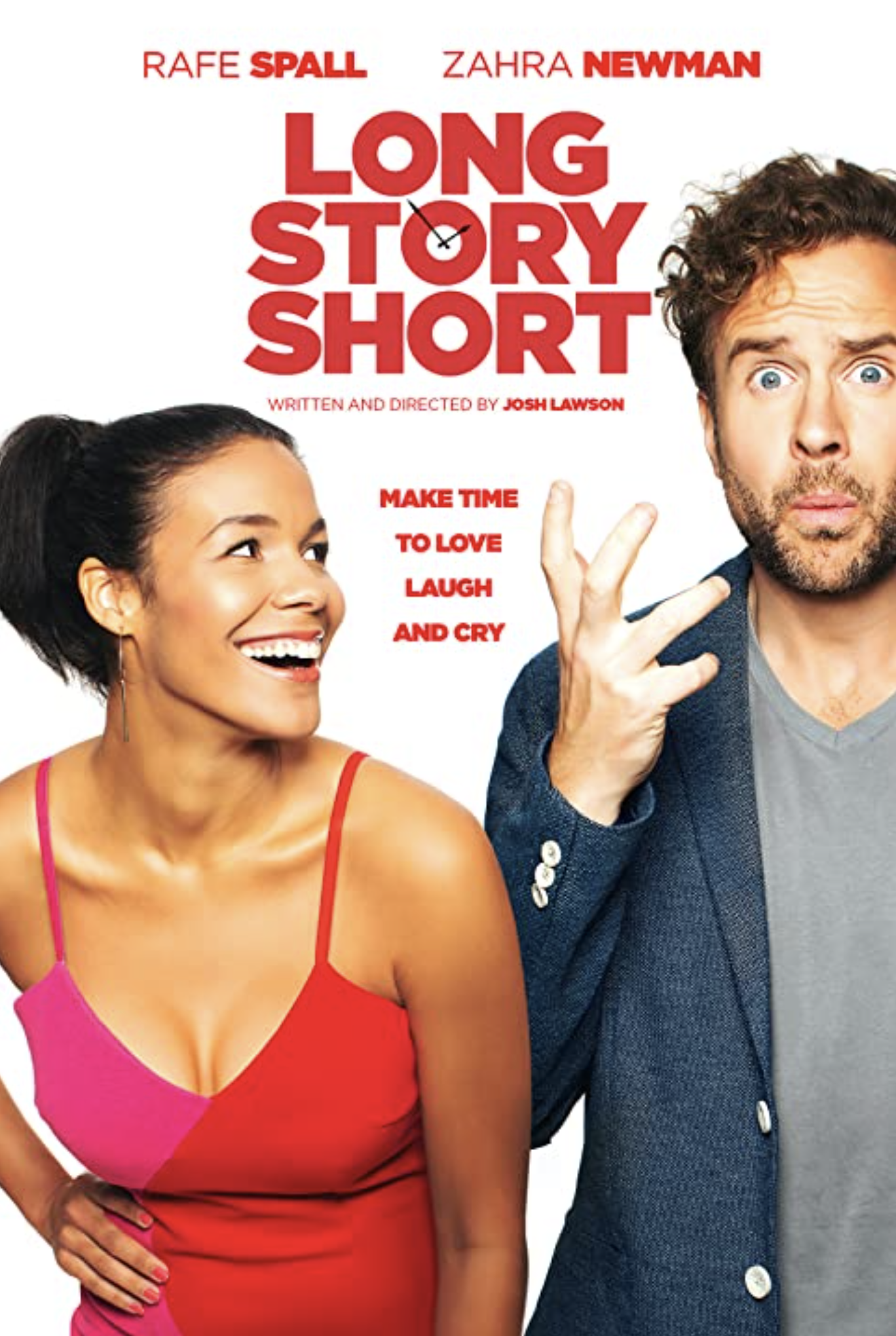 June 29th, 2021
Posted by pamela
Review
0 thoughts on ""Long Story Short" – A Timely Tale"
Time. It's truly the most precious commodity. No amount of money can buy it and once it's gone, it's gone. The new romantic comedy, "Long Story Short," starring Rafe Spall screams that message from the mountain tops in one of the most familiar yet innovative ways possible. Think of this story as "It's a Wonderful Life" meets "Groundhog Day" and "A Christmas Carol" with plenty of room for its own unique flare to become a romantic comedy.
The movie begins as Teddy (Spall) inadvertently kisses the wrong woman on New Year's Eve—a "When Harry Met Sally" moment—and as luck would have it, he and this woman, Leanne (Zahra Newman) begin their journey together…eventually. It seems that Teddy the Procrastinator lives by the motto of "later." Never embracing the moment, or even taking any chances in life, an unexpected encounter with a stranger (Noni Hazlehurst) at his father's gravesite pushes Teddy into the future as she presents him with a gift – or is it a curse – that will begin on his wedding day and every anniversary thereafter.
The strange events begin to unfurl the night of Teddy and Leanne's wedding and he notices an odd gift of a tin can that reads on the tag, "Open on your 10th Anniversary." Tossing it aside, he hops into bed with his new bride only to wake up one year later. However, he doesn't realize a year has flown by as he overtly demonstrates by his odd response to his suddenly pregnant wife. Trying to piece the puzzle of his life together certainly makes us laugh with compassion. As quickly as a year went by, Teddy then finds himself on his second, third, and fourth anniversary, desperately attempting to steady the moving time quickly flowing beneath his feet. Finally grasping what has happened and watching his wife steadily push him away over the course of "years," he sees himself and the path he has paved as a very unpleasant one. His question quickly becomes how to get off of this time warp merry-go-round.
Writer/Director Josh Lawson adeptly tells this story of regret and learning to cherish every precious moment we have on this planet with sincerity and humor. Spall's low-key, earnest style creates a lovable and believable character as Teddy's life spirals out of control. His signature off-the-cuff almost parenthetical speech style lures you in as you hang on his every word; not wanting to miss a chance to chuckle or laugh aloud. Lawson also finds just the right dialogue to propel what might be defined as a typical marital trajectory; highlighting the ups, downs, and complexities of love, marriage, and parenting.
Newman is pure grace on screen as Teddy's wife. She portrays Leanne as a woman completely enamored with her hubby, but understands that life is a roller coaster ride. She's the realist in the relationship and Newman's authenticity connects us with her character's trials and tribulations and responses to Teddy's bizarre behavior.
"Long Story Short" may borrow a lot of concepts from other films, but the "long and short" of it is that it's just plain fun with a punch of a lesson, a lesson we all need to be reminded of from– please pardon the pun–time to time.
3 Stars