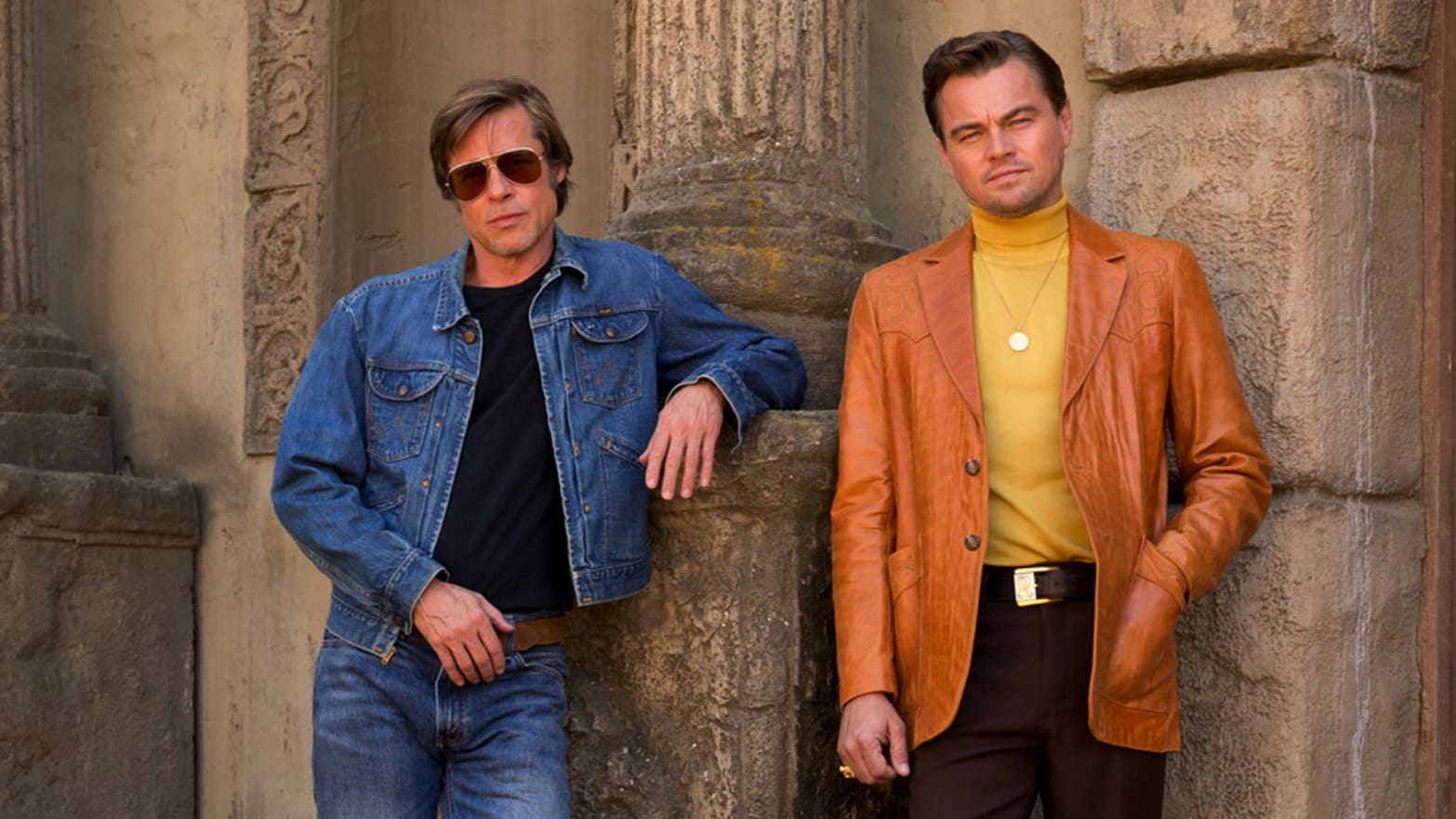 July 24th, 2019
Posted by pamela
Review
0 thoughts on ""Once Upon A Time In…Hollywood" – DiCaprio and Pitt are sheer magic"
The much-anticipated summer blockbuster, "Once Upon A Time In…Hollywood," written and directed by the exalted Quentin Tarantino and starring Brad Pitt, Leonardo DiCaprio, and Margot Robbie, brings us back in time to the late '60's, recounting the fictitious events and friendship of an actor and his stunt double and blending it with the horrors of historical reality. It's a slow-burn that sometimes fizzles as it choses style over substance. Overall, however, it creates a haunting yet vibrant revisionist history, filled with nostalgia, humor, and of course, QT's signature "Spaghetti Western" graphic violence.
It's 1969 and Rick Dalton's (DiCaprio) career as a cowboy in a hit television series is long gone. He's wrestling with the possibility of being on the brink of being a has-been. Finding roles is becoming increasingly difficult, but he continues to pay his stunt double Cliff Booth (Pitt) to drive him and basically take care of him. The two are inseparable, yet are as different as night and day. Cliff, a loner but loving dog-owner, is confident as he lives in the present, never seeming to worry about what tomorrow will bring. Rick, on the other hand, is incredibly insecure, needing constant external positive reinforcement from anyone to make him happy. One of the sweetest, yet saddest moments in the film is when a child actor (Julia Butters) tells Rick that was the best acting she has ever seen. We immediately know how fragile this man is.
There are three seemingly independent storylines occurring in this film, but they eventually intersect in dramatically violent ways. Sharon Tate (Robbie) and Roman Polanski (Rafal Zawierucha) live next door to Rick and their fate is the ever-looming shoe above, ready to drop at any moment. Meanwhile, there are a group of "dirty hippies" living on an old man's piece of property. As tough-guy Cliff meets one of the hippies, he's determined to make sure his old acquaintance Charlie (Bruce Dern) isn't being taken advantage of. Dern's performance as the crotchety old man, napping in order to stay up for his girlfriend's favorite TV shows, is simply hilarious. While Dern has little screen time, it's a standout and memorable performance. Of course, the situation develops into a violently comedic one and we begin to see the writing on the wall.
Tarantino certainly takes his time in weaving this story together. It's not until well past the half-way point that we begin to put the clues together to understand where this story might be going. This, to me, was somewhat frustrating as a more succinct technique could have accomplished the same result. However, Tarantino's punctuation of style in every scene is his signature in this film as he pulls out the grit, color, and texture of this by-gone era of Hollywood. This stylistic choice is certainly a creative one, but comes to the forefront of the film and overpowers the story-telling.
"Once Upon A Time In…Hollywood" is in every way a buddy film. Two grown men, depending upon one another, floundering, making mistakes, but always there for one another. DiCaprio and Pitt are sheer magic together. While DiCaprio skillfully creates this unsure, alcoholic actor, always gambling with his choices and trying to play the Hollywood game, Pitt's assured demeanor perfectly balances the pair. His smirk and confidence draws you to him, even after learning of his sordid past. The two have an undeniable chemistry, but unfortunately, Tarantino takes away from this solid foundation by focusing upon on-set filming for Rick's show. The behind the scenes interactions are pure gold, but these scenes are significantly less by comparison.
As the film meanders its way to its apparent conclusion, for those who remember the fate of Sharon Tate, Tarantino finds a way to pull the rug out from under you, creating a very unexpected twist. This tone and feel isn't consistent with the spirit of the film, however. It becomes graphically brutal and shocking, but the concept of the over-the-top violence is all a part of Tarantino's signature. We do see how he skillfully brings all the apparent loose ends created at the beginning of the film together into a well-tied if not very messy bow.
"Once Upon A Time In…Hollywood" is in many ways an homage to television, but it is also a social statement about how the filmmaking industry influences its audience and vice versa. The two are inseparable, much like the main characters of Cliff and Rick, and both very fragile ecosystems. Interestingly, Tarantino also depicts those behind the camera as much stronger than those in front of the camera, always needing to have their egos stroked. Perhaps that's how he sees his world.
3 out of 4 stars