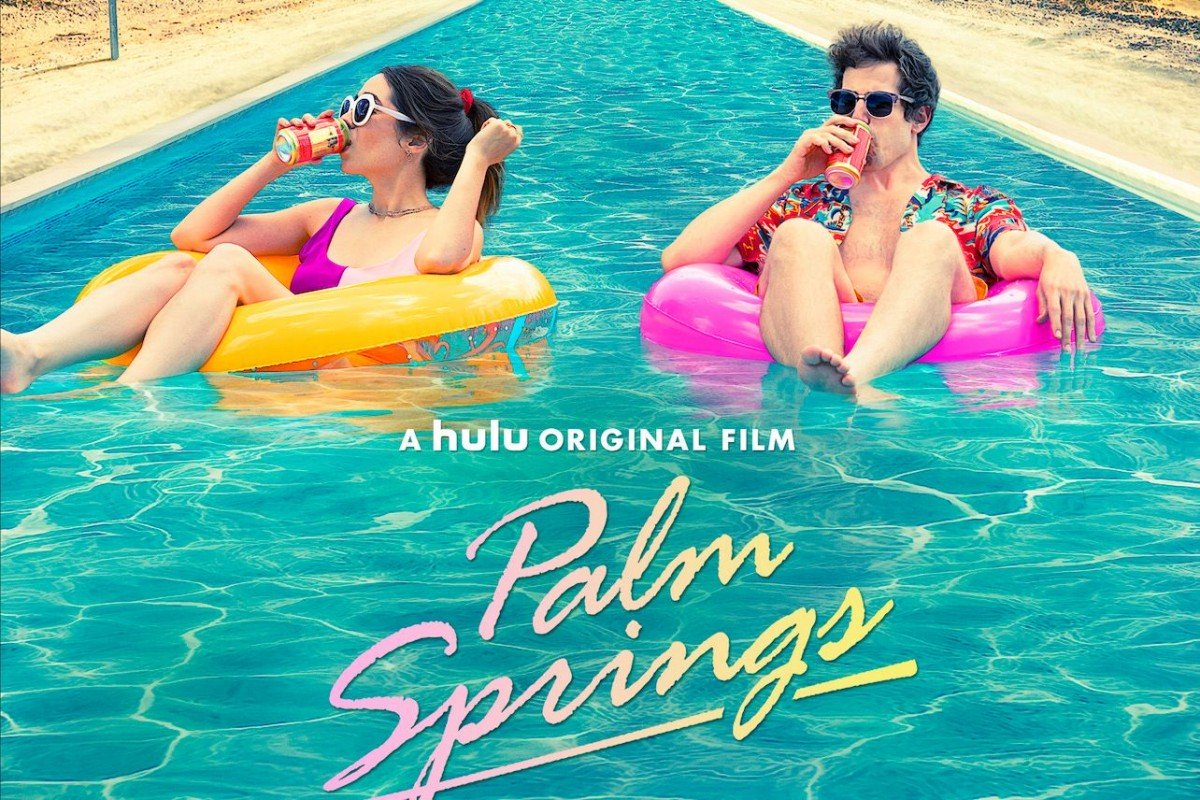 July 10th, 2020
Posted by pamela
Review
0 thoughts on ""Palm Springs" Earned that additional 69 cent purchase price at Sundance"
"Palm Springs" gained its first recognition at the 2020 Sundance Film Festival as it left the festival not just as the Grand Jury Prize nominee an audience favorite, but also as the highest sale price of any movie at the fest ever by a whopping 69 cents. That price difference is one indicator of the humor of those behind the film.
Starring Andy Samberg, Cristin Milioti, and J.K. Simmons, the film is reminiscent of "Groundhog Day," but set in the desert at a wedding reception with many sordidly funny scenarios to discover. With a few novel twists and turns, it's a funny and charmingly refreshing reprisal of what happens when you have to live the same day over and over again.
Nyles (Samberg) wakes up to his beautiful girlfriend Misty (Meredith Hagner) getting ready for a friend's wedding. Later in the evening at the reception, Nyles boldly grabs the microphone to toast the happy couple as you stares directly into the bride's rather drunk sister Sarah's (Milioti) eyes. Their connection continues well after the reception and Sarah inadvertently stumbles into the repetitive time warp that the two now must navigate together. This is where the fun begins as they are trapped in that wedding day, exploring various situations and attempting to end the loop by doing crazy stunts like driving hundreds of miles away or hitting a semi truck head on. The two find that they're not alone in this madness as Roy (Simmons) intermittently shows up to end Nyles' life…only to wake up again the next morning.
Like Phil (Bill Murray) in "Groundhog Day," there's a learning curve to living the same day ad infinitum, but all three characters take this unique opportunity and use it differently. The storyline takes a lot of creative liberties as it travels down numerous pathways to lead Nyles and Sarah to their final destination. While it is really just silly fun, the characters have their own issues and actually develop and grow with each other's help and this bizarre situation. Although there seems to be a loophole in the story near the end, that doesn't take away the entertainment value of the film. And let's face it, being stuck at a wedding on repeat sounds like absolute hell which is a perfect scenario for a story.
Of course, Samberg's signature comedic style is perfectly suited for this role and he relishes in every awkward and unexpectedly strange situation that arises making it all that much more fun for us. Milioti and Samberg are unmistakably are a match made in heaven for this quirky rom-com, playing off of one another's timing, expressions, and actions. They never let us down as they hone in on their characters' personalities and use it to their comedic advantage.
The supporting cast of characters enhances every aspect of the film. Ironically, the bride, Tala (Camila Mendes) doesn't utter one line of dialogue, yet she stands out as she repeatedly performs the same situation with subtle changes. A cameo from June Squibb is guaranteed to make you smile, but it is J.K. Simmons who proves his versatility in acting. Simmons is comedic gold. Usually a dramatic actors ("Whiplash"), Simmons shines as the crazed man determined to put an end to Nyles, the man responsible for his sentence to repeat this one day.
It's no wonder that "Palm Springs" had such a buzz at Sundance with this light, refreshingly entertaining story filled with charming performances. I think it was well-worth that extra 69 cents that Neon had to pay!
You can stream "Palm Springs" on Hulu beginning Friday, July 10.