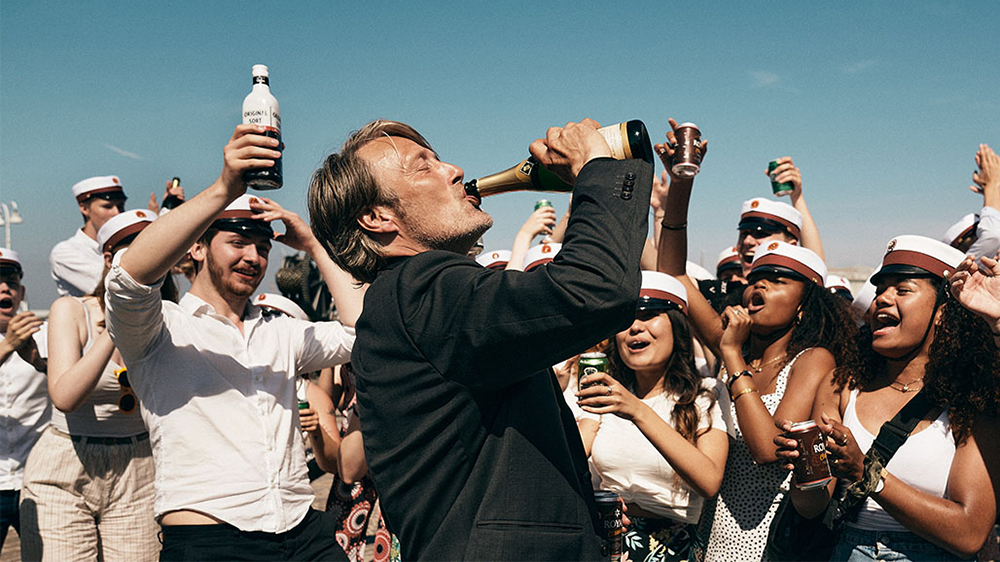 December 7th, 2020
Posted by pamela
Review
0 thoughts on "Cheers to "Another Round" now showing at the Gene Siskel Film Center"
Cheers! "Another Round" stars Mads Mikkelsen as Martin, a burnt out high school teacher slogging through life. His marriage is stagnant and he lacks drive, ambition, and motivation which slaps him hard as his go-getter students fear for their lack of education. This confrontation by his students and his superiors, accompanied by his recognition of his failing marriage, spirals his mental health further down until a colleague/friend proposes that their tight-knit group tests a theory. A Norwegian philosopher claimed that they are meant to function with a low level of alcohol in their systems at all times…like Hemingway. What starts as good if not mischievous fun becomes a turning point in all of their lives.
It's an interesting theory which writer/director Thomas Vinterberg explores with such believability that I had to look it up. Of course, there's no such theory that claims that "…humans are born with a blood alcohol content that's 0.05% too low," but it sounded good. (I do enjoy my wine!) The four men, all middle-aged, struggling in some way, are high school teachers who agree to maintain a blood alcohol level of 0.05%. And as teachers, they go about the "study" with dedication and precision, writing a list of rules—no drinking after 8 pm or on the weekends— and documenting the results each week hoping to find that their lives and performances have improved. And they do, but of course nothing could be so simple and what goes up must come down.
These men begin to look more like adolescents as they sneak bottles and flasks of booze, hiding them in nooks and crannies around the school. But Martin does find new passion in the classroom. He is engaging with his students who relish in his stories and new-found sense of direction. It's simply fun to watch his students respond and hang on his every word. And his marriage begins to breathe a breath of fresh air as he once again is partaking in life and not just watching it pass by. All of his friends, a P.E. teacher, a philosophy teacher, and a music teacher, find similar successes, but maintaining that slight buzz requires a bit more and they all begin to push the envelope. It is at this point that the fun and games come to an end and the film takes on a more dramatic tone as one by one, they hit life's brick wall. Joie de vivre is certainly the sentiment of the film, but "Another Round" gives us so much more to consider.
Mikkelsen's fine-tuned performance hits all the right notes as he experiences the harsh realities of life. His versatility is endless as he shows us with this character and his keen understanding of "Martin." While his performance is captivating, the camera working and lighting amplifies his every expression and thought effortlessly.
From start to finish, we get to know these very different men and anyone over the age of 40 understands the issues at hand. In many ways, this is a coming of age film or perhaps more accurately described as a coming to terms of aging film that harkens our youthful dreams as we embrace our decades of living. It's a brilliant script that comes full circle with each of the characters growing and changing despite themselves. With equal parts humor and drama, "Another Round" is robustly satisfying as it quenches your thirst for life.
You can see this at the Gene Siskel film Center's "Film Center from Your Sofa" now or on Dec. 18th on major digital platforms.
3 1/2 Stars