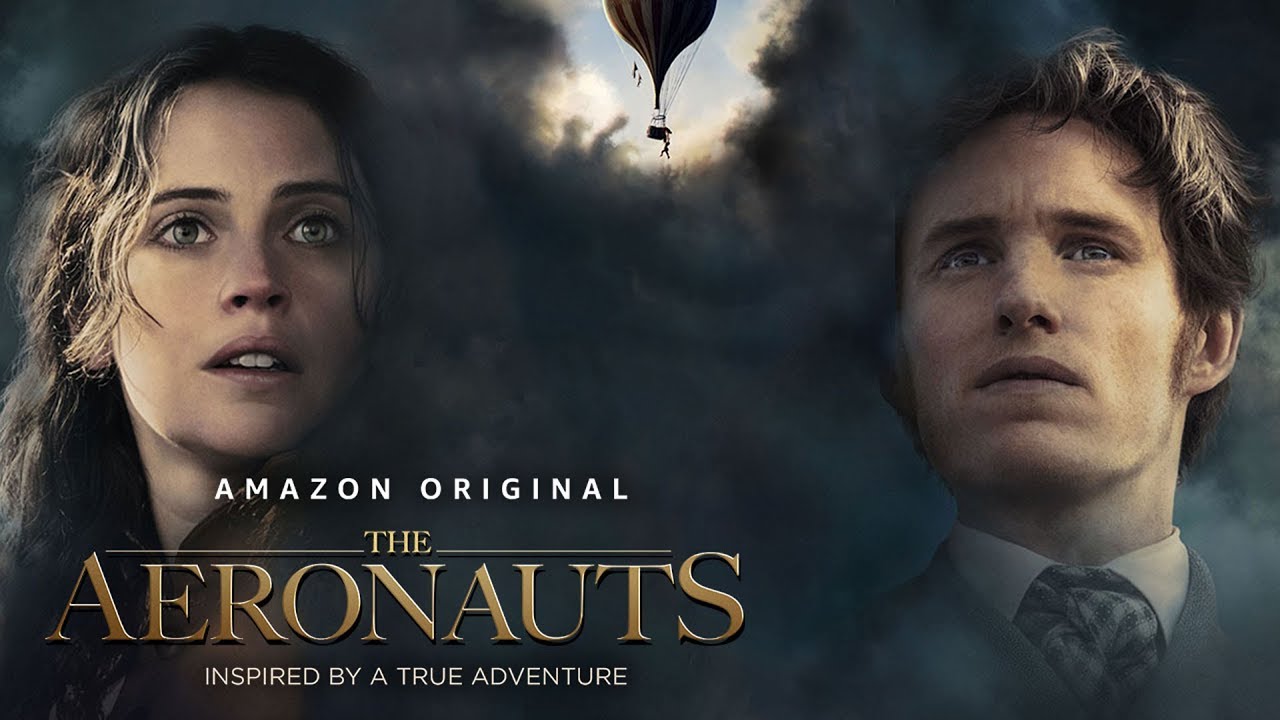 December 5th, 2019
Posted by pamela
Review
0 thoughts on ""The Aeronauts" – A breathtaking adventure story"
Looking for a film that will make your heart race in a thoughtfully beautiful story? "The Aeronauts" is just your ticket as Felicity Jones and Eddie Redmayne are reunited to tell this fictional tale inspired by true events. The wildly mismatched team comprised of pilot Amelia Wren (Jones) and scientist James Glaisher (Redmayne) takes us to new heights as they make not only scientific discoveries, but self-discoveries as well.
Wren is a wreck. She has experienced a devastating loss and she's not coping well. It's the mid-1800's and she's late for an important engagement: piloting a hot air balloon. The spectators go wild as she bursts onto the scene, but her partner, scientist Glaisher, isn't quite so pleased with her. Her infectious energy can't be thwarted by this dower man. She's a dare devil who quite literally made me scream aloud in a crowded movie theater, but beneath that flamboyant exterior lies a troubled and regretful young woman. Glaisher, on the other hand, is her polar opposite as his tunnel vision and fortitude push him further to attain his goal in weather discovery and prediction. Claiming he is a "meteorologist," Glaisher is the laughing stock of the scientific community, but that doesn't stop him from his research. Together, they embark upon a journey that will forever change the world and each other.
Traveling higher and higher in this balloon, elevating the passengers in a basket that certainly wouldn't pass any safety standards in today's world, we, the viewer, are along for this breathtakingly dangerous ride. Thanks to the skillful cinematography, we truly feel that we are in that basket with them. As Wren leaned over the edge of the basket one too many times for my timid heart, my palms were sweaty as I gripped the armrest and pushed further back into my seat, attesting to the brilliant skills of the cinematographer. It's also an emotional roller coaster ride of a story as it hurls us back in time, allowing our senses and fear of heights to relax, as we discover who Wren and Glaisher are. Balancing the thoughtful backstory with the heart-pounding adventure gives us a film that is engagingly thrilling and entertaining.
Wren is a pioneer, reportedly based upon the young aeronaut named Sophie Blanchard, who not only takes on a profession not typical for a woman, but pushes the boundaries of the perception of gender equality. She's tough, but Jones finds extraordinary skill in allowing us to see her tenderness beneath that hardened exterior. What Jones provides in this role is a sense of reality thanks to not only her skills, but that of her director Tom Harper. Unlike many other adventure films, this heroine goes through the wringer and doesn't come out looking like a super model. Thank you for that! Of course, Jones and Redmayne have incredible chemistry on screen, but this role is different for each of them. These are individuals with independent stories who allow one another to reveal their true selves; their fears, regrets, and hopes. The characters undergo a metamorphosis over a short balloon ride as they fight for their lives, and battle the demons within. The question is, which battle is the most difficult?
As I eluded to earlier, the cinematography is stunning. Capturing the beauty of Mother Nature, the earth and the sky, there is an inner peace that is elicited by the views. A calmness settles over you as you breathe deeply, soaking in the wonders of the world. Shifting gears, we thank our lucky stars for Wilbur and Orville otherwise, none of us would have the courage for air travel. The stunts will quite literally take your breath away and even the simplest of angles makes your heart race or your inner voice scream, "Get away from the edge!"
With many aspects of this film based on facts, it's eye-opening to think that the science of weather prediction was once thought of as nothing more than hocus-pocus. The passion that Redmayne exhibits for this new-found science is as infectious as Jones' energetic portrayal of Wren. Redmayne is the yin to Jones' yang, precisely balancing one another. He gives Glaisher such deeply layered attributes as a soft spoken man who is socially awkward. We also find his heart of gold as he compassionately interacts with his ailing father and worried mother. His tenacity and determination rise to the top as he refuses to listen to his esteemed colleagues, trusting his knowledge and his gut instincts to strive for more in this new profession he has coined as meteorology.
Harper and his writing team do an extraordinary job of blending factual information into this fictional tale. Pairing Redmayne and Jones together gives us the perfect storm as their relationship is an unexpected and welcomed one. The cinematography makes this one worth seeing on the big screen. If you miss it there, "The Aeronauts" will be available to stream on AmazonPrime beginning Dec. 20.
Read the interview with Redmayne and Harper in The Daily Journal.
3 1/2 out of 4 stars