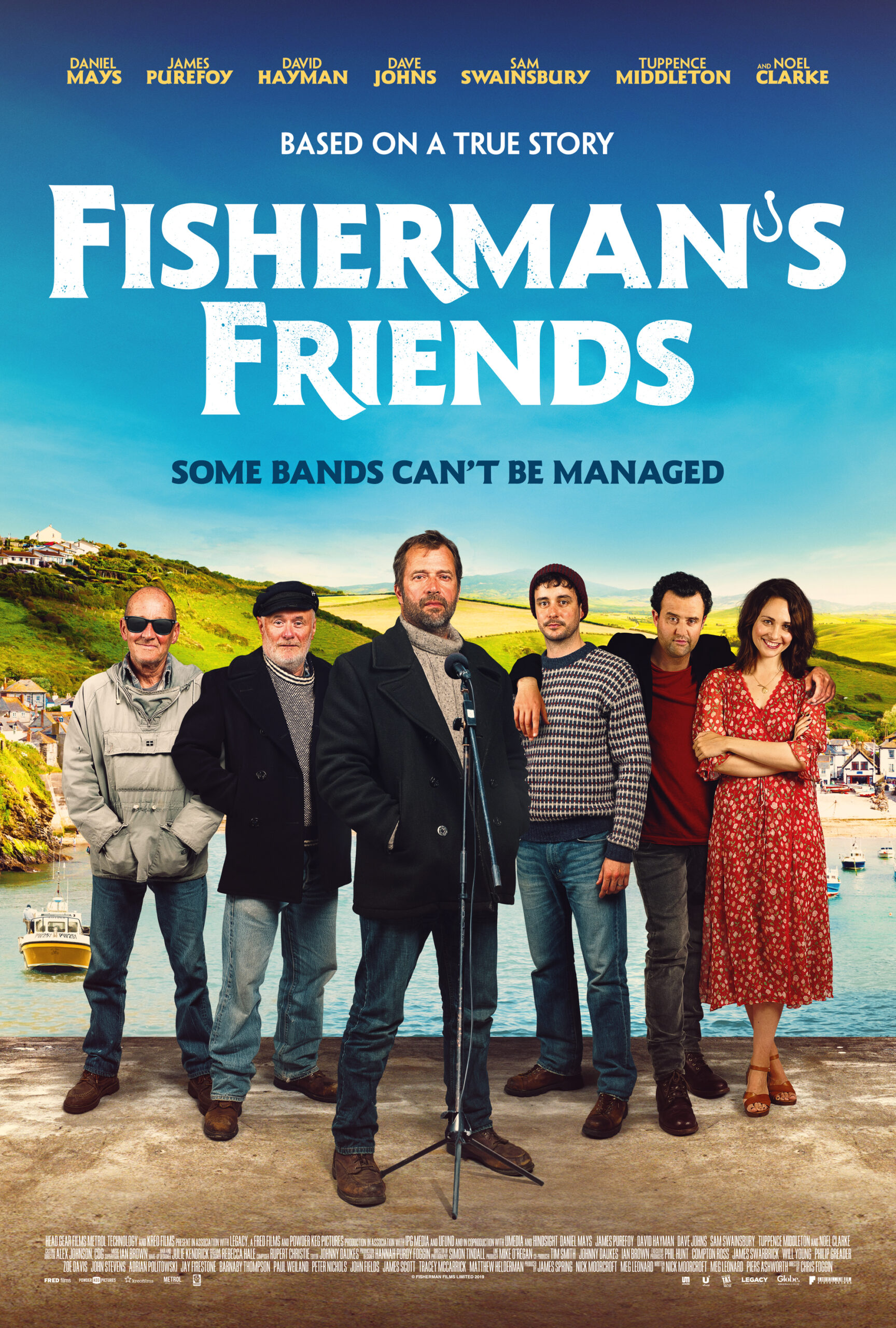 July 21st, 2020
Posted by pamela
Review
0 thoughts on ""Fisherman's Friends" An uplifting feel-good comedy based on a true story"
If you're looking for a feel good, sweet romantic comedy that is based upon a true story, then look no further. "Fisherman's Friends" is exactly what you're looking for. In Cornwall, England, a group of 10 fishermen who sing to pass the time and occasionally entertain the townspeople, find themselves an unexpected recording sensation. Of course, with movie-making magic, there's more to the story than meets the eye in this romantic comedy with a flare for fun and music.
We meet Danny (Daniel Mays) and his buddies, all big shot executives at Universal Records in London, as they are vacationing (and standing out like a sore thumb) in the quaint fishing village of Cornwall. Danny and his friends are like fish out of water in this town as they strut along in tight leather jackets ordering high end beers and driving a large vehicle on streets designed for horses. After making waves, the young men spot a group of fishermen singing along the shore for the entertainment of the community. Danny, unimpressed, is duped into thinking his colleagues love this new genre of music and is charged with getting the 10 men to sign on for a new record label. As Danny earns their trust, and not so easily, of these tightly knit men and their families, he learns of the joke that's been played.
The very likes of someone like Danny sets up plenty of pratfalls and insider jokes that no matter how much we predict that they will happen, we laugh anyway. While you can easily see the writing on the wall and know how this tale is going to end, it's the convincing and loving portrayal of the characters that endears us to the story. Danny isn't your typical leading man and each and every fisherman could have easily been pulled directly from the boat and cast in a role bringing a level of reality to the film. The scenes and narrative are set, but never do they feel contrived. But it is the chemistry and reactions between each and every character that feels absolutely authentic. From Maggie (Maggie Steed) tending bar and sitting as the matriarch of the family to Jim (James Purefoy) protecting not just his daughter from the London city slicker, but his fishing family as well.
Between Danny's attempts at convincing the a cappella singers to sign and learning that they've all been duped by Universal Records, there's a sweet love story that unfolds between Tamsyn (Meadow Nobrega), Jim's daughter, and the fast-talking outsider amidst all of the comedic chaos. Tamsyn sees right through Danny, but as he gets more deeply entrenched in the traditions of these community members' lives, he changes which allows a natural connection to develop between he and Tamsyn. With a few additional side stories of financial and health issues, each of these stories intertwine to give us a charmingly sweet story that is unexpectedly emotional and engaging.
While I mentioned the authenticity of the cast which is vital to bringing this story to life, Mays leads the way in this film. He elicits disdain from us with his portrayal of Danny, initially, but ingratiates himself as he allows he follows his heart and connects with the townspeople. Mays finds a way to be pompous and condescending on the outside, only to peel those superficial layers away to reveal who he really is. It's a gradual change, again accentuating the believability of the story.
Of course, in a film about music and musicians, the a cappella songs are fun and capture the soul of those who rely on the sea for their livelihood. Filmed in the town where the actual band originated brings us even closer to this fishing village and the atmosphere. With all of these elements brought together in perfect harmony, "Fisherman's Friends" is good old-fashioned fun. Yes, it's predictable, but its lightheartedness and sweetness is just what the doctor ordered in these trying times. Escape and have some fun with "The Fisherman's Friends" streaming on Amazon and all major digital platforms beginning July 24.
3 Stars