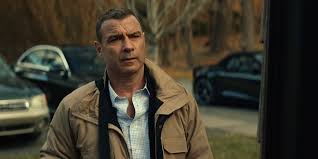 February 7th, 2020
Posted by pamela
Review
0 thoughts on ""Human Capital" A morally complex and intriguing story"
Stephen Amidon's novel has been recreated once again for the silver screen, but for American audiences this time. Initially an Italian film, it depicts the destinies of two families from vastly different socioeconomic classes whose lives are irrevocably changed after a cyclist is hit and killed just before Christmas. The American version, rewritten by Oren Moverman, stars Liev Schreiber, Peter Sarsgaard, and Marisa Tomei, and creates a similar scenario where two families' children and their underlying stories are intertwined on that fateful night of an innocent cyclist being killed in a hit and run accident.
The story is told from several different perspectives, Rashomon-style. We are introduced to Drew (Schreiber), a real estate agent and father as he drops off his teenage daughter, Shannon (Maya Hawke). It's obvious from the beginning who the have's and the have not's are in this scenario and Drew's unrefined interactions with Jamie's (Fred Hechinger) parents, Carrie (Tomei) and Quint (Sarsgaard). This sets the foundation for the ensuing tensions and poor decision making that put all the pieces into place and drive the story forward.
As part of the 99%, Drew thinks he has hat the jackpot and asks Quint to get in on his action–hedge funds. Leveraging every cent and item he has, the game has begun, but this is a big boy's game and Drew isn't ready. Needless to say, life devolves, spiraling out of control for him. Later that evening, after both families have gathered at a school event, the accident takes place. Each and every character may have done it, and they all have their own version of what happened that night.
From this point, we get Carrie's, Quint's, Shannon's and Jamie's perspective of what happened over the course of the previous 24 hours. Sharing all their inner-most thoughts and secrets, like a fly on the wall, we see the events of the fateful night unfold. Putting the pieces of the puzzle together is chilling, unearthing the depths to which humans will go to save themselves and/or their loved ones.
It's an interesting cast, all playing pivotal roles and having their time to shine in the spotlight. Sarsgaard portrays a pompous, deleterious narcissist, who cherishes money more than his wife. Tomei, a side character for much of the film, has a few scenes that give us more depth to peel away the superficial layers of her character. She proves that money cannot buy happiness and her performance connects us with her, creating sympathy for her situation. Hawke and Alex Wolff, a troubled teen, bring us all back in time where we made those bad decisions in love. Their honest portrayal is simply engaging with a storyline that could be in any town, highlighting the social issues that plague our current day. Schrieber's former character of "Ray Donovan" is difficult to shake as his character of Drew is the antithesis of Ray. Initially awkward, Schrieber eventually finds the right tone and I'm able to see him as a man-child who is impulsive and not the brightest bulb in the box. This is a stretch for him and always walking a tightrope of authenticity.
This version of "Human Capital" takes us along a little different path, but the results are the same–it's fight or flight as our autonomic nervous system kicks in. This engaging film, filled with social issues and consequences, is at once thought-provoking as we are challenged intellectually and emotionally. Ultimately, we place ourselves in each of the roles, predicting our own responses and when a film can do that, it's worth seeing.
3/4 Stars