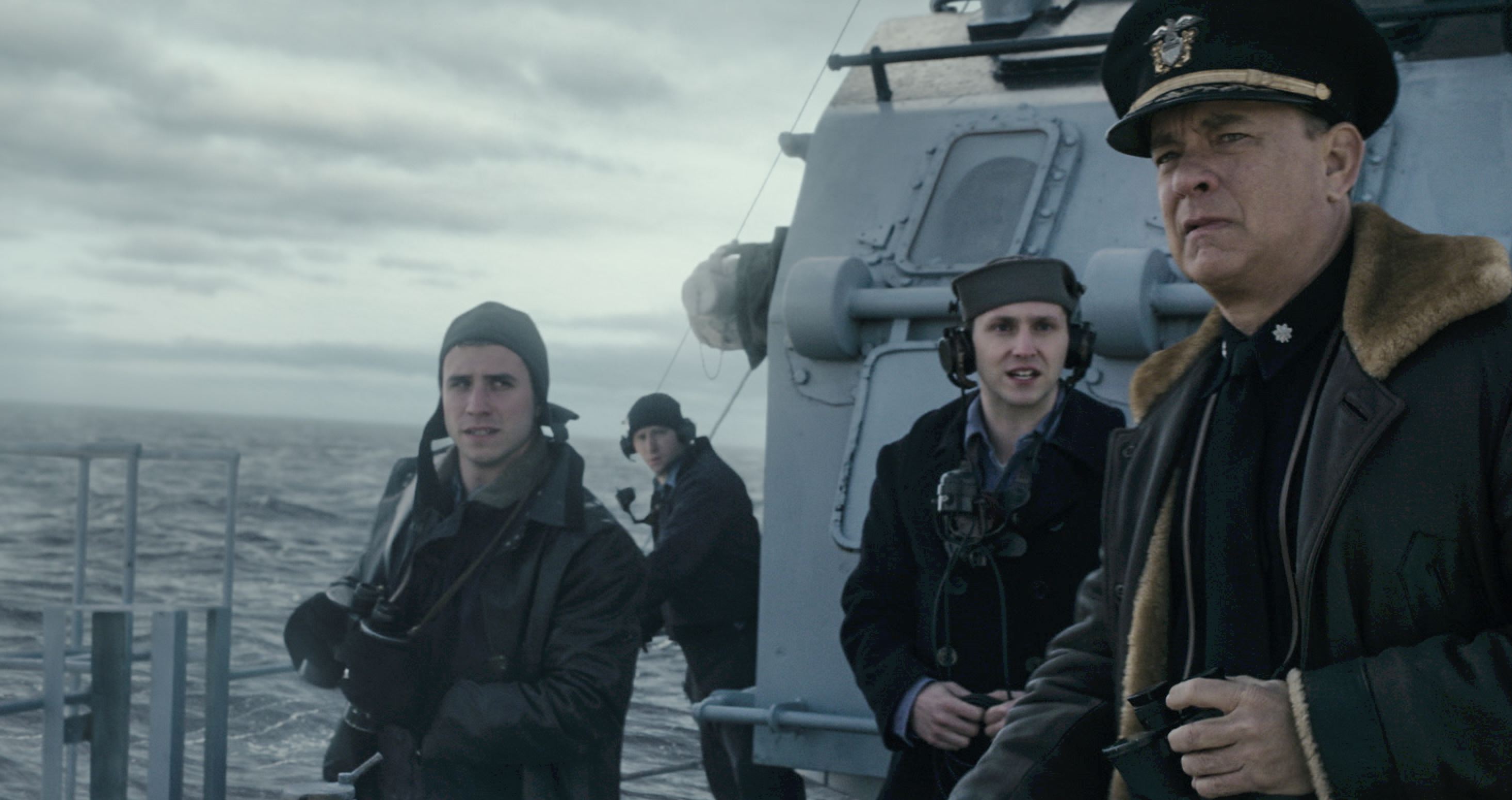 July 8th, 2020
Posted by pamela
Review
0 thoughts on ""Greyhound" a gripping & harrowing WWII tale as Hanks becomes "Sully" of the high seas"
Tom Hanks, writer and star of the new Apple TV+ distributed film "Greyhound," gives us a fictional look into the dangers and pressure one captain experiences as he leads a convoy of Allied ships across the Atlantic Ocean during WWII. This isn't the first WWII film Hanks has starred in ("Saving Private Ryan") and it isn't the first film he's written a screenplay ("The Larry Crowne Affair"), and thankfully, Hanks also brings a familiar and welcomed character to his portrayal of Capt. Ernie Krause. Think of him as Sully of the High Seas.
It's 1942 and Capt. Krause is departing to lead the Allied ships from the US to England. With aerial coverage unavailable for a great portion of the middle of the voyage, Krause must battle German U Boats known as the infamous submarine group, The Wolfpack. Krause is a natural leader with a steady moral compass as we are privy to his private moments, flashbacks to the love of his life, and how he deals with two sailors who came to fist to cuffs the evening before. He instills a confidence in us immediately as we must place an inordinate faith in this man, much like his sailors, as they slice through the waves destined to battle the enemy and find their way to England.
Taking place over the course of a few days, the uncertainty of success looms over the ships like a dark cloud. As an enemy submarine is spotted on radar, the next course of action is life or death. With Krause's calm, cool, and collected demeanor and his precision thinking, one battle is won. It is at this point, as the German sub explodes, that we see Krause's emotional depth. While he's happy to have evaded death and kept his crew safe, he also acknowledges the loss of life on the other side. 50 souls are lost. This sounds familiar as Capt. Sully Sullivan in "Sully" also used the same terminology. And it is at this moment that we are more deeply connected to Krause, hoping our confidence in him will allow everyone to be safe. Of course, this is WWII and that cannot be the case.
As the days turn into nights and Krause and his sailors navigate the waters, the harsh elements create even more difficulties as the pack of German submarines attempt to sink as many ships in the convoy as possible. The obstacles encountered seem tantamount to failure with radar and equipment malfunctions due to extreme cold, lack of sleep, and no matter how hard Chef Cleveland (Rob Morgan) tries, Krause cannot eat. The intensity of this situation skyrockets as torpedos are launched during which time Krause must develop a course of action and turn back to save the lives of bombed ships. Technicians quickly and precisely relay coordinates to ensigns who repeat the information exactly to their Captain, and we can see the wheels turning in his head as he outsmarts and outmaneuvers the enemy. The intensity is so great that we feel the chill in the air as we are on the edge of our seats, plunged into the murky dark environment and holding our breath as the ship lists to one side. It's chillingly breathtaking.
The film is based upon a book by C.S Forester called "The Good Shepherd," and while it is not a true story, it could easily be interpreted as one. We see the youth and trust these boys, and they are boys, have in their leader as they follow his every order. A few questioning glances allow us to see the youth and fear these young men have, yet their courage and training takes over to help them work together like a well-oiled machine. What makes this film different than many other WWII or any war movie is the human factor and the connections we have to not just our main character, but his connection with each supporting character. All of this is not only engaging, but also connects us to everyone aboard the ship.
Hanks, not surprisingly, is extraordinary in this role as he deftly develops a character with integrity, strength, compassion, and intellect. The finely tuned and nuanced performance gives his character layers, depth, and a sense of reality. And paired with the direction of Aaron Schneider, the film becomes a detailed exhibit of the humanity and destruction of war along the seemingly endless nautical miles of the perilous deep blue sea. Of course, to experience this so completely is thanks to skillful cinematography. Camera angles, sweeping shots, and special effects bring us onto the ship to stand next to Krause and his crew, making this a gripping adventure with an unknown outcome.
4 Stars