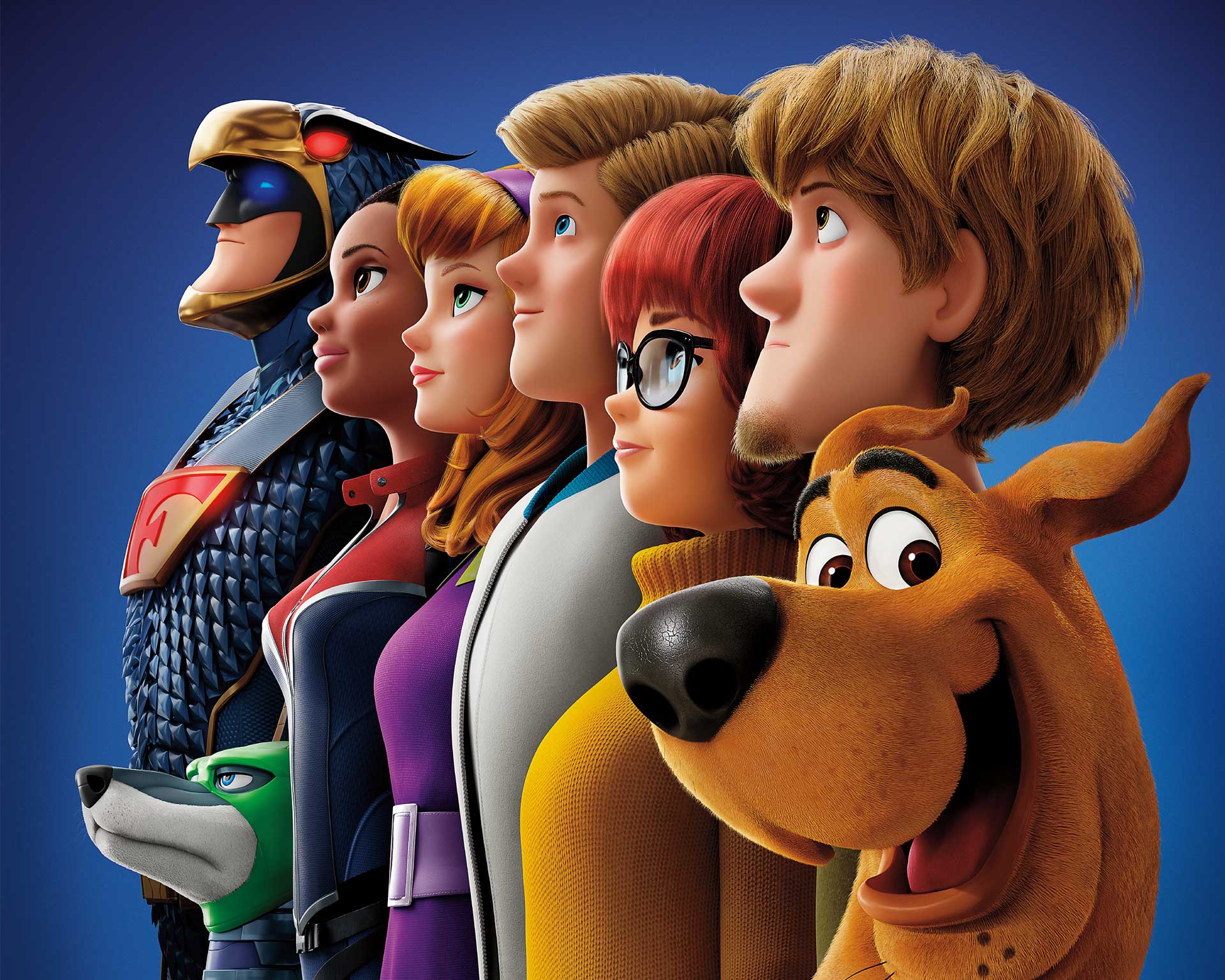 May 15th, 2020
Posted by pamela
Review
0 thoughts on "SCOOB! Scooby Doo and the gang are back and just in the nick of time!"
SCOOB! "opens" on all digital streaming platforms on Friday, May 15, bringing back those "meddling kids" for an all-new adventure in solving mysteries, saving the world, and of course, devouring some Scooby Snacks!
Scooby has been a part of at least two generations of kids growing up and you'd be hard-pressed to find someone who can't sing the intro song. (My apologies as this will probably be like an ear worm for the rest of the day.) But with this history, comes pressure as writers and actors alike must keep core of this story alive. Humor, friendship, life lessons, slapstick comedy, and of course as many puns as possible must accompany the story. And if the tone and pacing are lacking, it's not going to work—but this works. It's like walking back in time for me to the 1970's, eating my bowl of Quisp cereal, and making sure I smiled during the intro when the camera "took my picture."
SCOOB!, the newest version for our favorite doggie detective, brings us back in time to tell an unknown part of the gang's history. We find out how they all first met, including Shaggy (aka Norville) and Scooby's origin story. The adorable partnership endears us even more to this dynamic duo and the camaraderie among the crew's initiation on Halloween night, no less, gives us just the right amount back story before plunging us into the current day where the Mystery, Inc. needs a fresh start. Who better to invest than Simon Cowell (voiced by Simon Cowell) who gives his brutally honest opinion, but these words then set the tone for what's to come for this group of crimebusters.
Licking their emotional wounds, Scooby and Shaggy encounter Dick Dastardly's cataclysmic coterie of tiny transformers only to be rescued by the new heroic characters, Blue Falcon (Mark Wahlberg), Dynomutt (Ken Jeong) and Dee Dee Skyes (Kiersey Clemons). But that's not the last they'll see of Dastardly as they learn of his malevolent plan to take over the world and Scooby is at the heart and soul of it. How can the gang band together to not only save humanity, but Scooby, too!
As alliterations abound, the verbal agility interwoven into the quickly delivered dialogue keeps the adults attention as the visual pace keeps little ones captivated. With over the top situations and sub-stories of both Shaggy's jealousy and Dick's longing for his "flatulent fleabag" who was once his "criminal coconspirator," it's an entertaining cacophony for all ages.
Tony Cervone directs this fun-filled sci-fi animated comedic adventure film as he weaves together elements from the past series into a current-day story with relevant references. The voices, particularly in an animated feature, create personality and in this case, the voices not only convey meaning, but memories of characters. It's imperative to find just the right fit, but in particular to find Scooby and Shaggy as this is their story. Scooby finds his voice in Frank Welker who was Fred's voice from the original 1970's series, but it is Will Forte's cracking vocal quality and tenuous cadence with every sentence starting with "like" that is perfection. He is Shaggy. In fact, the entire ensemble of old and new voices/characters alike work together harmonically.
SCOOB! captures all the emotional resonance from the original series while stepping up the story line to embrace the current times. With a "moral of the story" to impart, SCOOB! addresses the importance of loyalty and friendship for this group of "meddling millennials" as it rides the wave of corny jokes with plenty of puns as we watch goodness prevail.
Grab your canine companion and kids, then rent or purchase SCOOB! on all digital platforms like Amazon Prime Video, VUDU, and Fandango Now.