Charles Dickens' A Christmas Carol is an expected part of the Christmas season, but did you ever wonder about why he wrote it? What was his inspiration and motivation? Where did he come up with these characters? Screenwriter Susan Coyne adapts Les Standiford's non-fiction book The Man Who Invented Christmas, bringing to light answers to all of these questions in the movie of the same name. Dan Stevens gives a full-hearted performance  to the main role of Charles Dickens with Christopher Plummer perfectly portraying the cold-hearted miser, Ebenezer Scrooge. It's a unique spin on a classic, delightfully setting the stage for the upcoming Christmas season.
"The Man Who Invented Christmas" takes us back to the successful year of Dickens' Oliver Twist, 1839. Living in the lap of luxury, Dickens is woefully unsuccessful for the next three years and his purse strings need to be tightened to choking status. With a rambunctious brood of children and one on the way, not to mention a literary critic Chapman (Ian McNeice) always ready to point out Dickens' failures, he needs to do something before his money completely runs out and his reputation is forever tarnished. His solution? A story about Christmas. The problem? It's fall of 1842. Time is not Dickens' friend particularly in finding a printer and illustrator for a rush order, but he doesn't even have a story yet. He has faith in himself. He listens to standout phrases, names, and lets his imagination take him away as we witness the all-consuming and entertaining process of writing one of the most iconic books in history before our very eyes.
Coyne's adaptation of this novel brings to life one of the most unique perspectives in writing to date. Scrooge's character is born from a happenstance viewing of a man being buried in a cemetery with no one but a work colleague. Listening to the grave diggers' conversation is all Dickens needs to get those creative juices flowing. Scene by scene, familiar characters pop up into Dickens' life, inspiring the beautifully rich characters we all know and love. The birth of Jacob Marley and his chains, the Ghost of Christmas Past, and even Tiny Tim are all a part of Dickens' life. You can't help but smile from ear to ear as you recognize how these living characters become a reality in A Christmas Carol. What's even more extraordinary is how all of these characters come to life in Dickens' mind. They crowd him in his office, becoming a reality, offering advice on how to proceed, where the story should go, and what he's doing wrong. They are as real as his wife and children and his uninvited, financially-dependent father. And Dickens has his own demons to deal with, perhaps using his writing as a tool for healing.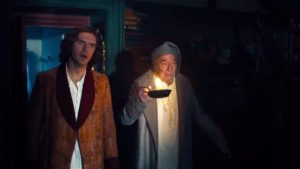 Stevens' exceptional portrayal of Dickens allows us to know a man we could only imagine. He is brooding and temperamental,   heartwarmingly kind at times, and at others, lashing out, making us think that perhaps there's a bit of Scrooge in Dickens himself. Quite interestingly, much of this tale is based upon fact. Dickens did have a father who went to debtor's prison, he did work in a blacking factory, he was bullied, and much, much more. Knowing that much of what you see in the film truly was the inspiration for the book make this film that much more fun to watch.
Costuming and setting are as much a part of "The Man Who Invented Christmas" as the story itself. We are transported you back in time, becoming a part of the unfolding of the intriguing tale. While we all know the classic story, understanding the making of it and who Dickens was, will warm your heart all that much more this holiday season.
"The Man Who Invented Christmas" is much more than just a tale of one man. It's an insight into one of the best holiday stories in modern times. With superb acting, writing, and directing, it's a film that completes your holiday viewing list.
4 STARS