The 18th Annual Tribeca Film Festival is coming to a close and is one I consider to be the best in years in terms of quality, equality, variety, and special presentations.  With close to 100 feature films not to mention the seemingly myriad number of short films, I have the best of the fest.
TULLY:  Diablo Cody ("Juno," "Young Adult") writes this screenplay perhaps as she looks in the mirror, depicting life as a mother in one of the most raw and truthful films addressing the subject.  Charlize Theron stars as Marlo a mother of 2 and pregnant with her 3rd, whose wealthy brother offers to pay for a "night nanny."  With 2 active and demanding youngsters, a newborn, and a "typical" husband, Marlo is exhausted and bites the bullet, taking her  brother up on his generous offer.  As  Tully (Mackenzie Davis) and Marlo begin to bond, life takes a wonderfully positive turn, but as the layers are peeled away we discover so much more.  It's an eloquent and insightful film that humorously and dramatically portrays the thoughts, emotions, and harsh realities of what motherhood is like on a daily basis as we are reminded of our dreams, our past, and our futures.  Opens in theaters May 4.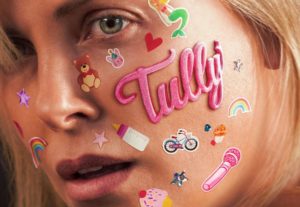 STOCKHOLM:  The psychological term "Stockholm Syndrome" originated from this "absurd but true story" starring Ethan Hawke, Mark Strong, and Noomi Rapace.   The good-hearted bank robber, Lars (Hawke) hatches a hair-brained plan to get his best buddy Gunnar (Strong) out of the Swedish penitentiary, taking 3 hostages captive.  His plan unfolds in the most unpredictable, almost slap-stick silly way, making you fall in love with Lars as well.  It's an incredibly entertaining and comedic slice of history suiting Hawke's comedy skills to a "T"… a skill we didn't even know he had.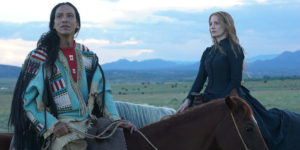 WOMAN WALKS AHEAD:  Written by Steven Knight ("Locke" "Hundred Foot Journey") and directed by Susanna White, this story is also based upon an historical event.  Catherine Weldon (Jessica Chastain), a Brooklyn-based artist in the late 1800's, travels to the Dakotas to paint Sitting Bull's portrait.  Arriving in a hostile environment, she is unwelcome by the military, but with a determination not characteristically seen in women during this era, she perseveres.  The relationship she develops with Sitting Bull is heart-wrenchingly beautiful and the integrity she shows in fighting for Native American's rights is inspiring.  Chastain is extraordinary, Sam Rockwell hones his skills as a dislikable misogyntist and racist, and Michael Greyeyes reincarnates a virtuous and complicated Sitting Bull.  The exceptional cinematography beckons you to see this on the big screen.  Opens in theaters June 29.
LOVE, GILDA:  The life of the beloved comedic performer from Saturday Night Live, Gilda Radner, is featured in Lisa D'Apolito's documentary, "Love, Gilda."  Using journals, audio recordings, found family footage, and photographs from her life, Radner's history is brought to life.  We learn about her childhood, her struggle with her weight, her love interests, and what drove her to be such a star.  Interviews with those who knew her best and those she inspired, such as Chevy Chase, Maya Rudolph, Lorne Michaels, and Martin Short to name a few, keep her spirit alive and allow all of us to know her better.  D'Apolito creates a flawless portrayal of one of the most iconic performers in the 20th century. (Release date yet to be determined.)
O.G.:  Written by Stephen Belber and directed by Madeleine Sackler, Jeffrey Wright ("Westworld") stars in this thought-provoking and poignant film about Louis, a man incarcerated for murder, serving 24 of his 60 year sentence, soon to be released on parole.  The emotional angst and uncertainty push him to reach out to a new, young convict, attempting to pass the torch and his wisdom as he looks in the rear view mirror of his life.  The complexity of the structure of prison is revealed and impacts Louis' future as he is placed between survival and his future.  Beautifully filmed, we are taken inside the closed quarters, feeling as if we are walking along side Louis.  And Wright's skillful performance lets us inside the mind of an "original gangster," perhaps even gaining understanding for the decisions he has made and continues to make.  Filmed in an actual prison in Indiana, few actors were used, creating a formidable and impactful scenario not to be missed.  (Release date yet to be determined.)
It was a difficult task to limit my list of the best films as every film I saw stood out.  Never before have I attended such a festival where no film was a disappointment.  Other films that could have easily made my top list include:  "Diane," "The Seagull," "Blue Night," "All About Nina," "Mary Shelley," Back Roads," "Red Roll Red," "Egg," "General Magic," "Ghostbox Cowboy," and "M." Additionally, TFF was represented by 48% women-directed films, three of which were my top films and "Tully" was written by a female.  TFF 2018 is one for the records!