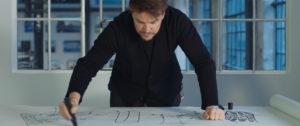 The New York City skyline will never be the same after the horrific events of Sept. 11, 2001, but Danish-born architect Bjarke Ingels and his firm BIG are bringing a new sense and light to the infamous skyline, including the now completed project VIA W57 and a proposed project at 2 World Trade Center.  The young architect is the feature of a new documentary, "Big Time" in which we learn about this avant-garde man who sees roadblocks as nothing more than new challenges to overcome.  Covering a 6-year time period, we are privy to visits with his parents and their inside stories, meetings at the proverbial drawing board, as well as personal and professional insights from Bjarke.  Getting to know him allows you to appreciate his work in a new light—it's so much more than just brick and mortar. 
Director Kaspar Astrup Schroder takes us on this journey as we are introduced to Ingel's parents at their flat-roofed home in Denmark.  It seems that  as a youngster, he got into trouble for playing on this great roof-top surface which may have been the cornerstone of his architectural career.  Recalling this incidence, Ingels said, "To me, it was a huge waste to have this awesome roof.  You had a great view up there.  It was unfair and a waste of resources. I think that inspired me in terms of our architecture."  He continued, "Getting the most joy out of the area you have and letting life roam free…" 
This appreciation of life's joys continued on through his young adult years, and as his parents indicated, he wasn't exactly motivated in school.  His love was creating comic books,  but his parents knew this wasn't going to happen.  Seeing him lay around and attend a few too many parties, they took matters into their own hands and "helped" him apply to an architectural school.  The rest, as they say, is not history because he's still creating it in some of the most exciting, innovative, and of course, fun ways! 
To date, Ingels has completed extraordinarily unusual buildings in Denmark, utilizing unexpected elements yet retaining the functionality of the building.  The film captures in real time the process of design, the coordination with clients, and the bumps in the road.  We get inside the mind of this talented architect as he shares the ups and downs of the creative process as well as the actual nuts and bolts of building and living life.  Imagine presenting to a client that their clean energy building, just for the fun of it, will also puff out rings of steam or have a ski slope because Denmark doesn't ha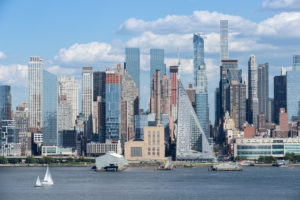 ve any mountains.  Fun is what this talented architect is about as he incorporates life and living into his work's final product.
The film follows Ingels to New York City as we witness how this town truly will become the "Big" Apple with his incredible changes to the skyline.  Blending together his sense of community, nature and the aesthetics demanded of high rise buildings in New York, this exceptional architect integrates every possible aspect at every level.   Working on the W57, a pyramidal shaped building capturing light, creating open space, and dramatically changing views from every direction, Ingels runs into licensing issues as well as material choice differences as he attempts to bring his "courtscraper" to fruition.  He's tenacious, inciting a sense of stalwart determination that is as inspiring as it is endearing.  But then a health issue arises, life ticks by as he hits the ripe old age of 40 and he reflects upon where he is and where he hopes to be as well as what he has not yet accomplished. 
Ingel's candid manner allows us an intimate look at one of the most revolutionary architects since Mies van der Rohe.  He takes us on his personal journey, learning about what makes him tick and who has inspired him.  Each completed project brings a smile to your face, making you anticipate what might come next.  His creativity seems limitless.  "Big Time" will make you look at every city's skyline and even your own home in a different and more enlightened way. 
"Big Time" will be released in the Big Apple on Dec. 1 at the Landmark 57, one of Ingel's designs and will screen as a part of DOC NYC on Wednesday, Nov. 15 at 9:15 pm and Thursday, Nov. 16 at 10:30 am.  For more information about tickets for DOC NYC, go to DOCNYC.NET/FILM/BIG-TIME