If you think voter suppression is just an ugly part of our nation's past history, think again.  It's still happening.  Anne de Mare captures what happened in Fayetteville, North Carolina, just days before and the day of the 2016 Presidential election.  Following a team of voter protection volunteers, de Mare uncovers the subversive actions that lead to thousands of citizens being denied their Constitutional right to vote.  This shockingly frustrating and enlightening documentary captures an unbiased story that every American should see.
Three long-time friends, all with different backgrounds, volunteer and travel to an area of the country where voter suppression is suspected.  Laverne Berry, an entertainment and business affairs attorney who is also one of the producers of this film, lead the small group comprised of Steve Miller, a seasoned veteran in these affairs, and newcomer and recent U.S. citizen from South Africa, Claire Wright.  Together, they attempt to help citizens understand how to vote, where to vote, and what to do if they encounter road blocks.  And there were plenty of roadblocks.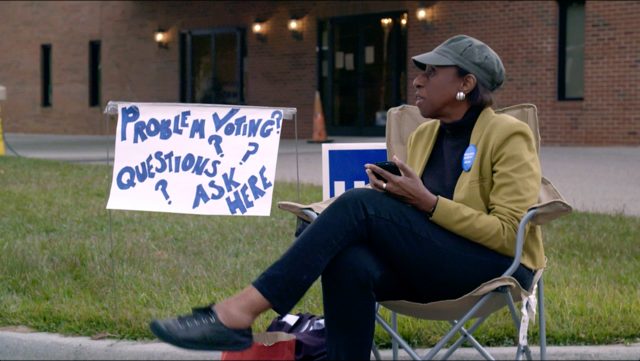 As we learn about each of the volunteers, it is at once inspiring to see the importance of their work and dedication.  The perspective from Claire about the concept of equality  in the United States is the most interesting because she is a recent citizen.  The reality, as we see unfold, is shocking to her and to the viewer as well.   
"Capturing the Flag" demonstrates that democracy at its very core is continually being challenged, and most of us are blissfully unaware.  As the team prepares for election day and helping fellow citizens, the laws by which we function are seemingly ever-changing.  We learn about tactics used to make it difficult to vote and how names and registrations have been purged.  Various other nefarious strategies are implemented, compounding the hurdles many  jump over in order to vote … and many who just give up.  Seeing the antagonistic behavior of  polling places as they attempt to thwart these volunteers to provide basic information is maddening.  But ignorance isn't bliss—it's potentially devastating.
"Capturing the Flag" is a compelling and educational film reminding us, as de Mare said in a recent interview with me for FF2 Media, "…to take better care of our democratic process, to think about [our] own role as citizens and about how [to] participate more … by getting involved with local boards of election, and by supporting grassroots organizations that put pressure on legislatures to make sure everyone has the ability to vote."
We all know the outcome of the last election.  Knowing that volunteers across the nation like Laverne, Steve, and Claire are there to help every voter (no matter their party affiliation) know their rights is uplifting.   Knowledge is power and as a citizen, we must all be informed.  This film punctuates that fact as it lights a fire within to make sure this antiquated concept of voter suppression does not continue. 
"Capturing the Flag" is a timely tale that is as captivating as it is informative.  The natural circumstances create a tension-filled story as you truly begin to understand the situation at hand.   But most importantly, the film reminds us to cherish and exercise our Constitutional rights and perhaps we will write a different ending for historians to capture in the future.
  For more information about the film go to Capturing the Flag.