"Jumangi: Welcome to the Jungle" is one of the few reboots of recent years worth seeing as it brings viewers back to a time when a movie could provide laughs, adventure, and total escapism for a couple hours. My kids grew up with me reading the book to them and admittedly, I not only looked forward to the film starring Robin Williams, but I thoroughly enjoyed it as well! Now, my jaded view impacted walking into the theater and seeing this newest version. I had my doubts as sequels and reboots typically are disappointing. Thanks to the creative group of screenwriters, and the incredibly talented director Jake Kasdan, and comedically blessed actors, I was pleasantly surprised! I haven't been this entertained since the original "Indiana Jones!"
For those of you who don't recall the ending of the 1995 version of "Jumanji," let me refresh your memory. Alan Parrish (Williams), the boy who disappeared into the deadly adventure game to slay creatures and save the island of Jumanji, returned to his home, and tossed the game into the ocean. Years passed and the game turned up, shallowly buried on a beach. The drums began to beat. This is where our newest version picks up. A boy in the year 1996 finds the game, opens it, and while board games are passe, the game is now a video game. Again, we hear the ominous drums begin to beat their deadly rhythm and Alex (Nick Jonas) is sucked into the abyss of Jumanji. Fast forward to the present day and 4 unlikely kids are being held in detention only to discover this long-forgotten video game. As a diversion to their mundane task at hand, the four begin to play. Now they find themselves in Jumanji as the characters or Avatars they have chosen. This is where the fun, humor, and excitement for them and the audience begins.
The premise of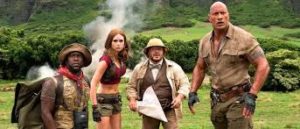 the game remains the same. The players must go through levels or challenges in order to complete the game and return to their lives. "Jumanji: Welcome to the Jungle" finds a way to be different in its ability to incorporate CGI, making us jump and gasp while we watch events unfold. And where this film stands out is in the characters' transformation into the game's characters. We see a skinny nerd, Young Spencer played by Alex Wolff, transform into Bravestone, Dwayne Johnson. (I'll let your imagination do the work now.) The crazy and hilarious transformations continue with Young Fridge (Ser'Darius Blain), the buff football player becoming Mouse Finbar, a zoologist played by the comedic and the comparatively diminutive actor Kevin Hart. To round out the shocking transformations, the gorgeous popular girl, Bethany (Madison Iseman) turns into a middle-aged, overweight, scruffy paleontologist portrayed by Jack Black. Only Black could take this gorgeous yet self-centered phone-toting "it" girl and continue her persona making us believe that he is actually Bethany! From discovering how easy it is to pee in the woods to teaching Martha (Karen Gillan) the art of flirting, Black makes every situation laugh-out-loud funny. Every one of these actors has great comedic timing and the ability to do physical comedy—The Rock's (Johnson) facial expressions alone make you smile and laugh—put all of these actors together and it's absolute magic.
With "Jumanji: Welcome to the Jungle" there's never a dull moment as the group attempts to figure out clues, rise to the next level, battle strange beast, get eaten alive, and then drop from the sky to continue their next adventure. The CGI scenes are sometimes shockingly violent, but knowing that it's all part of the game and that they have 3 lives to use, makes it less gruesome. Although, seeing the evil nemesis Van Pelt (Bobby Cannavale) with long multiple legged bugs crawling in and out of his ears and mouth might have been the most disturbing visual effect in the film!
Each of the characters are given special skills, some are there purely for the comedy such as Fridge's reaction or weakness to "cake eating," others are there to move the story forward and allow the group to work together as a team. The kids all have their own strengths which they allow to rise up and help in certain situations such as Spencer's knowledge of video gaming and the Fridge's knowledge of football offensive and defensive tactics. Life lessons are learned as they band and bond together, but never do any of the characters lose their adolescent charm and innocence in these scenes. Seeing the Rock's version of Spencer's inadequacies and insecurities is at once sweet and hilarious. First love and first kisses are equally entertaining as are a few reactions to their first margaritas. All of this combines beautifully for a fast-paced, funny, touching, adventure film.
Never did I dream I would be excited to recommend a reboot of a film, let alone "Jumanji." Escape to the jungle and enjoy a couple hours of laughing, gasping, and most importantly,total escapism from this crazy time of year.
3 1/2 Stars
*This is rated PG-13 for a reason. Please be advised that some of the "deaths" are scary and there is a little bad language and drinking.